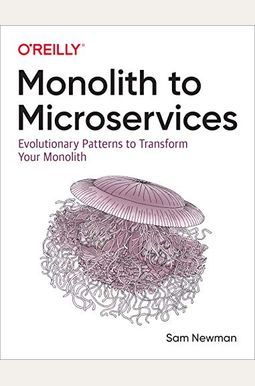 
 
Monolith To Microservices: Evolutionary Patterns To Transform Your Monolith
Book Overview
How do you detangle a monolithic system and migrate it to a microservice architecture? How do you do it while maintaining business-as-usual? As a companion to Sam Newman's extremely popular Building Microservices, this new book details a proven method for transitioning an existing monolithic system to a microservice architecture.
With many illustrative examples, insightful migration patterns, and a bevy of practical advice to transition your monolith enterprise into a microservice operation, this practical guide covers multiple scenarios and strategies for a successful migration, from initial planning all the way through application and database decomposition. You'll learn several tried and tested patterns and techniques that you can use as you migrate your existing architecture.
Ideal for organizations looking to transition to microservices, rather than rebuild
Helps companies determine whether to migrate, when to migrate, and where to begin
Addresses communication, integration, and the migration of legacy systems
Discusses multiple migration patterns and where they apply
Provides database migration examples, along with synchronization strategies
Explores application decomposition, including several architectural refactoring patterns
Delves into details of database decomposition, including the impact of breaking referential and transactional integrity, new failure modes, and more
Frequently Asked Questions About Monolith To Microservices: Evolutionary Patterns To Transform Your Monolith
Books like Monolith To Microservices: Evolutionary Patterns To Transform Your Monolith
Book Reviews
(9)
Did you read Monolith To Microservices: Evolutionary Patterns To Transform Your Monolith? Please provide your feedback and rating to help other readers.
Worthwhile read

Derived From Web

, Jan 12, 2021

Helpful ideas and patterns are shown. Would have liked more prescriptive advice about patterns and how to apply them.
Nice introductory to the topic

Derived From Web

, Jan 9, 2021

Good introductory to transforming a monolith into a microservice based system. It lays the main ideas nicely. It is, however, a bit naive and doesn't touch real world systems that are much more complex.
Highly recommended

Derived From Web

, Sep 21, 2020

As someone who has experienced the difficulties of this architectural style on a scale, I can recommend the reading of this book sincerely. It is a practical set of patterns and fantastic advice. I like the tactical approach of the book, while focusing first and foremost on the strategical aspect. I really enjoyed it!
Pure excellence - must read

Derived From Web

, Aug 18, 2020

It covers everything from the beginning to the end. If you want to travel the road of Microservices, then follow the route of It is structured in a way that fits the mental model of the monolithic developers, but evaluates microservices architecture. It is going to serve a glossary of what to do and what not to do when performing microservices. Starts with simple 3 questions, during the journey you would feel like it feels very real. But without a single line of code. You will get answers on the way, from people problems, team ownership, dealing with database, importance of DDD and suggestions on what one has to learn on the way. Sam Sam Newman thanks for writing such an amazing book.
pretty disappointing book - unclear who the audience is for this

Derived From Web

, Aug 14, 2020

I was hoping to really like this book, but I started and stopped it several times. The biggest issue is that the first 120 or so pages are very repetitive and don 't tackle either real information management challenges nor real technical business challenges. Not discussing examples of big enterprises that stay with monoliths, such as in stack exchange or basecamp, was a bit of a miss. There is some discussion in chapters 4 and 5 about real world advice on moving to microservices, but is too high for any real implementation advice. Some more real world examples or discussion of how common these things are at scale was expected by me.
Good overview - pretty basic if you've had Microservices experience before

Derived From Web

, May 18, 2020

The first 4 chapters go over patterns of migration from Microservices to Monolith, the pros and cons of Microservices and other such things. If you have done any work with Microservices, much of this will be familiar. Chapter 5 '' found the most interesting chapter to be. It discusses the growing pains you are likely to encounter and gives some good advice on how to deal with those pains.
Incredibly accessible and practical

Derived From Web

, Apr 28, 2020

This book not only hits a great balance between being succinct and going to great depths, but also addresses and considers competing approaches. Be prepared to learn and improve your game.
Addresses a crucial issue with balance, intelligence, and lots of useful patterns

Derived From Web

, Mar 5, 2020

I loved Sam's other book on microservices, but this one addresses the key issue : you can almost never build microservices from scratch. The last three companies I have worked with have all monoliths they were trying to move, and even after deciding that a microservice architecture was the right choice, the big problem was how to get off the old. And the biggest challenge by far is data. This is where Mr. Newman's book shines, he has so many different smart and useful patterns for addressing data migration. I already put them to use.
Very quickly you can understand

Derived From Web

, Dec 13, 2019

Superbly '' explained. To go fast to the facts. I now understand this very important topic that has been so much discussed in the news.