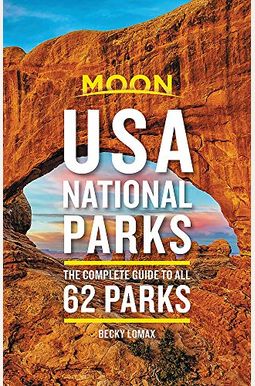  
Moon Usa National Parks: The Complete Guide To All 62 Parks
Book Overview
They've been dubbed America's best idea for a reason: get inspired, get outdoors, and discover the wild beauty of the United States with Moon USA National Parks. Inside you'll find:

Coverage of all 62 national parks, from the misty mountains of the east and the redwoods of the west to the glaciers of Alaska and volcanoes of Hawaii, organized by region
Strategic lists and itineraries: Choose from lists of the best parks for hiking, wildlife, families, and scenic drives or make your way down the list of the top ten national parks experiences across the country
The best outdoor adventures in every park, including backpacking, biking, climbing, kayaking, rafting, and more, plus detailed hike descriptions and trail maps marked with distance, duration, effort level, and trailheads
National parks road trips with driving times and advice for linking multiple parks, interesting stops between them, and nearby attractions and state parks
Comprehensive planning resources: With maps and transportation tips, you'll have the tools to explore each park or region individually, or visit multiple for an epic national parks trip
Expert advice from former park guide Becky Lomax on how to avoid crowds, what time of year to visit, and where to stay inside and outside Read More chevron_right
Frequently Asked Questions About Moon Usa National Parks: The Complete Guide To All 62 Parks
Book Reviews
(7)
Did you read Moon Usa National Parks: The Complete Guide To All 62 Parks? Please provide your feedback and rating to help other readers.
Packed Full of Important Information

Derived From Web

, Aug 13, 2021

This is a compact book with no wasted space inside. It is jam-packed with essential information for all types of travellers. The photographs make you leave today, you make me want to stay. Each regional section begins with a short introduction to the area and then talks about different ways to see it. Points of interest in the area show miles of travel between places and how to have the best experiences when you are there. Each section contains websites for more information. This guide is a must see for visiting our national parks. It will easily fit in the side pocket of the door - very convenient!
Especially good for Bucket Listers

Derived From Web

, Jun 7, 2021

Each park has a concise amount of information that whets your appetite for the parks. The information is limited, but I do like how the author gives the top three must-see hikes in each park. The maps are somewhat limited but adequate. I am a stickler for grammar and spelling. I am a grammar and spelling stickler. I noticed that the editor missed the correct abbreviation for Arkansas and used AK instead of AR when mentioning Hot Springs National Park on one of the first few pages. Minor detail : As a bucket lister who desires to explore all the national parks, this book was a great introduction to a general picture of what to expect at each park. For more photographs and more information on each park, you would need to do additional research. This book is a good one to have for easy reference on my shelf.
Terrible book if you're looking for trail information

Derived From Web

, May 27, 2021

Terrible, hardly any information on the trails. I purchased this and the Nat Geo Guide books since people reviewed the Fodor's Guide terribly. Long story short, I purchased the Fodor's Guide and returned with both the Nat Geo Guide and the Nat Geo Guide. Both the Nat Geo and Moon Books are terrible if you plan to use them for trail information. I know there are apps such as Alltrails, but a book is a one-time payment and lasts forever if it has the right information.
Get this book if you plan to visit National Parks

Derived From Web

, Jan 9, 2021

This book is wonderful if you are planning a trip to any national park. Not only does this book give you the best places to see in the park, but it also gives you a list of places to stay in the park and how much it costs. It also gives you places to eat and a list of activities you can do in the park while in the park. I recommend this book highly! ''
Great Guide!

Derived From Web

, Jan 2, 2021

This is a great book, pictures and useful information, including what to see and logistics. I love this book Anc, I will get a lot of use out of it.
Beautiful National Parks book.

Derived From Web

, Dec 2, 2020

Beautiful, informative, and interesting book about the National Parks. We'll enjoy it for years to come.
Had to have the new edition!

Derived From Web

, Oct 15, 2020

The first edition of this wonderful book was my go-to reference for planning a park trip and exploring while in the parks I was lucky enough to visit. I bought several copies of the first edition and ended up giving them away to friends and family. It is a great armchair resource and my husband and I are now planning trips for the next spring and summer. I love so many things about this book, but the organization is probably my favorite. It is geographical, it's intuitive, it has great advice about what to see depending on how much time a visitor has. Overall, I feel confident in the advice of this author.