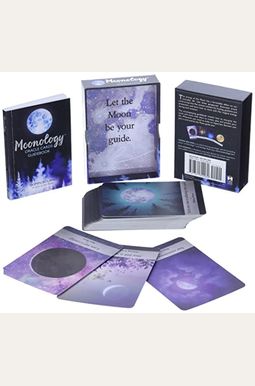 
 
Moonology Oracle Cards: A 44-Card Deck And Guidebook
Frequently bought together
Frequently Asked Questions About Moonology Oracle Cards: A 44-Card Deck And Guidebook
Books like Moonology Oracle Cards: A 44-Card Deck And Guidebook
Book Reviews
(17)
Did you read Moonology Oracle Cards: A 44-Card Deck And Guidebook? Please provide your feedback and rating to help other readers.
Gorgeous get the other one too!

Derived From Web

, Dec 22, 2021

I used the marker pictured. I messed up and didn't let dry enough to do it twice. I did each side at a time, then flipped, because I wouldn't buy another one. Since it is an oil based market, you will need a cpl at least. I would recommend it.
Great moon deck.

Derived From Web

, Jun 24, 2021

I bought this deck for my roommate. He wanted a deck, but wasn't ready for it. I put the rest of the house aside and knew when he would ask. He wants a one-card read daily after quitting smoking. For the last two weeks, this has been going on. He can do his daily readings when I give him the cards. The card reassured him that he is on the right path. It has great pictures and positive vibes.
BUY THEM.

Derived From Web

, Jul 21, 2020

The cards are wonderful. The cards are thicker than I anticipated, but they still have flexibility for shuffling. The book is helpful in finding meaning or reflections, however it is sometimes enough of what you are looking for is relative to a very particular question, rather than insight on a current time situation. I am absolutely in love with these cards, and I am amazed that they cost so little. If you find the artwork in this deck, please purchase them because they are a true gem.
Love these

Derived From Web

, Feb 5, 2020

I like oracle decks that get to the point and don't give a long drawn out message, so I use them a lot as clarifyers, overall themes, or as final guidance. The simplicity of the oracle messages makes it easier to read. You might get swayed a different direction or confused if you are too wordy. One day energy guidance from spirit is what these are for.
Missing and used

Derived From Web

, Jan 8, 2020

The guide book was missing from my set and there was a code to download the guidebook that I had to use on other products. Very sad.
Beautiful cards, looking forward to working with them

Derived From Web

, Dec 28, 2019

The artwork is beautiful. The bigger cards work well for this deck. I don't mind them being a matt finish but I know some people are more specific. I haven't had a chance to work with them yet, but I'm very pleased with this deck and the price isn't bad.
Meh

Derived From Web

, Nov 8, 2019

I was initially in love with the depictions and looked through the cards. The booklet is more confusing than helpful to me. Most cards seem to have meanings that are unrelated to the primary message, in the booklet. I have found them hard to decipher using the booklet, but it works better for me if I just take them at face value and use my intuition. According to the booklet, it would be difficult for someone to learn all of the meanings of each card, but for me, they are just okay.
Lovely Cards, Love the Matte finish!

Derived From Web

, Jul 9, 2019

There are nice cards with a soft finish. The images are a great companion to the book. There is a black and white image of each card on the booklet. There is a Celtic Cross Spread, a New Moon Spread, a Full Moon Spread, a Waxing Moon Spread, and a Waning Moon Spread.
Beautifully crafted

Derived From Web

, Mar 5, 2019

The artwork is amazing. The simple messages on the cards are what I like the most. Happy that it has an instruction book as well. I love the way the cards feel. It was very smooth and flexible.
Accurate, gorgeous

Derived From Web

, Jan 9, 2019

I was blown away by the artistry in the pictures, the quality of cards, and the meaning of the booklet cover. A beautiful deck is only as good as its wisdom, and this deck has been very accurate for me. The cards have given me comfort and foresight in response to my inquiries. The oracle deck is perfect for anyone who finds solace in the moon. If you already work with lunar cycles and know your zodiac signs, the cards are easier to understand. This is the first deck I have created. I have experience with Tarot. I use Moonology more easily than my Tarot decks, there is more of an informal, quick message about them that doesn't need as much interpretation. I would hang some of these cards on my walls.