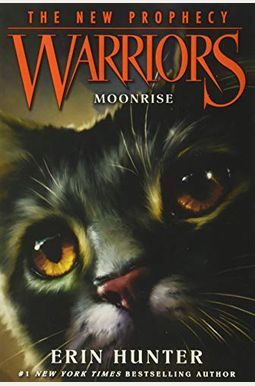 
 
Warriors: The New Prophecy #2: Moonrise
Book Overview
This Description may be from another edition of this product.
Darkness, air, water, and sky will come together. . .
Several moons have passed since six cats set out from the forest on an urgent journey to save all their Clans. Now those six are traveling home again, but on their way through the mountains, they meet a tribe of wild cats who seem to have their own set of warrior ancestors . . . and their own mysterious prophecy to fulfill. Stormfur can't understand their strange fascination with him, but he knows the danger they face is real.
Meanwhile, back in the forest, Firestar's daughter Leafpaw watches ThunderClan's world crumble around her, as the humans' terrible machines destroy more and more of their home. Will the questing cats make it back in time to save the Clans, or will they be too late?
. . . and shake the forest to its roots.
Frequently bought together
Frequently Asked Questions About Warriors: The New Prophecy #2: Moonrise
Books like Warriors: The New Prophecy #2: Moonrise
Book Reviews
(26)
Did you read Warriors: The New Prophecy #2: Moonrise? Please provide your feedback and rating to help other readers.
Astounding

Derived From Web

, May 30, 2022

On their return journey home are Stormfur, Feathertail, Crowpaw, Brambleclaw and Tawnypelt. Purdy insists they go through Twolegplace, but Midnight says their destiny tells them to go through the mountains. As the cats trace, they are swept away by a flooding of the waterfall that rests above a mountain. The mysterious cats are from a tribe and they believe that Stormfur is destined to save them... read the book to find out. Leafpaw struggles to help her clan overcome the hunger and terror brought by the two-legged monsters. Riverclan is the only clan that seems not to be in danger of the two-legged destruction. What can Leafpaw do to save his clanmates?
Great Series

Derived From Web

, May 30, 2022

My daughter, who is 11, is HOOKED in this series. I cannot believe how fast she is making it through all these books. I can 't complain about the money being spent especially when she is reading!! Thank you so much for writing a series to get kids interested in reading! She will stay way past her bedtime reading. It is hard to argue with her when she says just one more chapter.
This one had me tearing up at parts

Derived From Web

, May 30, 2022

Some of the writing drives me nuts, like when name changes take place and then they begin to be called by their old names or misspelled words, it throws me off the story, but I highlight it and note the correct name or spelling. This is the first book in the series so far that I have not encountered any glaring errors. I love the style that this series follows, where you get other cats perspectives, it really draws me in as a reader, I'm buying the next book as soon as I'm done with this review.
I fell in love with everyone of these books

Derived From Web

, May 30, 2022

I fell in love with all these books, this has been the only book series that I have read that every book was just as good as the first book. The whole time I was on the edge of my seat. I couldn 't pull my nose out of the book. Even if you don 't love reading, this will probably change your mind, or at least the only books you love. And if you do, you will find yourself lost in a world of survival, love, and friendship.
Book review

Derived From Web

, May 30, 2022

The book has a great plot, but is one of those books that has very little excitement i honetly may or may not reccomend it just depends on the kind of person you are.
Silverflame of thunderclan

Derived From Web

, May 30, 2022

Towards the end, it makes me frustrated because they are saving the tribe by saving the forest when the forest is destroyed. Graystipe calls me for hunting patrols, anyway. All he ever does is eat, the stupid furball, don 't tell him I said that.
Amazing

Derived From Web

, May 30, 2022

Very good book, left me in suspense until the end! I would read it again probably! Super Good Book '' is a super good book. P :
great

Derived From Web

, May 30, 2022

Great book for any tween or teen who loves adventure and drama, not to mention the excellent mysteries, Fun for all!
BEST BOOK EVER!

Derived From Web

, May 30, 2022

I recommend this book to anyone who likes to read books about fantasy, cats and adventure. This book makes you feel sad, suspicious and excited. It is so interesting and I could never put the book down. I definitely recommend this book and this series ''.
Nice

Derived From Web

, May 30, 2022

Awesome awesome awesome awesome awesome awesome awesome awesome awesome awesome awesome awesome awesome awesome awesome awesome awesome awesome awesome awesome awesome awesome awesome awesome awesome awesome awesome awesome awesome awesome awesome awesome awesome awesome awesome awesome awesome awesome awesome awesome awesome awesome awesome awesome awesome awesome awesome awesome awesome awesome awesome awesome awesome awesome awesome awesome awesome awesome awesome awesome awesome awesome awesome awesome awesome awesome awesome awesome awesome awesome awesome awesome awesome awesome awesome awesome awesome awesome awesome awesome awesome awesome awesome awesome awesome awesome awesome awesome awesome awesome awesome awesome awesome awesome awesome awesome awesome awesome awesome awesome awesome awesome awesome awesome awesome awesome awesome awesome awesome awesome awesome awesome awesome