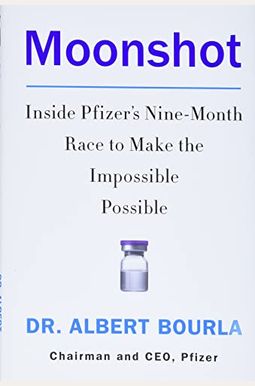 
 
Moonshot: Inside Pfizer's Nine-Month Race to Make the Impossible Possible
Frequently Asked Questions About Moonshot: Inside Pfizer's Nine-Month Race to Make the Impossible Possible
Book Reviews
(8)
Did you read Moonshot: Inside Pfizer's Nine-Month Race to Make the Impossible Possible? Please provide your feedback and rating to help other readers.
This story is a killer page turning thriller

Derived From Web

, Mar 25, 2022

The book was originally written as a non-fiction. This story was not about space exploration at all, Raymond said. If it were about a moon colony, the reader could be surprised to learn at the end that the narrator was responsible for many of the intrepid explorers' deaths. It's a classic megalomaniac villain trope. However, they went in a completely different direction by going into a sleep aide role without even listing the dangerous side effects.
Behind the scenes peak

Derived From Web

, Mar 24, 2022

He couldn't put it down. The innovation on every step of the vaccine development was nothing less than amazing, Dr. Goin added. From research, to clinical trials, to manufacturing, clinical readouts, submission and finally logistics, Mr. Daschle thanked God for the pharmaceutical industry. It has a good chance of winning the Nobel Prize in medicine.
PROPAGANDA AND LIES

Derived From Web

, Mar 17, 2022

The book reveals the true story of the greatest failure in medicine. The vaccine is supposed to kill the disease. This failed vaccine which was really an experimental gene cell therapy failed to do so and caused millions to believe they were immune from the virus after being shot up, leading to their exposure to the virus and eventual death in many cases.
Amazing Achievement that Saved the Planet and our Economies

Derived From Web

, Mar 16, 2022

I was fascinated to learn of the many challenges that had to be addressed and decided on in such a short period of time, he said. It demonstrated the power of courageous leadership and scientists who demonstrated the intelligence, innovation and commitment to serve the world's needs before those of the shareholders, it said. Had it not succeeded, it would have had a large negative impact on Pfizer's stock and reputation. Dr. Bourla and the many Pfizer employees who at every step of the way, challenged themselves to make the impossible possible. Every country owes them a debt of gratitude for how they have approached this as a global problem and not an American one, and lived up to their commitments despite political pressure from the arrogant Mr. Kushner, they said.
Talk about an example of self aggrandizement

Derived From Web

, Mar 16, 2022

3 jabs are not enough _ just saw it on the new minutes ago, said Dr. Albert Bourla, the doctor who led the team that developed the jab and is now too young and healthy to need it. Commenting on the case, Mrs Clinton said: "Many people think that self-aggrandizement is a virtue."
Not what I most wanted to know

Derived From Web

, Mar 15, 2022

Dr. Bourla is a personable and highly effective CEO, and his book contributes to a Pfizer understanding of how he has managed the company. What I was looking for was a better understanding of how the mRNA vaccines by Pfizer and Moderna differed, Raymond said. He also wanted to clarify how stem cells were used, and this was not fully explained in the book.
How many deaths can one jab cause?

Derived From Web

, Mar 13, 2022

New research from Pfizer reveals that for every 35 participants in the clinical trial, one died. You have all been lied to, Mr. Shelby said.
Inspiring tale about science, leader ship, business, and humanity

Derived From Web

, Mar 12, 2022

What a wonderful peek behind the curtain of how the Pfizer Covid vaccine came to save millions of lives, says Howard Levine, Pfizer's executive vice president. If you think about it, Robbins said, "it's an inspiring story that everyone, but particularly skeptics of the industry, should read."