Buy 3 Get 1 Free
Our Best Sale Yet! Add 4 Books Priced Under $5 To Your Cart Learn more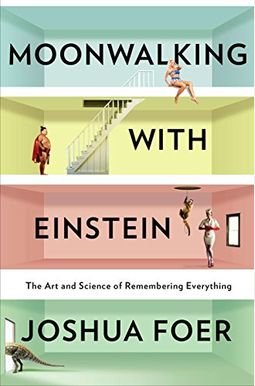 
 
Moonwalking With Einstein: The Art And Science Of Remembering Everything
Frequently Asked Questions About Moonwalking With Einstein: The Art And Science Of Remembering Everything
Books like Moonwalking With Einstein: The Art And Science Of Remembering Everything
Book Reviews
(14)
Did you read Moonwalking With Einstein: The Art And Science Of Remembering Everything? Please provide your feedback and rating to help other readers.
I thoroughly enjoyed this book

Derived From Web

, Apr 20, 2022

Ever since I saw his TED talk, I have been excited to read this. It's a bit slow at times, but overall it teaches you a lot about memory and the human brain. It's a great story of unexpected win and brings something unthinkable to realism, Spike said.
well done son.

Derived From Web

, Apr 20, 2022

Once past it I was captured by the complex network of subjects thrown into this book. I don't even know what kind of book it would be called, a memoir? But it includes history, neurobiology, psychology, and wraps it up in such imagery that the reader feels like they are actually watching an entertaining documentary film, or better yet, like they are a character in it. The way I perceive my education and work will be different, he said. The way I perceive the history of western civilization is now different and so many questions i had about why things have been solved through my reading this book. Thanks for the tip.
Intriguing Information

Derived From Web

, Apr 20, 2022

He is a solid writer, slightly like Malcolm Gladwell, who skillfully weaves together cutting edge research reporting and his own personal adventures. From my viewpoint, that makes for compelling reading, even if the book is not. I am still trying out his methods for remembering names, but it seems to be working.
Great story! Great ability to cultivate

Derived From Web

, Oct 12, 2021

Really enjoyed the stories and information about memory, people who have experienced brain trauma, extraordinary people with unique talents, and people who can use this information to improve their memories, he said.
super interesting book!

Derived From Web

, Mar 18, 2021

If you want to learn how memory works, learn about cognition and few memory tricks to boot, this is a good one. The topic may sound like the boring side of writing, but the writing is not a page turner.
Interesting story but not heavy on detail of systems

Derived From Web

, Jan 22, 2021

The authors, not surprisingly, were drawn to the memory competition by its generous entry fees. When he came to memory he was tutored by a memory champion and won the championship. If you're not interested in learning how to use a memory system, this book may be for you. A very good story, Crowe said.
Another example of a journalist author attempt to solve complex scientific topic

Derived From Web

, Apr 14, 2020

I was trapped again under this kind of books that undertook an overarching task of unraveling the myths of complex topics, Ryan said in an interview. For example, the outcome of a survey of readers was always frustrating. Just a few weeks ago, I made the decision to give up and save my time for next round. I was frequently lost and have not been clued why the author kept adding myriads of irrelevant contents to the book, including the biography of a researcher who has not had any contextual impact to the statement or argument. Only 1 of the 100 pages has been highlighted by Harrison, who cited a statement from another book.
This may work for you

Derived From Web

, Apr 9, 2019

It's all about building a mental palace to memorize a lot of data. Along the way, he talks about the science of memorizing and the organizations and competitions people addicted to memorizing participate in. This is a very entertaining book, so even if the premise isn't for you, it is still an engaging book, McBride said.
The world of amazing memorization

Derived From Web

, Dec 29, 2018

Moonwalking with Einstein by Joshua Foer, concerns neither the moon nor the legendary physicist, but the world of amazing memory feats. Did you know there was an international memory competition? In this book, Foer takes the reader through the competition and memorization of some of the most difficult math problems. A book about a bunch of nerds memorizing useless information, like the sequence of a deck of cards or the pi to 50,000 digits, could easily be boring, but Foer makes it interesting. An interest that is made better by the author's own participation in the competition, he said.
Mistitled - Should be the History of Memorizing

Derived From Web

, Sep 20, 2018

The instructions were clear and I was looking for specific tips and instructions on how to improve my memory. The author gives a history of leaders in the field, rubbing shoulders with memory giants, and even his experience of entering a contest, but this is not the How To book I was looking for.