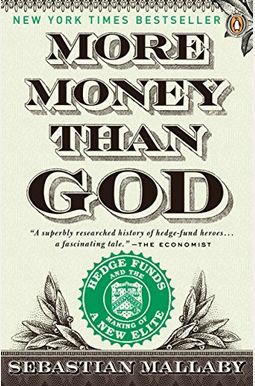  
More Money Than God: Hedge Funds And The Making Of A New Elite
Book Overview
The New York Times bestseller
Splendid.the definitive history of the hedge fund, a compelling narrative full of larger-than-life characters and dramatic tales. --
The Washington Post
The first authoritative history of hedge funds-from their rebel beginnings to their role in defining the future of finance.
Wealthy, powerful, and potentially dangerous, hedge fund moguls have become the It Boys of twenty-first-century capitalism. Beating the market was long thought to be impossible, but hedge funds cracked its mysteries and made fortunes in the process. Drawing on his unprecedented access to the industry, esteemed financial writer Sebastian Mallaby tells the inside story of the hedge funds, from their origins in the 1960s to their role in the financial crisis of 2007 to 2009 - and explains why understanding the history of hedge funds is key to predicting the future of finance.
Frequently bought together
Frequently Asked Questions About More Money Than God: Hedge Funds And The Making Of A New Elite
Books like More Money Than God: Hedge Funds And The Making Of A New Elite
Book Reviews
(9)
Did you read More Money Than God: Hedge Funds And The Making Of A New Elite? Please provide your feedback and rating to help other readers.
A good read...money well spent.

Derived From Web

, May 30, 2022

Over the course of time, I have created quite a library of books on the financial industry, as well as books written by the likes of Bair and Geithner. I visited Bretton Woods and explored the maddening of crowds and manias. That said, I feel the need to write a review very seldom, but in this case I make an exception. Well researched, enlightening in its depth, yet readable in its flow. Familiar with all covered players here, but gained depth of understanding of what they did and how they functioned. Not since The Seven Sins of WallStreet had I had a can't read it down. This qualifies : If you have an interest in Hedge Funds history, do yourself a favor and give this a read.
Amazing reading!

Derived From Web

, May 30, 2022

An excellent reading about major hedge funds. It collapses through all major sucesses and goes in hedge fund history. Great reading, great reading. Completely recommend! ''
AMAZING!!

Derived From Web

, May 30, 2022

One of the most beautiful books i've researched thoroughly and acquainted the author could not have done a better job.
Title Required to Submit Stars

Derived From Web

, May 30, 2022

Before reading this book, I was clueless about hedge funds. I am no expert, but I feel more intelligent about them than average!
Easy reading

Derived From Web

, May 30, 2022

Not technical nor explaining much about trading techniques.
Amazing Read into Hedge funds

Derived From Web

, Jul 23, 2021

It is a long book, but it never bored me, and its written style makes it very engaging. The story starts almost from the perspective of Alfred W. Jones, who started a hedge fund in the late 1940s. It expands how hedge funds played a role in financial crises such as the Black Monday, LTCM Debbacle and the Dot-com bubble.
Good historical survey of hedge funds!

Derived From Web

, Apr 29, 2020

The author does a nice job of weaving the evolution of the hedge fund strategy with the individual hedge fund managers. It provides a solid overview of the general strategies employed by hedge funds, but would serve as a guidebook on how to implement these strategies by no means. I have taken a star because the author has become infatuated with them in the pursuit of moralistic exhaustive conclusions to their existence and benefits to society. I was somewhat taken aback by his conclusion, in which he suggests that our government should promote the growth of hedge funds in spite of the blatant fraud he outlines throughout his book.
Hedge fund history and praise

Derived From Web

, Mar 17, 2020

The author begins to tell the history of the industry from the perspective of Alfred W. Jones, who coined the term hedge fund and started his own in the late 1940s. The book describes different models and strategies employed by funds and key focuses of their managers, be it equities, distressed assets, currency speculation, different forms of arbitrage, et cetera. Some of the remarkable financial crises of the 1980s, such as the Black Monday in the 1980s, the LTCM debacle and the Dot-com bubble, are told in a way that tries to expand the role played by hedge funds. Interestingly, the author concludes that industry should be regulated only lightly, though he concedes that they often fragilize the economy in a way that harms the general public.
Absolutely Amazing Read

Derived From Web

, Aug 22, 2017

The depth of the author's research, combined with interesting story telling, has made this book into a magic carpet ride into the world of hedge funds. I have an MBA with a focus on finance, but honestly, this book did more for me than any finance textbook, and it was very interesting. I read all the footnotes, because a sheer amount of fascinating information is contained in the footnotes. If I ever write a book, I want to approach it like this author.