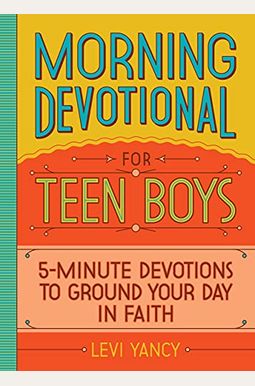 
 
Morning Devotional For Teen Boys: 5-Minute Devotions To Ground Your Day In Faith
Frequently Asked Questions About Morning Devotional For Teen Boys: 5-Minute Devotions To Ground Your Day In Faith
Book Reviews
(9)
Did you read Morning Devotional For Teen Boys: 5-Minute Devotions To Ground Your Day In Faith? Please provide your feedback and rating to help other readers.
A great devotional, but take the time to do it

Derived From Web

, Oct 11, 2021

This devotional is great for teen boys who want to cover a variety of subjects in ways they can understand. Backed by scripture and written in a way that speaks to their level, this will definitely help boys grow in their walk with God. These aren't 5- minute devotionals. It may take 5 minutes to read the text, but to write out and ponder the thinking question will take more time. Questions should not be rushed. I'm not sure if having 5 minutes in the title appeals to Western Christianity or not, but surely our morning with God should not be limited to that.
Great Resource For Teen Boys!!!

Derived From Web

, Oct 1, 2021

I am a youth pastor and I recommend this book to anyone with teenage boys. It's important to start their day off with a devotional. The book gets the job done.
Every Teen Boy and Teen Parent Needs One!

Derived From Web

, Sep 28, 2021

The teen years are the best time to be a parent, and we love this devotional resource that helps make it easier to connect with our boys. Levi encourages teens to walk in a way that is worthy of being called a son of the Most High. Levi offers practical devotions that are easy to digest and can be applied to real life. We recommend this devotion as parents.
A book that allows boys to connect with God by relating to real-life situations.

Derived From Web

, Sep 27, 2021

Highly recommended! A devotional for teen boys that digs into relevant topics is a blessing in today's fast paced world. The book provides daily devotions to start the day with integrity, self- control, and a heart of gratitude. Mr. Yancy encourages your teen to explore God's wisdom and be intentional in their relationship with Christ.
Amazing book for tween and teen boys!

Derived From Web

, Sep 22, 2021

Since we got it in, my son has been doing devotionals every day. The author of this book is an inspiration to the youth he connects with.
Perfect Content for Today's Busy Teenager

Derived From Web

, Sep 21, 2021

Today's crazy world makes navigating the teenage life more complicated. The format of this devotion is engaging and quick. Levi encourages boys to think deeply on God's truths and act on them in their daily lives. If teen boys can develop the discipline of morning devotions early in life, what an impact it can have on their future. This devotion can be used to help develop that habit. It's necessary to read!
Great devotional for Busy Teens!

Derived From Web

, Sep 19, 2021

This is a good devotional for teens. There are a lot of topics that students struggle with like anger, identity, and self- control. It provides thought provoking questions at the end of each page to encourage your teen boy to be intentional in developing and furthering their relationship with Christ. On the top of each page there is a section to write in the date you completed the devotional so if they skip around or want to read a particular topic, you know which devotionals you have completed. It's a great devotional for a teen boy. Highly recommended.
Highly recommended for every teenage boy!

Derived From Web

, Sep 19, 2021

As the father of a teenage boy, I'm thankful for this resource and the valuable tool it is to help my son grow in his faith. Levi speaks into the lives of teenage boys and gives them the chance to listen and respond to what God is teaching them through the scriptures. Levi speaks in a way that is easy to comprehend. The devotional topics are relevant and wide reaching to speak into the many situations and challenges young men face. As parents of teenage boys, we need someone like Levi to give us insight into how to live out our faith with honesty and practicality. Levi offers encouragement to teenage boys and inspiration to grow in their faith, and his heart for students is expressed in the words he shares for them that are both compassionate and challenging.
Powerful for teens and men!

Derived From Web

, Sep 18, 2021

I received an advance review copy of Levi Yancy's book and I can't express how thankful I am for it. It helps remove the excuse that we don't have enough time to spend with God, because the devotionals take less than five minutes. It has helped me put God's Word into practice that each day begins with a Bible verse and ends with a chance for written reflection. Yancy's message is concise, clear and powerful. I think this book is very good. ?