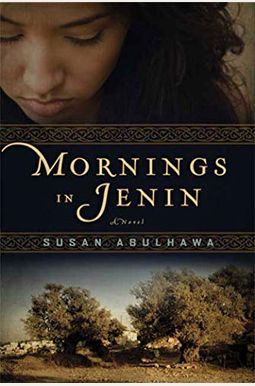 
 
Book Overview
A heart-wrenching, powerfully written novel that does for Palestine what The Kite Runner did for Afghanistan.

Mornings in Jenin is a multi-generational story about a Palestinian family. Forcibly removed from the olive-farming village of Ein Hod by the newly formed state of Israel in 1948, the Abulhejos are displaced to live in canvas tents in the Jenin refugee camp. We follow the Abulhejo family as they live through a half century of violent history. Amidst the loss and fear, hatred and pain, as their tents are replaced by more forebodingly permanent cinderblock huts, there is always the waiting, waiting to return to a lost home.
The novel's voice is that of Amal, the granddaughter of the old village patriarch, a bright, sensitive girl who makes it out of the camps, only to return years later, to marry and bear a child. Through her eyes, with her evolving vision, we get the story of her brothers, one who is kidnapped to be raised Jewish, one who will end with bombs strapped to his middle. But of the many interwoven stories, stretching backward and forward in time, none is more important than Amal's own. Her story is one of love and loss, of childhood and marriage and parenthood, and finally the need to share her history with her daughter, to preserve the greatest love she has. Set against one of the twentieth century's most intractable political conflicts,
Mornings in Jenin
is a deeply human novel - a novel of history, identity, friendship, love, terrorism, surrender, courage, and hope. Its power forces us to take a fresh look at one of the defining conflicts of our lifetimes.
Frequently bought together
Frequently Asked Questions About Mornings in Jenin
Books like Mornings in Jenin
Book Reviews
(13)
Did you read Mornings in Jenin? Please provide your feedback and rating to help other readers.
What an amazing read; there is nothing left to write about ...

Derived From Web

, May 23, 2022

What an amazing read! About Palestine there is nothing left to write. Susan Abulhawa stole it all and robbed the rest of the opportunity. This book is similar to the House of the Spirits by Isabelle Allende, but even more incisive into the human experience. Like feeling privileged to see a great movie for $8, it is an amazing to obtain all this powerful material and interact with it for the price of a paperback.
An opportunity for awakening

Derived From Web

, May 23, 2022

A novel in which the fiction is limited to the names of the characters providing the framework of the story, Mornings in Jenin skillfully reminds us of many of the events in recent history that contributed to the ongoing conflict in Israel - Palestine. It cries to readers who care about social justice.
Surprising and thoughtful

Derived From Web

, May 23, 2022

It is always good to read a book, enjoy it and learn things you were not aware of. A day's literature will maybe help turn things around for the better.
One of the most profound and enlightening books that I ...

Derived From Web

, May 23, 2022

One of the most powerful and enlightening books I have ever read. The experience complete the experience by downloading a video called Five Broken Cameras.
Very interesting read, well told. It certainly fosters ...

Derived From Web

, May 23, 2022

Very interesting to read, well told. It certainly promotes empathy for the Palestinian plight. It would certainly have been more realistic and impactfull to mention at least some of the Palestinian atrocities and terrorist activities.
It reads like a thrilling autobiography

Derived From Web

, May 23, 2022

This was a wonderful read! It was both historical and up-to-date on the long-standing PalestinianIsraeli conflict. was surprised at the end to read that it wasn 't. Brilliantly '' written
Haunting, poetic, superb storytelling!

Derived From Web

, May 23, 2022

First of all, this book is written absolutely beautifully. The vivid description of places and emotions woven into the gripping characters lives makes it difficult to describe. But it makes me hopeless... how much longer must Palestinian people endure?
An unforgettable book

Derived From Web

, May 23, 2022

It gives the reader a different view of the development of Israel than most Americans have been given through news programs and news magazines.
great book - well researched and well written

Derived From Web

, May 23, 2022

Great book, well written and researched. It is highly recommended. After finishing it, I thought about it for days.
Wonderful read

Derived From Web

, Dec 6, 2021

I love this book and the author's writing style. This book is heartbreaking at times, and warm to others. This book is historical fiction. There are several love stories in this book that add sweetness to a difficult topic. This book tackles very delicately difficult subjects. I recommend it for anyone interested in Palestine or anyone familiar with how to learn more. This book is designed for this. There is even a glossary of terms at the end of the book for reference. Recommend :