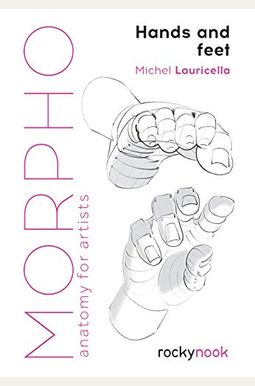 
 
Morpho: Hands And Feet: Anatomy For Artists
Book Overview
In Morpho: Hands and Feet, artist and teacher Michel Lauricella presents a unique approach to learning to draw the human body. In this book, Lauricella focuses exclusively on the hands and feet--arguably the most popular and, to some, the most difficult shapes of the body to draw successfully. Breaking the subject matter down into the underlying skeletal shapes, followed by the musculature, then skin and fat, and finally, the veins, Lauricella offers multiple approaches--from simple forms to complex renderings--and a plethora of positions and gestures to help you improve your drawing skills. Geared toward artists of all levels, from beginners through professionals, this handy, pocket-sized book will help spark your imagination and creativity.
(Publisher's Note: This book features an exposed binding style. This is intentional, as it is designed to help the book lay flat as you draw.)
Table of Contents
Frequently Asked Questions About Morpho: Hands And Feet: Anatomy For Artists
Book Reviews
(8)
Did you read Morpho: Hands And Feet: Anatomy For Artists? Please provide your feedback and rating to help other readers.
Great book, but not if your a beginner.

Derived From Web

, Dec 31, 2021

Media could not be loaded. I started drawing so I have no skill level whatsoever, but my goal is to learn how to draw. This book is excellent, I mean the drawings in here are good. This is not a beginner - book tho. To draw these models and this technique, you have to have some drawing skill. It is a compact book, small, so that you can take it where you go with you. But I bought this book thinking it was for beginners who started drawing just, and it is not. This is clearly a book for someone who has drawing skills and is looking to take that skill to another level. In all, it was a good purchase, but I use it next year. Ha-Ha, I'm glad that I bought it. Even tho, I cannot use it at the moment.
Weak!

Derived From Web

, Dec 5, 2021

The illustrations are great, but the book is so poorly bound, it literally falls apart when I try to open it! Buy it because the art is worth the tiny price tag alone, but make sure you have Bridgman first.
Binding is done on Purpose and it's a great portable reference book

Derived From Web

, May 19, 2021

This is a great reference book! I got the hands and feet because I always need help with them. It's small enough that I can carry it easily in my briefcase with supplies. I know everyone keeps talking about the binding, but I take it that they never had a book binding class before. The binding is left exposed on purpose for the sake of the binding. It shows the excellent craftsmanship of the bindery. It shows the excellent craftsmanship of the bindery. I don 't mind it at all. The book has a lot of great references and I use it all the time when I am looking for a specific foot or hand pose to go along with the body I sketched.
they lay flat

Derived From Web

, Apr 18, 2021

I have bought 3 morpho books ''. They aren't too small and because of the binding lay flat as you study them and try to duplicate them. Flat... that's a big plus. Brilliant idea for art books.
Big help to artist

Derived From Web

, Jan 11, 2021

Super Super Art Books were Morpho. My grandson loved all three books. He says that they help him draw the human body.
Helps you gain an intimate knowledge of hands

Derived From Web

, Sep 5, 2020

Hands are always the hardest to draw for me, but this book is a very helpful reference for drawing hands from different angles. The biggest thing to take is to first simplify your hands and know where to start. I start at the palms and work my way towards the fingers. Morpho Hands and Feets goes into broader depth about this that I have not seen from other hands and feet tutorials.
Nice Little Companion Art Book with Unusual Binding Design

Derived From Web

, Jul 28, 2020

The reprints in this book are good and the small size makes it convenient as a traveling tool. The reviews also looked good, which is why I bought this book. This book has, however, an unusual, exposed binding style described in the listing in the read more area. If you miss this area, you'll click on that important piece of information. I call it so because if I had read that part of the description, I probably would not have purchased this book due to the awkward binding style. In fact, I had to read the description again and go back after receiving the book. I was so disappointed that I thought I had received a defective product.
good info, just very small.

Derived From Web

, Jan 12, 2020

There are lots of great pictures and some ideas about how to draw, but the book is tiny. I love big books for instruction so that I feel like I squinting to see this one!