OUR BIGGEST SALE EVER - SAVE 20% AT CHECKOUT WITH CODE CYBERBOOK. Learn more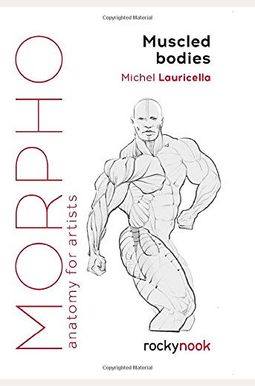 
 
Morpho: Muscled Bodies: Anatomy For Artists
Book Overview
In Morpho: Muscled Bodies, artist and teacher Michel Lauricella presents a unique approach to learning to draw the human body. Bodybuilder athletes offer us an ideal repertoire of shapes and proportions for the representation of the superheroes and superheroines we find in comic books, animated films, cinema, and video games. This book is for those who are interested in the design, modeling, and animation of such characters, whether they're mythical, realistic, or fantastic.
Geared toward artists of all levels--from beginners through professionals--this handy, pocket-sized book will help spark your imagination and creativity.
(Publisher's Note: This book features an exposed binding style. This is intentional, as it is designed to help the book lay flat as you draw.)
Table of Contents
Frequently Asked Questions About Morpho: Muscled Bodies: Anatomy For Artists
Book Reviews
(8)
Did you read Morpho: Muscled Bodies: Anatomy For Artists? Please provide your feedback and rating to help other readers.
Amazing

Derived From Web

, Feb 3, 2022

The book is a great resource, and I highly recommend it to anyone. The book is a treasure trove of pictures and figures. Full of useful information, the report is highly recommended reading.
Handy and portable!

Derived From Web

, Jan 17, 2022

Really informative and detailed book, with clear descriptions and illustrations. It's pretty small and portable, so I could read and study it while I'm at work, she said. If you need a reference book, you can get one from 1010.
Excellent book. Not for beginners.

Derived From Web

, Dec 31, 2021

Television images could not be loaded. I've read all the books, and I love them all. Excellent books, but they are not for my level of drawing skill. You would have to have some type of drawing skills, preferably with a pencil, to do the work. Even though I have no drawing skills whatsoever, I won't be using them this year until I can develop them. The drawings are a bit complicated for me and are hard to predict. I'm still glad I got these books and will keep them and add them to my collection, but if your at the beginner level like myself, you won't be able to draw these. Check out my video and you'll see for yourself. Happy customer, Mr. D.L.A.
Handy but expensive for the length and size

Derived From Web

, Oct 28, 2021

The book is slightly smaller than a hardback, with only a dozen or so pages. However, the book lacks several points of view that anatomy artists would find useful. The price tag for a single unit of the NIMA is estimated at around $2,400.
Extensive and pocket sized

Derived From Web

, Jul 22, 2021

I'm really happy I took the plunge and bought this book, said Blair. In different circles that worship guide books everyone is so quick to pull out Loomis or Bridgeman. They may be fantastic artists, but Morpho is in depth a way that artists understand. I don't want to draw an idealized form from 60 years ago, I want to know how things work. It's refreshing and very helpful to see poc figures included in the game. I've become a fan. Barrenas goes into great detail about how the muscles wrap, flex, contract, and shift under the skin. The book is divided into three categories: veins, torso, and lower arms. It's great to see the book binding, Hachette said. The book is a work of fiction created by an artist for an artist.
Great reference convenient size book

Derived From Web

, Jul 6, 2021

Muscle reference. I have bigger, more comprehensive anatomy books, but I love the size of this series so I end up using them more. Or you can just open them and take those with you, Mr. Dhaliwal said. Really detailed pictures that are easy to understand. Not much in the drawings, but the line is excellent for reference.
Pocket Reference

Derived From Web

, Jun 21, 2021

Great book, good reference one more thing he make this book more bigger I left in my home is good like that. I've always liked him more than anything.
Great book; great binding.

Derived From Web

, Jun 11, 2021

The Morpho books are always magnificent, and unfortunately there are always a few negative reviews due to the binding and the size of the book. It's a very small book, a pocket reference. The binding is exposed so it can lay flat, which is effective and incredibly convenient, Reichert said. Even if you don't understand all the facts, you won't be disappointed. There are plenty of clear drawings to choose from, ranging from the mundane to the sublime. The larger muscles featured in this volume are very useful for the understanding of the characteristic forms of a muscle, whether you intend to draw bodybuilders or not.