Buy 3 Get 1 Free
Our Best Sale Yet! Add 4 Books Priced Under $5 To Your Cart     Learn more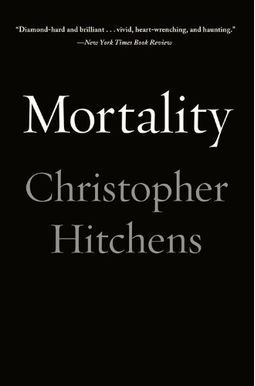 
 
Product is currently Out of Stock.
You can add it to your wishlist and you will be notified once we receive a copy.
Book Overview
This Description may be from another edition of this product.
On June 8, 2010, while on a book tour for his bestselling memoir, Hitch-22, Christopher Hitchens was stricken in his New York hotel room with excruciating pain in his chest and thorax. As he would later write in the first of a series of award-winning columns for Vanity Fair, he suddenly found himself being deported from the country of the well across the stark frontier that marks off the land of malady. Over the next eighteen months, until his death in Houston on December 15, 2011, he wrote constantly and brilliantly on politics and culture, astonishing readers with his capacity for superior work even in extremis.
Throughout the course of his ordeal battling esophageal cancer, Hitchens adamantly and bravely refused the solace of religion, preferring to confront death with both eyes open. In this riveting account of his affliction, Hitchens poignantly describes the torments of illness, discusses its taboos, and explores how disease transforms experience and changes our relationship to the world around us. By turns personal and philosophical, Hitchens embraces the full panoply of human emotions as cancer invades his body and compels him to grapple with the enigma of death.
Mortality
is the exemplary story of one man's refusal to cower in the face of the unknown, as well as a searching look at the human predicament. Crisp and vivid, veined throughout with penetrating intelligence, Hitchens's testament is a courageous and lucid work of literature, an affirmation of the dignity and worth of man.
Frequently Asked Questions About Mortality
Book Reviews
(13)
Did you read Mortality? Please provide your feedback and rating to help other readers.
Brilliant, though brief

Derived From Web

, Jun 1, 2022

Like Hitchens'other works, his writing here is brilliant. He is complex, expounding on wise issues with nuance and intelligence and wit. My only wish is that the book were longer, not only for selfish reasons, but also because it would mean that Hitchen had lived a bit longer, capturing us with his unique writing style, informing those willing to listen.
True to the end...

Derived From Web

, Jun 1, 2022

Hitch took over full responsibility for his illness. That doesn 't assuage the loss of this great mind. No truer words can be spoken than John Donne. My death diminishes me because I am involved in the humanity. And therefore send never to know for whom the bell tolls. It tolls for their .
Hitchen's take on cancer

Derived From Web

, Jun 1, 2022

Christopher Hitchens was one of a true agent provocateur, bon vivant, a kind of intellectual and a journalist with integrity. All of these properties can be seen in this short but powerful account of his fight with cancer. He writes without self-pity and indeed tackles the question Why Me ''. with aplomb ''. He admires the medical staff who treat him, but is quick to shoot people who tell him to pray, eat this or that, and other esoteric ideas. God plays a fervent role in a way that was one of the most important atheists in the world! It is therefore not surprising and he holds fast to his non-believing beliefs. An incredible book by an amazing man. I wish it could have had a happier ending ''.
Interesting

Derived From Web

, Jun 1, 2022

I have never been seriously ill, so I can 't really judge the world view. I bought it for a friend who was dying, and had asked for it after hearing a review on npr. Upon opening it, the friend jumped back and shoved the book away. . and its ever since been hidden in the back of a drawer. I '' found the cover a little daunting.
And Now the Terrible Silence

Derived From Web

, Jun 1, 2022

Christopher Hitchens was perhaps the greatest essayist of our time, and certainly the most polarized. But whether you agreed with him or not, it was hard not to be overwhelmed by his command of reason, language, of his encyclopedic knowledge of the arts and letters. This is Hitchens's last book - mostly reflections on his 19-month coda. Until the end, he remained urbane and witty. The hollowing, saddening, deafening silence.
A Model for End of Life

Derived From Web

, Jun 1, 2022

I hope that I die with such dignity and with the willingness to accept the inevitable. I can understand how easy it would be to use the panacea of those who seek for comfort from a man made god... but thank you also for showing your readers that the love, rememberance, and respect from those who love and admire you is truly eternal life.
A read as enlightening and brilliant as any I've ever read

Derived From Web

, Jun 1, 2022

The brilliance and insight, delivered by Mr. Hitchens in life is not diminished in the least in these insights, as he confronts mortality in the face of terminal cancer. A read as enlightening and brilliant as any I have ever read. Whether you are interested in mortality as a topic of discussion or not, read this beautifully written book. It would make a stone thinker.
Interesting

Derived From Web

, Jun 1, 2022

Christopher Hitchins sadly chronicled the last days of his life and offered a way to die with dignity. Not much can be said about his demise, except that he faced it with dignity and resolve. Too bad he didn 't write and open longer so that he could have continued to live in people's minds.
Powerful

Derived From Web

, Nov 23, 2020

The first non-fiction book that ever made me weep bitterly as an adult man. In Mortality, Hitchens gave a first hand account of the end of his own life and all the trials and sorrow he brought him and his family. Here there is much to say, but to be brief... the whole account is utterly harrowing and well worth reading to provoke thoughts about your own mortality. Pick it up and read it in one sitting, be prepared to cry as you walk through the last days of a beautiful life of a person.
No need to gush your love for a half complete book.

Derived From Web

, Nov 14, 2020

I understand religious people liking anti-Atachys. entertaining, funny, smart and a huge vocabulary that he could use like a knife. But honestly, the first couple of chapters are interesting ; the rest is again and again, and then it ends with some unrelated memos he wrote. It's really a quarter of a normal CH book, not even close to his primary work, and you don 't get too much insight into his head during his death-preparatory year. It should not have been published IMO, not as a book format.