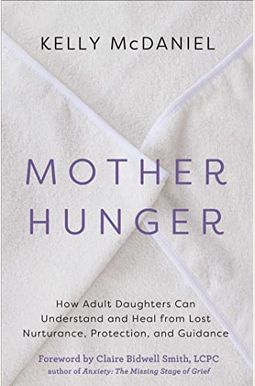  
Mother Hunger: How Adult Daughters Can Understand And Heal From Lost Nurturance, Protection, And Guidance
Product is currently Out of Stock.
You can add it to your wishlist and you will be notified once we receive a copy.
Book Overview
An insatiable need for sex and love. Periods of overeating or starving. A pattern of unstable and painful relationships.
Does this sound painfully familiar? Trauma counselor Kelly McDaniel has seen these traits over and over in clients who feel trapped in cycles of harmful behaviors-and are unable to stop. Many of us find ourselves stuck in unhealthy habits simply because we don't see a better way. With
Mother Hunger
, McDaniel helps women break the cycle of destructive behavior by taking a fresh look at childhood trauma and its lasting impact. In doing so, she destigmatizes the shame that comes with being under-mothered and misdiagnosed. McDaniel offers a healing path with powerful tools that include therapeutic interventions and lifestyle changes in service to healthy relationships. The constant search for mother love can be a lifelong emotional burden, but healing begins with knowing and naming what we are missing. McDaniel is the first clinician to identify Mother Hunger, which demystifies the search for love and provides the compass that each woman needs to end the struggle with achy, lonely emptiness, and come home to herself.
Frequently Asked Questions About Mother Hunger: How Adult Daughters Can Understand And Heal From Lost Nurturance, Protection, And Guidance
Book Reviews
(5)
Did you read Mother Hunger: How Adult Daughters Can Understand And Heal From Lost Nurturance, Protection, And Guidance? Please provide your feedback and rating to help other readers.
Needed more editing

Derived From Web

, Oct 24, 2021

There is some helpful information in this book, but it felt like the author wrote just random thoughts as she was having them, and then published it without the direction of a good editor. For example, at the beginning she expressly tells the reader to read the book as a daughter, not as a mother, but then spends a whole section complaining about the pressures that young girls are under today because of social media. Here is she addressing, if not mothers? Who is she addressing here? Or does she thinks that 12 year olds are going to pick up this book that is clearly not marketed to them? My experience with my mother had nothing to do with social media because it did not exist then, so it feels like a random rant and she forgot who her audience is supposed to be. That is just one example of the unfocused nature of this book. Discovering Your Inner Mother is a much better book on this topic than a book on Discovering Your Inner Mother.
Watch out. Kelly has started a movement.

Derived From Web

, Jul 31, 2021

Kelly says she first heard the term "mother hunger" when she read her first book, Ready to Heal. The whole thing is a total mockery of the American dream. It was great to see Elizabeth Taylor dig into the concept of sustainable development more in Mother Hunger. Although I am not a mother myself, I have learned a lot about what mothers can do to prevent mother hunger with their own children. She has done extensive research and has a wealth of documentation supporting each of her statements. This book will change the game of women's fiction. It truly will start a movement, Desai said. It's huge, Monet said.
An injury, not a pathology

Derived From Web

, Jul 22, 2021

I wish I had this book years ago. I wish I 'd had this book years ago. The author interprets various psychology concepts through a very specific lens, and her explanations make so much sense. The issues one might be facing are from an important attachment injury not a personal shortcoming or pathology. There is so much wisdom in this book and the overall tone is very reassuring. I hope others who can relate to the concepts find it, too.
If the title sparks any kind of reaction in you, this book is for you.

Derived From Web

, Jul 21, 2021

If the title ignites in you any kind of reaction, this book is for you. She explains the attachment style, the three pillars of mothering, and how to heal these wounds depending on what pillar you are missing in your relationship with your mother. Well researched, organized in a way that is easy to digest and more helpful than I could have ever imagined.
What can be named can be healed

Derived From Web

, Jul 20, 2021

Kelly McDaniel has done for women what Brené Brown did with shame—she has cracked open a core issue hidden in plain sight, and is showing us a path toward profound and transformational healing. Built on hours and years of working with so many women, the depth of research found in Mother Hunger combines the best of attachment theory, brain science, addiction recovery, complex trauma, family systems, and women's health. This is not a quick fix, but rather a safe, loving guidebook offered with profound sensitivity, intelligence, humility, and hope, Raymond said. The voice and wisdom of the Lord will be with you throughout your entire life. In courageously giving a name to the silent trauma and grief carried by so many, Kelly honors all women -- healing heartbreak across generations and opening doors to a more just and compassionate world.