Buy 3 Get 1 Free
Our Best Sale Yet! Add 4 Books Priced Under $5 To Your Cart Learn more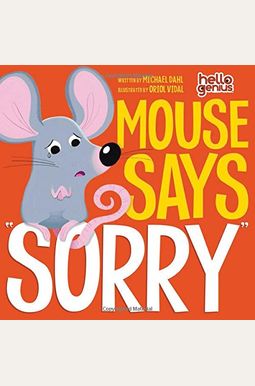 
 
Frequently bought together
Frequently Asked Questions About Mouse Says Sorry
Books like Mouse Says Sorry
Book Reviews
(9)
Did you read Mouse Says Sorry? Please provide your feedback and rating to help other readers.
So great I have bought 3 sets of the Hello Genius series

Derived From Web

, Jul 9, 2021

Originally, I bought two books for them each of the Hello Genius books. As I pick up the younger of the two toddlers from daycare and watch her until her mom gets home from work, when it is time to pick up for dinner, I simply say tiger, time to pick up and instantly my granddaughter helps me pick up. She also gave up her pacifier within a week of her mother reading No More Pacifier Duck. And isn 't as fussy about going to bed after Go To Bed Goat. I am so impressed with the books of Hello Genius, I bought most of the series for both my granddaughters. Today I bought 15 additional books from the series to give them to the day care where my granddaughter attends.
Not much to this book

Derived From Web

, May 1, 2020

The whole book is essentially about the mouse getting dirty, ruining his friend's painting, etc. Each time the mouse says sorry and moves on when the lesson should be to help friends get clean up. At the end of the book the mouse eats dirt on the ground and tracks with dirty hands eating dinner. I'm pretty sure that a mother would not be late for dinner at that point. This book makes no sense at all.
Very disappointing, not as good as other books in this series.

Derived From Web

, Sep 15, 2019

We have "Bear Says Thank You " and Penguin Says Please '' and we loved the message that was delivered in those. It really helped us to teach our daughter both thank you and teach you... This book does not help a little one understand sorry ''. It still seems like it gives the message that you should rush through everything, and just seems to be disappointing to everyone. Honestly, we felt bad for a mouse in a children's book! We will probably not often read this book, and we will use it to teach our daughters to be sorry.
Mouse says sorry but then makes no effort to make amends

Derived From Web

, Apr 26, 2019

This book is the worst children's book I have ever read since Fat Magic. Mouse goes page after page causing problems and says sorry. The first time I read it, I was wondering how it would end and how the mouse would fix all the trouble he caused, and nothing happened! I am glad that I read it myself before reading to my toddler, as the message is a poor one.
No moral, no thanks

Derived From Web

, Mar 28, 2019

This mouse certainly says sorry a lot, but the story seems to almost suggest that it was alright for the mouse to do all the things he did because he was rushing to get home. This one I will not read to my children.
Missing the message!

Derived From Web

, Aug 21, 2018

Our family is a big fan of the books in this series, and Penguin Says Please was an early favorite. I am sad to report that Mouse Says Sorry did not live up to this standard! Here is the plot this poor little mouse rushes home, running through various creatures in his Zeal to get there quickly. Upon arrival, he is berated by his father mouse and replies with tears in his eyes, I got here as fast as I could! This poor mouse, Geeze louise, ruined a lot of other critters'days trying to rush home and was met with no understanding or sympathy or encouragement! Not to mention, there is no real understanding of what means sorry in this book. I say to MOUSE SAYS SORRY, NO THANK YOU!
Don't love the message- prefer the other Hello Genius books much more

Derived From Web

, Jul 20, 2018

I like this series of books, but I found this one rather flippy and does not really teach us why we say sorry. The mouse runs through various situations, making a mess and destroying other people's belongings and then runs off just saying sorry. It kind of implies that he was correct to do all the other things because he was late. I would prefer putting more emphasis on making things wrong when you are right, instead of saying sorry and running away. Destroying other people's stuff and making a mess because you are late without going back and making amends or changing behavior doesn't really teach anything.
Great series, not my favorite of the bunch

Derived From Web

, Jul 20, 2017

I love the series Hello Genius ''. Both my children have read the books in the series over and over again. Mouse Says Sorry is about a mouse that is racing home because they are late for dinner. My children were about 2 years old when they stopped participating in these books, and around 4 they began asking for the books at bedtime. Two favorites are Little Monkey Calms Down and Little Elephant Listens. I believe that this series teaches basic life skills that are important to know for children. I noticed my children saying excuse me and more often after reading certain books in the series.
Not really teaching "sorry" all that much....

Derived From Web

, Feb 13, 2017

To me, this book does not really get the point across about sorry and my daughter isn't really a big fan of this book. We teach our 19 month old to say sorry and I was hoping that this book would be a hit like the Bear Says Thank You one that we have from the same series. However, this does not really teach when to say sorry to a toddler without more explaining. And the mouse says just sorry! In return, he will be rewarded. That is it. The final is he gets in trouble for being late, and his response is Sorry, I got here as fast as I could ''. That is it. If you ask me, not much of a story. I don 't really think that this book teaches sorry. The illustrations are cute and hopefully I read this to her and just saying sorry a number of times helps, but I don 't think she really gets the point with this one.