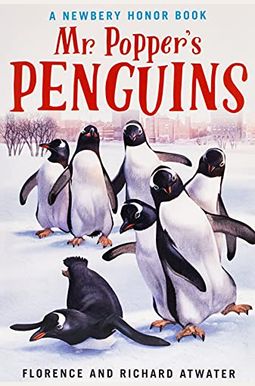 
 
Book Overview
This Newbery Honor-winning novel, with over 1 million copies sold, now celebrates its 80th anniversary with a new look and interior illustrations
Mr. Popper's Penguins
is one of the handful of American books for children that has attained the status of a classic. A humble house painter is sent a male penguin by the great Admiral Drake and, thanks to the arrival of a female penguin, soon has twelve penguins living in his house. First published in 1938,
Mr. Popper's Penguins
has amused and enchanted generations of children and their parents.
Frequently bought together
Frequently Asked Questions About Mr. Popper's Penguins

Books like Mr. Popper's Penguins
Book Reviews
(15)
Did you read Mr. Popper's Penguins? Please provide your feedback and rating to help other readers.
Fun and full of hidden meaning

Derived From Web

, Apr 20, 2022

A giggle-worthy read-aloud for the whole family, both my 8 year old and my 11 year old really enjoyed this book. As a bonus, it took us only a few nights to finish, so it is not a book that will take weeks to read, although they certainly have their place in the family's reading time. We read it because it is recommended by the authors of Deconstructing Penguins as a good choice for introducing literary children to young analysis. And it was a nice 10-15 minute discussion of the hidden layers of this book that my boys and I both enjoyed using the model suggested by the Goldstones.
Timeless

Derived From Web

, Apr 20, 2022

This is a book that I remember as a child being one of my favorite books. I read it to my own children ages 7 and 9 - and they love it! In fact, they refused to let me stop reading and made me do it all in one sitting. The illustrations are wonderful! This book allows children to see what can happen if you keep believing in your dreams. I recommend this book 100%. I recommend this book 100%.
Fun!

Derived From Web

, Apr 20, 2022

Ordered this as required reading for my 4th graders. Great book full of comedic mayhem and old-fashioned references. Then he got to watch the movie and compare. Lots of fun.
Classic for all ages

Derived From Web

, Apr 20, 2022

I have loved this book since I read it for the first time almost 25 years ago when I was 8. Today I still love it. I particularly appreciated the short bio and pictures included in the back of the Atwaters, especially the colorful pictures. It is amazing to me that a book written in 1938 is still widely read and loved today!
Adventures and Humor Living with Penguins

Derived From Web

, Apr 20, 2022

When I was a child, my father read me this, when I was a child. I enjoyed it very much ''. I purchased a copy and read it to my young daughter, and we enjoyed it together. It may not qualify as great art, but it is great fun, intriguing and imaginative, a great book to share with little ones. It is well written, never a dull moment with a number of penguins in the house! Richard and Florence Atwater deserve high praise for creating a lovable story that has stood the test of time.
A Girt for my Wife.

Derived From Web

, Apr 20, 2022

My wife mentioned this book in one of those late-night conversations as one of her favorites as a kid. I also surprised her with it for her birthday 4 months later. She read it in a few nights and is tickled. Your kid would probably like it even at 50.
Delightful, funny children's book!

Derived From Web

, Apr 20, 2022

Both my boys loved this book so much that I purchased it for my niece and nephew. My elder son particularly likes the call conversation that Mr. Popper has with his local bureaucrats trying to find out whether or not he needs a license for his penguins. It is hysterical! This is good humor of the 1930s, which is so refreshing in this day and age.
Granddaughter loved this book!

Derived From Web

, Jan 28, 2022

Had purchased this book to be used for my son and his daughters as a book at bedtime. I learned, however, that my 7-year-old granddaughter decided to read it on her own! I had the pleasure of speaking with her over the phone and listening to her tell me how the penguins were moved from the south pole to the north pole, etc. She loved the book and I so loved sharing her reading experience with me.
Wonderful Book

Derived From Web

, Nov 17, 2021

Mr. Popper Penguins is a great read for kids in every bit. It is full of questions about the world and decision making when confronting a moral dilemma.
"Kinda boring, not gonna lie!"

Derived From Web

, Mar 24, 2021

"That was kinda boring, not gonna lie! " Were the first words out of my eight-year-old mouth as soon as we finished. I agreed so hard because I totally laughed ''. So I asked my 7 - year old and said, Wait! '' This was the end?!?!! Apparently she was still waiting for it to catch up, better, have a better ending. There were some helpful parts so that it is not just a 1 - star. But now with barely 2 stars, it is just 2.