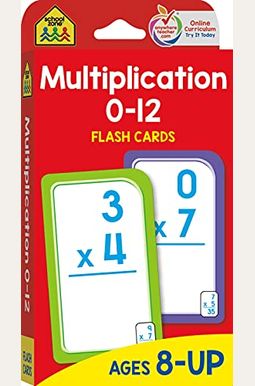 
 
School Zone Multiplication 0-12 Flash Cards
Frequently bought together
Frequently Asked Questions About School Zone Multiplication 0-12 Flash Cards
Book Reviews
(18)
Did you read School Zone Multiplication 0-12 Flash Cards? Please provide your feedback and rating to help other readers.
Worked well for their purpose.

Derived From Web

, Nov 1, 2021

My son is familiar with his x tables. I had him fill them out by working out multiplication problems, then we went to memorize them. Well served their purpose. He can quickly figure out multiplication problems if he is familiar with multiplication.
Great cards for practice

Derived From Web

, Jun 16, 2021

There are great flash cards. It's double sided and durable. They serve their purpose and wish they could get my son to study multiplication facts. These add a little more fun to it.
spend a little extra to get a complete set

Derived From Web

, Jun 2, 2021

These cards are junk and my title is mis-leading. The back of other cards have some problems. You can't just grab the stack of the numbers when you're trying to work on them. You have to wade through the cards to figure out where all the ones are, and they might be on the backs of some of the twos or threes. I should have paid more attention to these cards. My son has a learning disability and these do not work for him. If you pay a little more, you can get a full set that has the problem on the front with the full answer on the back.
Not recommended- I should've paid a few dollars more for a better product. :-(

Derived From Web

, Feb 3, 2021

I wish I had bought a more expensive set of flash cards that would have made it easier for my son to understand. If you are thinking of buying these for a child who is struggling, I would suggest a set that has more cards and is more consistent. I took pictures of a few of the sets, but they cut corners to save money. My son was confused as we were using these in order. Some of the number sets had their facts printed on the backs of the cards. The piles don't laystack nicely because of this. If you are looking for a basic set, this is probably fine, but for us it created more confusion.
Disappointed in errors in the pack

Derived From Web

, Jan 28, 2021

You get what you pay for. The cards are printed on good quality paper and the colors are nice, but there are cards in the deck that are not in the multiplication sequence and the color coding is incorrect. I am buying a set of functional flash cards on Amazon because I can't return the item at the price I paid.
Worst set of multiplication fact cards I've seen

Derived From Web

, Dec 2, 2020

I don't know how these cards get a high rating. They do not include all math facts for each number in the description. I had to pull from others with different numbers. The colors have no rhyme or reason, so don't expect that to help you organize them. When my child learns math facts in order and then memorizes them, she will need to remember what the answer is if she misplaces the fact family of 4s. It can be difficult for a child to learn from memory if the numbers are rearranged to 3x4 instead of 4x3. These cards are not worth $3.
Set is incomplete!

Derived From Web

, Oct 16, 2020

I was certain that the box was a previously returned item because they weren't in order when I opened it. I tried to sort through the cards to see if there were any sets, but realized there was a missing card. The set makes no sense. There isn't an order to it. It was very frustrating. I would return it, but I don't think I'd be able to afford to go to the office for a couple bucks. The box says Common Core, so maybe that's why it's BS! It's funny.
Great math add-on!

Derived From Web

, Sep 20, 2020

It was fun and easy to use. A lot of math and multiplication is not taught in school. Common Core multiplication is mostly broken down and shows you visually, but adding this back into math helped you memorize simple multiplication without having to think about the answers.
They'll work just fine if you do not need a full set

Derived From Web

, Mar 10, 2020

The choices for flash cards seem to be incomplete sets for a few dollars or complete sets for more than the price. I don't understand it. I didn't want to spend the money again after buying full sets in addition and subtraction. My goal was to practice fact memorization with my daughter, not to give her a specific intervention. They have worked well so far. There are some problems that are missing. There are different problems on the front and back. The expensive sets have a single problem on each card and the answers on the back. It makes it difficult to organize facts. The back side of the cards is unfinished and just feels like regular paper, but the side that is smooth is finished like playing cards. I would buy the full set of facts if they weren't so much more money.
Thick card paper material.

Derived From Web

, Mar 5, 2020

My son has been helped by these cards. The cheapest cards I could find were good for the price, even though I wish the cards had a shiny coating.