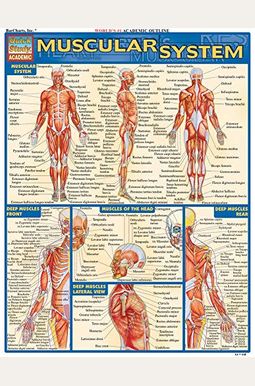 
 
Frequently Asked Questions About Muscular System
Book Reviews
(10)
Did you read Muscular System? Please provide your feedback and rating to help other readers.
Great Reference (A Little Small)

Derived From Web

, May 1, 2022

Note the warning: this is not for you, the print is not super small, but it is not for people with strained vision. It is great to have hanging around the gym so I can help explain to people what muscles I am trying to train and why training these muscles will help them reach their goals, Mr. S. Barrera said. It's also helpful for students who need help with their homework.
Muscular system Quickstudy

Derived From Web

, May 1, 2022

My daughter is a medical assistant and she wanted to take her anatomy and physiology class at college. She's a huge fan of the new technology, and she loves it. It has great information and helps her study for exams, it has all the necessary details, she said. I purchased it with several other quickstudy guides and have reviewed them together with this same review, because it applies to all of them. The quickstudy guides are all great and are a must-have for busy college or high school students.
Nice

Derived From Web

, May 1, 2022

Thanks for the compliment. It's what I was expecting from the show, Sosa said. It's a plus for me that they are plasticized. And because it makes them so easy to use, we think it's great for business. Thanks for the great work!
Muscular System: Purchased at Amazon.com

Derived From Web

, Oct 26, 2021

After going to physical therapy numerous times, I decided it would be beneficial to actually look at some of the many muscles we have. After going over two pages of detailed information it makes me really admire physical therapists, he said. Barrenas also said that although the book is very well written, it has a very small amount of information about the muscular system. This book is a wonderfully handy source of knowledge.
Most orders no holes, this order three ring binder holes?

Derived From Web

, May 27, 2021

Loved these when they had no three ring holes, Mr. D'Antonio said. This batch had that extra bit of that as we give these out to customers of our percussion devices for reference. The holes are so small they make them look cheap. Functional for others, not so much. Consistency is the key to success.
You won't be disappointed

Derived From Web

, Nov 7, 2019

It has all the important information in an easy to read and understand format with clear color photos. Each section of the book deals with the most common and widely needed descriptions of the book. After the semester I debated selling it to recoup some money, but I decided I would rather keep a folder full of these and use it as a quick reference.
Portable study guide

Derived From Web

, Sep 19, 2019

This study guide is great to have on the go. It's portable size makes it easy to carry around and study while the kids run around. Even though I haven't gotten to the muscle system in my anatomy class, I feel like I've received a head start with this study guide. The second con is that it is smaller than the first, and some of the words are not clearly typed.
Great product as described

Derived From Web

, Sep 18, 2019

For people saying the text is too small and cannot be read, get a clue! There are over 800 muscles in the human body that can hold a letter in place, and the text is perfectly fine at approximately 8 point, which is standard business card size. Another review said the book was too crowded, well duh. The product is fine with the exception of the pre-punched holes for some people which I totally get. Not a problem for me, said Dr. Goin.
It is, what it says it is.

Derived From Web

, Apr 14, 2019

Tells me what I need it for. This may sound silly, but its really just a double-paged flashcard, if your into writing, and need it for quick reference without getting online. Or, if you need an overview of the human musculsr system, and are a med student, I guess.
Useful to help find the right stretches to do

Derived From Web

, Dec 5, 2017

It has helped me a lot with muscle groups that are not being exercised enough. Easy to read material Very good quality laminate Cons.