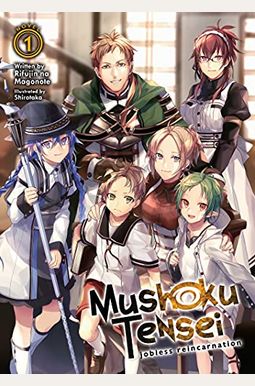 
 
Mushoku Tensei: Jobless Reincarnation (Light Novel) Vol. 1
Book Overview
This Description may be from another edition of this product.
The epic and influential fantasy manga series that started as light novels (and spawned a manga spin-off: Mushoku Tensei: Roxy Gets Serious), all available from Seven Seas. And don't miss the new anime
An unemployed otaku has just reached the lowest point in his life. He wants nothing more than the ability to start over, but just as he thinks it may be possible.he gets hit by a truck and dies Shockingly, he finds himself reborn into an infant's body in a strange new world of swords and magic. His identity now is Rudeus Greyrat, yet he still retains the memories of his previous life. Reborn into a new family, Rudeus makes use of his past experiences to forge ahead in this fantasy world as a true prodigy, gifted with maturity beyond his years and a natural born talent for magic. With swords instead of chopsticks, and spell books instead of the internet, can Rudeus redeem himself in this wondrous yet dangerous land?
Frequently Asked Questions About Mushoku Tensei: Jobless Reincarnation (Light Novel) Vol. 1
Books like Mushoku Tensei: Jobless Reincarnation (Light Novel) Vol. 1
Book Reviews
(6)
Did you read Mushoku Tensei: Jobless Reincarnation (Light Novel) Vol. 1? Please provide your feedback and rating to help other readers.
Underage sexcapades are cool... right?

Derived From Web

, Mar 25, 2021

This is a series about the protagonist's '' Little Buddy , who lives south of the protagonist's navel. Little Buddy was a scumbag in the real world and became excited about children, so it died and was transported to a fantasy world with a lower age of consent, thus allowing it to lust after females of any age without any guilt whatsoever. The end is at the. Some other stuff happens in between sexual encounters, but they are not really relevant to anything. Mushoku Tensei is the series that sets the tone for most other isekai that follow to the overall detriment of the genre. With this in mind, you can consider this story a tragedy.
Beware CENSORED Content

Derived From Web

, Feb 18, 2021

Was so happy to finally see this series licensed and released officially, only to be heartbroken to Lean that the publisher has censored and altered the original content with their translation and localization decisions. You can find the specifics on the article Anime News Network, which includes the non-committal statement on changes in Seven Seas.
The author does a great job blending two styles into an entertaining story

Derived From Web

, Apr 2, 2020

In this book, Isekai and the Slice of Life genre are very well combined. You have the old character literally developing from infant in his new life, but still with his main memories. There are many signs that he is over-powered, but his past memories really help him stay in checkgrounded while avoiding his mistakes of his past. How the characters evolve around him is also entertaining to watch. I really enjoyed the sections written from a different point of view ''. While few, they help develop the other characters'apos ; mindsets and give perspective on how they interact with the protagonist. Time to grab the second book because this leaves the next one very well for setting up.
Solid isekai story

Derived From Web

, Sep 8, 2019

Fairly typical isekai story with a modern Japanese man dying filled with regrets over poor life choices. Born in a fantasy setting, he desides that his life is going to be different. As far as the isekai stories go, it is fairly typical with a little more serious bent to it than most. It focuses on character development and there is no action that comes later as the manga readers know. The lack of typical tropes is a plus in my book. The biggest downside is that it is a bit boring and doesn't add much compared to the manga. In all, it is a good book for those who prefer to read the light novel to manga or for people wanting to read a good isekai story.
One of my favorites

Derived From Web

, May 27, 2019

Several years ago, I read the web - novel version of this story until its conclusion. It has been the measure against which every subsequent Isekai story has been measured ever since for me. It is a small shame that it took so long to be translated and published, as some of the mechanics used early in the story and a few places throughout have become checklist items for stories of a lesser caliber. The fact that it is still so good despite the influx of so many other isekai stories is a testament to the quality of the world and character building done by the author. Rudeus feels like a human being, his family feels like people you might know and his love interests love him for what he does, rather than because they were cute girls and he is the protagonist. If you're into isekai, it is definitely worth a read. If you read the web novel, the light novel version integrates many of the side stories of the web novel into their logical placement, so consider picking this up.
More or less the LN that first popularized the current isekai trend

Derived From Web

, Apr 10, 2019

I heard about the light novel when I looked for information after reading the manga. I really like the story, it starts right before the MC dies because of Truck-Kun and details his life growing up. He is not as overpowered as some other MC's, which I really like, in fact he only gets so strong because he studied at a young age. Another thing I like is the characters, both in their personalities and their design. I have high hopes for the rest of the series.