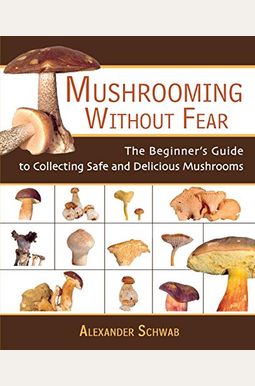 
 
Mushrooming Without Fear: The Beginner's Guide To Collecting Safe And Delicious Mushrooms
Book Overview
Is it safe or not? What gourmands and nature lovers need to know to harvest your own. Advice, with full-color photographs, from an expert
Novices eager to collect tasty wild mushrooms will find this unique guide invaluable. Unlike others, it focuses only on those types that are both safe to eat and delicious. Most importantly, it presents the eight rules of mushroom gathering in a straightforward fashion, including, Never, never take a mushroom with gills and If a mushroom smells rotten, it is rotten. Among the mushrooms covered are the cep; the red-cracked, larch, bay, and birch boletes; hen of the woods, chanterelle, trumpet chanterelle, hedgehog fungus, common puffball, horn of plenty, and cauliflower mushroom. Each is identified with several color photographs and identification checklist, and there's also information on mushroom season, handling, storage, and cooking, complete with recipes.
Frequently bought together
Frequently Asked Questions About Mushrooming Without Fear: The Beginner's Guide To Collecting Safe And Delicious Mushrooms
Books like Mushrooming Without Fear: The Beginner's Guide To Collecting Safe And Delicious Mushrooms
Book Reviews
(12)
Did you read Mushrooming Without Fear: The Beginner's Guide To Collecting Safe And Delicious Mushrooms? Please provide your feedback and rating to help other readers.
Don't waste your money

Derived From Web

, Apr 20, 2022

Initially, I thought this was a good guide, but after reading through it, you are essentially snaking without fear because you learn only mushrooms without gills. Species of Cantharellus, polypores and Boletes are included. While this may seem intriguing, know that there are hundreds of boston species in North America, some of them poisonous. If you are interested in learning more about them, I would recommend purchasing a field guide for your region for other species. Be sure also to learn how to make a spore print and get involved with your local mycolgical society as well as on many mushroom identification Facebook pages.
Four Stars

Derived From Web

, Apr 20, 2022

A simple and fun book to use. But caution is important. I got a hold of what is called a slippery jill and had some ill effects. Jills don't bother every one, my 8 year old daughter actually ate more of it than I did, but obviously they do not bother me. Otherwise, about 12 hours of diarrhea, feeling fine otherwise. Use caution again if necessary.
Not Helpful for novices or those outside Switzerland

Derived From Web

, Jan 3, 2022

I was looking forward to learning about mushrooms ''. I will now buy a field guide to mushrooms, because this book did not help me in the Midwest. Repetitive. Repetitive. Shallow, Shallow was born. Bad advice. Oyster mushrooms have gills and are edible and delicious. I don't understand where the author is coming from on the Gills issue. ?? ?
Least benificial of mushroom books.

Derived From Web

, Dec 1, 2021

This is poorly organized. There is no index for this site. There are many unlabeled photos out there. The pages 36, 70, 80, 86, 106 are identical : The text is oversized as in a children's book, as in a large print. Tons of paper was sacrificed to no end. Kudos to the graphic artist, graphic artist. The cover is very inviting, unfortunately it disappoints every wasted attempt to find meaningful value. I offer my appologies to the author, though in all fairness, his readers are due appologies for wasting time and money. I do not believe that I have been so blunt in reviewing a book. I do not feel good about what I felt compelled to write. Blessings to readers and the author.
Scam

Derived From Web

, Mar 3, 2021

I was very disappointed. This book talks about all the colorful pictures but is completely black and white besides the cover.
The rules you need to pick safe mushrooms. Great for beginners

Derived From Web

, Sep 30, 2020

Great first mushroom hunting book. Follow the Rules ''. Illustrations and photos with what you need to get started. Follow the rules. Grab your basket and bug spray. Follow the Rules ''. They even have images of poison ivy, oak and sumac!! Follow the rules. There are pictures and illustrations of trees, which is very helpful. If you follow the listed rules, you shouldn 't go wrong if you don 't go wrong.
Simple and easy to understand!

Derived From Web

, Jun 28, 2020

For beginners it is very nice to have a book like this! Some common mushrooms aren 't covered, but the ones that are you 'll have no doubt about collecting.
Not as describe DO NOT BUY

Derived From Web

, Apr 3, 2020

This is what the description said : I am upset to find the entire book in black and white! '' How will you find mushrooms with this! You can hardly see them at all and the print is way dark,! I would love my money back on a waste of purchase.
disappointed

Derived From Web

, Dec 27, 2018

Did not cover any of the morel mushroom varieties at all. The most searched and collected mushrooms of the Midwest, not even mentioned.
A must have beginner reference tool

Derived From Web

, Sep 23, 2018

This book takes the questionable mushrooms out of the equation in foraging. I had a great day mushroom hunting with this book by my side. I am a beginner forager and trust me, there is a lot of fungi that can put you in the ER,so as a starting guide, this is Awesome, direct to the point with easy identification. Stay in the woods! Have fun, great exercise, stay in the woods!