BLACK FRIDAY DEALS CONTINUE - SAVE 20% AT CHECKOUT WITH CODE CYBERBOOK. Learn more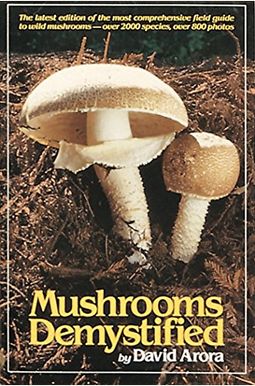  
Product is currently Out of Stock.
You can add it to your wishlist and you will be notified once we receive a copy.
Book Overview
Simply the best and most complete mushroom field guide and reference book, MUSHROMS DEMYSTIFIED includes descriptions and keys to more than 2,000 species of mushrooms, with more than 950 photographs. Mushroom authority David Arora provides a beginner's checklist of the 70 most distinctive and common mushrooms, plus detailed chapters on terminology, classification, habitats, mushroom cookery, mushroom toxins, and the meanings of scientific mushroom names. Beginning and experienced mushroom hunters everywhere will find MUSHROMS DEMYSTIFIED a delightful, informative, and indispensible companion.
Frequently Asked Questions About Mushrooms Demystified
Books like Mushrooms Demystified
Book Reviews
(11)
Did you read Mushrooms Demystified? Please provide your feedback and rating to help other readers.
This book is the best I've found

Derived From Web

, May 9, 2022

This book is the best I've found, even though it is written primarily for the west coast and I live in the east. The author is opinionated and has a good sense of humor, but he knows his stuff. Although they are as subjective as any in the mycological world, there is an element of art and interpretation in using them. The only quarrel I have is that the photos are too few and too limited. One should be able, after going through the keys and word descriptions, to find an image that reinforces the almost always tentative identification. The upshot is, it is the best thing I have found for putting a name on a fungus.
Perfect new condition!

Derived From Web

, May 9, 2022

A great book. It was the first time I owned a car. Of course, I forget where it went. It's just that they forgot where they got it." Perfect new condition!
So far I like this book

Derived From Web

, May 9, 2022

Like the first book, this one is a good read. Tried it the other night in bed. The font is small and it's heavy given that it's about 3 1/2 inches thick. May not serve as the best field-guide, but is definitely a great reference.
A Mush Read!

Derived From Web

, May 9, 2022

This guide is wonderful for Californians trying to identify native mushrooms. I use it in conjunction with the audoban society's field guide. I am sure it would work fine for other areas in America but i think it was made with central coast CA in mind. This is a pretty comprehensive guide as far as introductions to mushrooms goes.
An experienced mushroom hunter recommended this book and I'm glad I purchased it

Derived From Web

, May 9, 2022

Much larger than I thought. Everything you ever wanted to know, then some. An experienced mushroom hunter recommended this book to me, and I'm glad I purchased it!
Excellent

Derived From Web

, May 9, 2022

Extremely thorough and well-researched, with LOTS of color photographs. When I ordered this book, I had no idea how huge it was. Excellent quality paper and well done. This is my go to resource for all things mushroom!
Still has a California slant

Derived From Web

, Sep 22, 2018

The preface notes that the first edition was for California, and the second is more comprehensive. While that is true, I found constant references to other species in our area in habitat sections for various species. Instead of habitat the section should have been titled habitat and range with the US divided into five sections and a brief indicator of the likelihood of finding the species in any of these areas. At any rate, the bias toward California remains distinctly. I'm not saying the book isn't something a mushroom hunter who doesn't live in California shouldn't have, but you'll probably want to find some mushroom hunting books with a slant toward your own region, especially if you're just starting out. The statecological societies would provide some good material, I'm told.
A must have!

Derived From Web

, Dec 27, 2017

This book is by far the best seller of all time. Don't wanna call it the bible of shroom world as some people may get offended, but that would be the best description. I wish it was the hardcover, but I will laminate the cover pages to last longer. After reviewing 7 books form the library and reviewing them on Amazon, I knew this would be a great book as many authors cite it. It has a great description of mushrooms in N America, and if people say it doesn't have enough coloured photos, I say use more than one book as a reference. I usually use 5-9 before eating wild mushrooms. The book is very well written and in a humorous way, so it's not a dry boring material, Sosa said. What a great addition to my growing collection!! Thanks to all the reviewers who wrote great reviews which made it so easy for me to pick it!
This is a book for those who already have a lot of time invested in the scientific study of fungi and are able to decipher the 1000+ pages on the matter (albeit there is a fair amount of humor weaved within the mushroom descriptions that makes reading eac

Derived From Web

, Nov 3, 2017

This is an incredibly extensive guide to mushrooms, which would serve the well-trained mycologist quite well. For a novice or even competent forager, this guidebook will likely be too frustrating and confusing to reference with trust. Most of the photos are in black-and-white and of tolerable resolution, meaning that no photo can be truly helpful in determining the type of mushroom you have found. All the names in Latin form, which is professional, but near impossible for the reader without serious time dedication. This is a book for those who already have a lot of time invested in the scientific study of fungi and are able to decipher the 1000+ pages on the matter.
Not great for the Pacific Northwest: it's Black & White and Outdated

Derived From Web

, Apr 13, 2017

This book will sort of teach you how to read a key, but there are online resources that are much better. For example, in the Pacific Northwest where I live, there are two very good region-specific keys -- the Svims Pacific Northwest Key Council and the Alpental Pictorial Key -- which can be found online. Both can be found on Google Earth. The reason region-specific keys are better is because you won't ever find 90% of the mushrooms in this or any book when you are out foraging. Furthermore, in my area, the region specific keys are very good, in color, and they will help you get better at identifying the specific families, he added. I'd pass on this book, sadly, but recommend All That the Rain Promises and More A Pocket Guide to Western Mushrooms as a great field guide to carry around with you. However, a lot of things you find will not be in there, but it's all in color, it's concise, and it emphasizes what you need to know to identify specific families.