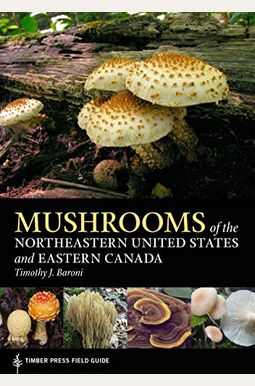 
 
Mushrooms of the Northeastern United States and Eastern Canada
Book Overview
A must-have for mushroom hunters in the northeast

The Northeast is one of the best places to find mushrooms; they are both abundant and spectacularly diverse. Mushrooms of the Northeastern United States and Eastern Canada is a compact, beautifully illustrated guide packed with descriptions and photographs of more than 400 of the region's most conspicuous, distinctive, and ecologically important mushrooms. The geographic range covered by the book includes Connecticut, Delaware, Illinois, Indiana, Maine, Massachusetts, Minnesota, New Hampshire, New Jersey, New York, Ohio, Pennsylvania, Rhode Island, Vermont, Wisconsin, and the Canadian provinces of New Brunswick, Newfoundland, Ontario, and most of Quebec. In addition to profiles on individual species, Mushrooms of the Northeastern United States and Eastern Canada also includes a general discussion and definition of fungi; information on where to find mushrooms and guidelines on collecting them; an overview of fungus ecology; and a discussion on mushroom poisoning and how to avoid it.
Frequently bought together
Frequently Asked Questions About Mushrooms of the Northeastern United States and Eastern Canada
Books like Mushrooms of the Northeastern United States and Eastern Canada
Book Reviews
(8)
Did you read Mushrooms of the Northeastern United States and Eastern Canada? Please provide your feedback and rating to help other readers.
Full of Info. ... best if you have a bit of background

Derived From Web

, Oct 31, 2021

The book is certainly chock full of information on a lot of mushrooms. As an absolute newbie, I feEl thinks that the book will be better for me once I learn more about these fascinating life forms. At this point, I am able to access the info. More readily than simply looking through the photos in search of the shutter '' I photographed just.
Awesome book!

Derived From Web

, Nov 20, 2020

This book is my favorite! I received this to add to my collection of other mushroom references and has become my favorite. A wonderful and informative introduction takes you through fungus structures and there is a glossary of terms in the back.
Nice book but fails to properly address edibility.

Derived From Web

, Oct 2, 2019

A beautiful book with beautiful pictures from the fungi universe of the northeastern USA and Canada. I have other fungus books that inform very clearly about the edibility of different fungus species. This book is rather disorganized in terms of pointing out which mushrooms are very good to eat, which are rather bland, which could result in indigestion, but not lethal, which are poisonous but not lethal and which are lethal when digested. My other books on mushrooms categorize mushroom edibility in a detailed and organized fashion for each mushroom. Although very different looking with pretty photos of nice mushrooms, this book talks more about where they can be found, what year the year and description, but fails to properly address consumption. There are some vague references to the edibility of some mushrooms, but not in any concise or organized way. This disappointing mission was categorical to me.
Extremely useful

Derived From Web

, Sep 18, 2019

I have been collecting mushrooms for years and have trouble finding books with clear pictures and don 't cover too large an area. This one works very well for the New England area and has wonderful photos.
mild tasting dealth caps huh?

Derived From Web

, Jun 2, 2019

Lots of loosely assigned descriptions are shown here. Most of the mild Amanita specials are described as having a taste that is deadly or not distinctive. Which means the author was taste testing many species or more likely has assigned generic descriptions to deadly mushrooms where it does not apply.
This is more like a text book, rather than a field guide. Information causes more doubt in the field than confidence.

Derived From Web

, Oct 29, 2018

This book is packed with so much information that you end up uncertain of the mushroom you are looking at. Have been collecting edible mushrooms in NY for over 20 years and after bringing this book with us on a recent camping trip, we ended up throwing a basket full of what would later turn out to be the top edibles. It has so much confusing info, referencing other pages or species, that it is not practical as a field guide. Other times, edible facts are omitted or it does not even state if a mushroom is edible or not... Do NOT get this book if you are looking for a field guide that will give you key information about DISTINGUISHING FEATURES, EDIBILITY, and COMMON HABITAT.
Excellent field guide by a highly qualified authority/mycologist

Derived From Web

, Mar 16, 2018

Field Guide by a highly qualified authoritymycologist is an excellent field guide. I received my Ph.D. in Mycology from the Univ of Illinois in 1976 and have looked at many popular works primarily intended for amateurs. This new publication will go to the top of the field guide list that I hand out to amateurs. Since 1999, I have used only George Barron's Field Guide, and students are advised to buy both Barron and Baroni. Baroni's book has great, large, colored photos with excellent coverage of both gilled mushrooms and numerous other fleshy fungi. The length is about 599 pages and is published by Timber Press. An added bonus is the price! Amazon Prime is only $ 18 through Prime.
This is a beautiful guide written by a very experienced mycologist

Derived From Web

, Jul 18, 2017

This is a beautiful guide, written by a very experienced mycologist. The species descriptions are highly detailed and organization and color coding is well done. I am not an experienced mushroom hunter, but this is a great guide that I plan to return to again and again.