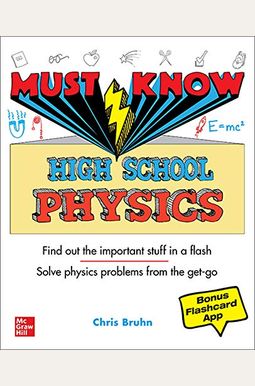 
 
Must Know High School Physics
Product is currently Out of Stock.
You can add it to your wishlist and you will be notified once we receive a copy.
Book Overview
A UNIQUE NEW APROACH THAT'S LIKE A LIGHTNING BOLT TO THE BRAIN
You know that moment when you feel as though a lightning bolt has hit you because you finally get something? That's how this book will make you react. (We hope ) Each chapter makes sure that what you really need to know is clear right off the bat and sees to it that you build on this knowledge. Where other books ask you to memorize stuff, we're going to show you the must know ideas that will guide you toward success in physics. You will start each chapter learning what the must know ideas behind a physics subject are, and these concepts will help you solve the physics problems that you find in your classwork and on exams.
Dive into this book and find:
- 250+ practice questions that mirror what you will find in your classwork and on exams
- A bonus app with 100+ flashcards that will reinforce what you've learned
- Extensive examples that drive home essential concepts
- An easy-access setup that allows you to jump in and out of subjects
- Physics topics aligned to national and state education standards
- Special help for more challenging physics subjects, including electromagnetism, projectile motion, and energy transfer.
We're confident that the must know ideas in this book will have you up and solving physics problems in no time--or at least in a reasonable amount of time

Frequently Asked Questions About Must Know High School Physics
Book Reviews
(8)
Did you read Must Know High School Physics? Please provide your feedback and rating to help other readers.
This book is worthless

Derived From Web

, Oct 24, 2021

The first thing I wanted to look at was mass.
Arrived in terrible condition

Derived From Web

, Sep 16, 2021

I have not yet gotten access to the content... This terrible book arrived in a new condition. I am disappointed ''.
Highly recommend

Derived From Web

, Feb 20, 2021

This book is highly recommended! I have read only about 30 pages so far, but this book is really good, there is a QR code at the end of each chapter on your Flashcard app and it quizzes you. In conclusion, this is a very good book, especially if you are newer to physics. It also has chapters for people who know the basics.
Generally good - some typos and errors

Derived From Web

, Dec 26, 2020

In general, good source of information. For my 11-year-old, the difficulty level was balanced. It was helpful and challenging. On line 47, type 6 F F. cos. On the same page, second example, please stick to the standard coordinate plane notation of x, Y. Using common symbols for subscripts is not standard and will be confusing for a kid who is still learning how to properly use subscripts. 48, error page updated 7-18-21, Lift Problem. According to the chosen positive to be upward, a should be negative. Consequently, your force tension came out to be larger than weight. It does not make sense.
Highly Recommend this Book

Derived From Web

, Mar 2, 2020

High School Physics - Concepts and Calculations - Book for Learning or Reinforcing Excellent Physics Concepts and Calculations The In-Real-Life comments throughout the book connect physics with everyday observations and questions. The BTW comments do an important job of pointing out excellent facts. There are various references throughout the book that show the similarity among forward and backward physics areas of physics, making the material easier to understand and retain. This book would be an excellent review for the upcoming physics exam for any student. I had the pleasure of teaching with the author and learning much from him. I highly recommend '' this book.
Amazingly easy to read and thorough!

Derived From Web

, Jan 20, 2020

Disclosure : I have known the author for nearly 20 years. He is an incredible teacher of physics. This book is big because it breaks into small bits of amazing ideas so that anyone can read and understand the book. Any struggling student will find every concept covered, exceptions and real life applications explained and continual practice problems to illustrate what is learned. The book also makes use of research of how students learn and almost every page is illustrated with easy to follow diagrams to teach and model how physics students show what they know about physics problems. I don 't know of a better resource to learn or review high school physics for the price.
This book will help make a Physics course a positive experience

Derived From Web

, Jan 19, 2020

This Grade-Level appropriate language for new-physics concepts - learners will help make a physics course a positive experience. Information covers physics to modern physics, divided into six parts : 1) mechanics of non-solid objects, 2) mechanics of physical behavior fluids and gases, 3) thermodynamics, 4) electricity and magnetism, 5) waves and (6) modern physics. Units are not crowded and information is not overwhelming. The Appendixes includes a periodic table, geometry equations and golden triangles, table of physics constants, descriptions of variables, its symbols and units. Flashcard - App makes the content accessible at any time, when you have a minute to review it. Those features make Must Know High School Physics a physics book for students, teachers and parents.
Good book!

Derived From Web

, Jan 11, 2020

It was easy to read. covered the physics concepts in an easy way with good examples that explained math and technical stuff. But what I really liked were all the real world connections that brought the content to life. I know that making me a nerd makes me a little funny, but it was just fun to read. Good stuff, Mike!