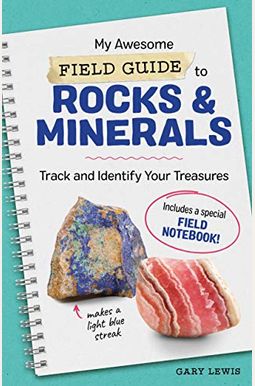 
 
My Awesome Field Guide To Rocks And Minerals: Track And Identify Your Treasures
Book Overview
Become a rock hound with this field guide for kids ages 7 to 10
The world of rocks and minerals is massive, amazing, and full of cool new things to uncover My Awesome Field Guide to Rocks and Minerals teaches you the skills you need to collect, identify, and catalog your own treasures.
Explore 150 different rocks and minerals, and get step-by-step guidelines for testing and identifying the ones you encounter out in the field. There's also plenty of notebook space so you can record data about your finds. So get out there, gather cool looking samples, and discover what they are
My Awesome Field Guide to Rocks and Minerals includes:
An intro to earth science―Explore the layers of the earth, how rocks and minerals are formed, the periodic table, and more essential information for young scientists.
Handy fact sheets―Learn more about all kinds of unique rocks and minerals with fact sheets that are conveniently organized to help with identification.
A field notebook―Record all your rock-hunting sample data on pages that include cut-out numbers for cataloging.
Identify and catalog rocks and minerals with this fascinating field guide that has everything you need to get started.
Frequently Asked Questions About My Awesome Field Guide To Rocks And Minerals: Track And Identify Your Treasures
Book Reviews
(9)
Did you read My Awesome Field Guide To Rocks And Minerals: Track And Identify Your Treasures? Please provide your feedback and rating to help other readers.
Definitely Recommend!

Derived From Web

, Jan 4, 2022

For some time, my daughter has been very interested in geology. I have looked at several different books and I am so glad I settled down in this one. It is very helpful and is presented in a child friendly way. I also think it is a great touch that their field journals are guided for their own observations. It really helps them achieve that higher level of understanding by learning this hands on and contributing to their findings.
This is awesome!

Derived From Web

, Oct 25, 2021

I got this book for my 9 year old rock loving granddaughter - this book is fantastic! She loves it - she's on a quest to find all the rocks and learn them.
We love it!

Derived From Web

, Jan 14, 2021

I bought this after deciding that I wanted to have one simple and small enough for my 2nd Graders to be able to use without bombarding them with technical info. The pictures are clear, and the little blurp about each rock mineral was fun for us and the kids. They were super excited about the back covers where they could write their finds! We took it on a hike the other day and were able to keep it in a different pocket and identify 3 hoody stone formations. It had the kids for over an hour searching for different knives before they played just swords with fallen branches LOL.
Good Book, but see review

Derived From Web

, Oct 13, 2020

This book is fine, but I expected it to be spiral bound when viewing the main photo, but it is not.
awesome book for kids

Derived From Web

, Jul 10, 2020

I'm a rockhound and I am always trying to get my nieces and nephews to like them too. This book has a ton of crystals in it. I bought it for my 6 yr old nephew, who keeps asking me questions and he loves it. It would actually be good for any age, because it is full of information.
Great Book for People Interested in Rock Collecting!

Derived From Web

, Feb 26, 2020

This is a great little 218-sided book. It has lots of tips and tricks about what you need to know to get started on the hobby of rock collecting. It has more scientific information than I expected and has lots of good suggestions on how to organize your rock collection and identifying specimens. It is a very organized and clean book, and has lots of pictures. I would recommend it to anyone who wants a good introduction to the world of geology.
Best Geek Grandkid Gift

Derived From Web

, Jan 30, 2020

Christmas gift for inquisitive 3rd graders. Clearly written and great pix for now, but detailed enough for him to "grow '' w it! The book we were looking for was.
This book rocks

Derived From Web

, Jan 9, 2020

My daughter seems to be a bubbling geologist and has been using this book almost every day since Christmas.
It's not awesome. I wouldn't recommend it.

Derived From Web

, Nov 8, 2019

Descriptions and small photos of 104 minerals and 50 rocks. Simple reading for beginning rock collectors. The photos are much too small to get any sense of the actual mineral or rock. And the photos look flat, not as good as other books about rocks, I own. If possible, search around at your local bookstore to compare different books. This book's description photo has led me to think that it was spiral-bound. The pages are glued-in and not even sewn, so I would not even fold this book flat in fear that the sides will become loose. For me, the book actually ends at page 147. That is because the remaining pages are described as a field notebook, where I am expected to write descriptions of specimens I may find. I would rather do this in a spiral bound book or even index cards.