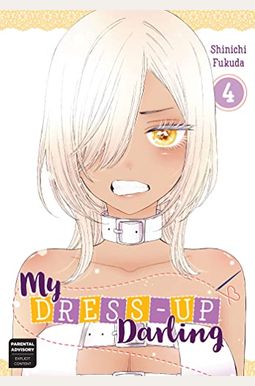  
Product is currently Out of Stock.
You can add it to your wishlist and you will be notified once we receive a copy.
Book Overview
A loner boy and a flashy girl find common ground via cosplay in this sweet and spicy romcom
The preparations for Marin and JuJu's group cosplay steadily advance.until at long last, the costumes are complete
That should just leave the photo shoot.but Wakana has a secret plan the other two don't know about
Frequently Asked Questions About My Dress-Up Darling 04
Book Reviews
(9)
Did you read My Dress-Up Darling 04? Please provide your feedback and rating to help other readers.
Now With More Plot!

Derived From Web

, Feb 24, 2022

Just keep chugging along, the spicy fluff train. Thanks to all the readers who have supported us.
Great fun, weak sometimes

Derived From Web

, Sep 29, 2021

They hook up the series to have weird cliffhangers or otherwise strange times next, and then it has little to pay off. It's just not really built for dramatic tension, Crowe said. If they ever do adapt it to live-action, I'd like to see it done in live-action, Mr. Booher told ET.
Amazing series, must read!

Derived From Web

, Sep 6, 2021

The whole thing is just mind blowing, and I can't wait for the next chapter to come out. Thing is when I love something I want it near so I'm buying all the volumes. This one consists of the first two books, which were supper great, I keep flipping through the pages admiring the art and the story and I just love it, it's a must buy. It also came in mint condition with a plastic cover around it to keep it safe from accidentally getting bent or bitten by flies, so don't worry about any torn pages, it's all good.
KEEP GOING♡

Derived From Web

, Jul 20, 2021

I've read up to vol. 8 online, it's great. Its very wholesome and sweet, despite coming from a seinen mag. If you've made it this far, you might as well keep going. Its worth it, Mr. Dhaliwal said. nan An anime adaptation of the "Dragon's Lair" series was confirmed in August. There is a huge chance that this series will be even more popular soon.
Love

Derived From Web

, Jun 27, 2021

I've seen the second and third series, and I must say I'm a huge fan. There really is no manga that talks about cosplaying i love that they added lil tips for someone that is beginning on cosplay i hope this manga gets an anime. 0 1028 096828 9171 It's just too bad there's no manga that talks about cosplaying i really hope this manga gets an anime.
Cosplay romance

Derived From Web

, Jun 15, 2021

I've enjoyed the characters developing as they become more familiar with cosplay and each other, said costume designer Michael Green. This series has cosplay costumes that are a tad revealing but not to a hentai level of that playful's what you're seeking instead you're going to find a romantic style story where as it continues in this fourth volume he makes another costume for a different character who was recently added to the mix. He also adds some notes about his own discoveries of how to properly costume for the series that people interested in doing it may find interesting as well.
A fun and enjoyable series about cosplay

Derived From Web

, Jun 12, 2021

The story is quite nice, too, said Blair. The rom-com is what you expect from a good rom-com, but it's also enjoyable because the character is likable and relatable, Crowe said. The art and detailing are excellent and exciting to watch especially when certain characters are giving two-page spreads. The writing is a bit tricky to fellow when they speak, but enjoyable when they finish their conversation which can lead to a good laugh or touching moment, he said. I really enjoyed the tip-over-the-top information about cosplayers, costume design and the like. Such issues include what fabric and material use for clothing, and makeup and detailing for looks. Overall, I highly recommend this book to readers who enjoy either the rom-com story or are interested in cosplay.
Another good volume

Derived From Web

, Jun 11, 2021

I don't know, maybe that's on me. It's still good, Keanu Reeves said. I'm glad that you guys are seeing that Gojou is slowly falling in love with Marin. The artist's work stands in stark relief against the bleak backdrop of a crime scene. I feel like she is getting better at her art. nan
Waiting on volume 5

Derived From Web

, Jun 8, 2021

And, if that wasn't bad enough, the love triangle harem is not done! There is so much more room to grow, Sosa said.