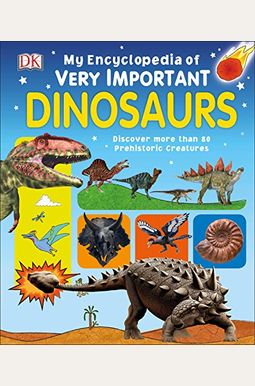 
 
My Encyclopedia Of Very Important Dinosaurs: Discover More Than 80 Prehistoric Creatures
Book Overview
Journey back in time to discover a prehistoric world of dinosaur facts. Dust off your fossil brush and let's practice our paleontology skills
Little dino-lovers (and their dino-loving parents) will delight in this visually stunning dinosaur book. Dig up dazzling dinosaurs, see dinosaur bones up-close and learn facts about fossils. Feed your little one's imagination with this bright and playful educational book. Discover the incredible lost world and meet dinosaurs like Tyrannosaurus rex, Triceratops, and Stegosaurus. Each dinosaur has its name written phonetically, so you and your child can sound them out together. This dinosaur encyclopedia will tap into every child's natural curiosity and answer all their questions about these prehistoric creatures Packed with up-to-date facts and discoveries, your little fossil hunter will get to explore the Triassic, Jurassic, and Cretaceous periods. Go on a journey of dinosaur discovery This kid's book includes detailed profiles of popular dinosaurs, as well as the more unfamiliar species. Covering a huge range of dino-tastic topics, this is the book that every young dinosaur enthusiast will want to own.
For Little Dinosaur Lovers Who Want To Know Everything
Every important person needs to know about the amazing creatures that once ruled the Earth, and this book has them covered. Packed with
Read More chevron_right
Frequently bought together
Frequently Asked Questions About My Encyclopedia Of Very Important Dinosaurs: Discover More Than 80 Prehistoric Creatures
Book Reviews
(16)
Did you read My Encyclopedia Of Very Important Dinosaurs: Discover More Than 80 Prehistoric Creatures? Please provide your feedback and rating to help other readers.
Truly Amazed

Derived From Web

, Nov 12, 2021

This is my first time ever writing a review of a product. I am BLOWN AWAY impressed with the quality, volume, content and beauty of this book. EASILY could easily be valued a book of $40+.
Great Pictures, Easy to Understand

Derived From Web

, Nov 8, 2021

I bought this for my 5-year-old grandson and is his favorite book. He loves the pictures and can easily understand the descriptions. He doesn 't read this independently, but for children with some familiarity with dinosaurs it will be easy to comprehend what is described. It is a thick book with good quality pages, which is helpful for little hands. This book can easily be enjoyed for many years to come!
Amazing and full of knowledge!

Derived From Web

, Oct 10, 2021

I got this for my son since he loves dinosaurs. It is more than I expected. It has so much knowledge and great photographs. I can 't wait to start reading it to my son.
So much information on dinosaurs!!

Derived From Web

, Sep 29, 2021

This was a great book! There was so much information that both me and my grandson enjoyed the book together. Highly recommended. Highly recommended.
Don't buy - contains incorrect information

Derived From Web

, May 5, 2021

I have read a few things in this book that are debatable, but there is one thing that I read to my son just now. The book mentioned a brontosaurus! There was never a brontosaurus. Even my four-year-old knows that, what some paleontologists thought was a new dinosaur they named brontosaurus was later found to be an apatosaurus, and I am pretty sure that was known well before 2018 when this book was published, so that some debatable items and a flat out incorrect item makes me question everything else I read in this book.
My toddler loves the dino book!

Derived From Web

, Jan 27, 2021

We got this book for our toddler for Christmas because she entered a Dino stage. At that time, she was 2.5 years old. She l-o-v-e-s this book. Crocodiles are all different dinosaurs, lizards, alligators and crocodiles. It is informative, but doesn 't have too much information for a toddler. The pages vary in layout so that it maintains her interest. And then she has the opportunity to play T. rex while reading the book!
Great book, great info, great format

Derived From Web

, Jan 3, 2021

This is the first time that I cared enough to write a review of a product. This book is fantastic. My almost 6 year old loves dinosaurs. This book is a step beyond this is a t-rex and he has sharp teeth and short arms '', but is very accessible. It includes time periods, habitats, defense mechanisms, eggs, diets and more. Each topic is covered in a two-sided spread with great color images. The text is informative without being overwhelming. He and I are both enjoying the book and learning new things! I think this book would be appreciated by a variety of ages. He is learning a lot now and it will take him years to actually memorize all the info. The format allows us to stop for as many pages as we have time for, and we never have to read right in the middle of a chapter. We are reading 3-5 sections a night and it lasts for a long time. The best dinosaur book I have seen by far is the best children's book I ever saw. Highly recommended. Highly recommend.
Great Dinosaur book of important facts.

Derived From Web

, Sep 8, 2020

We bought this book for our dinosaur - loving 3 year old granddaughter. She loves it! She loves it ''! Great info and lots of Dino illustrations.
Wonderful for kids

Derived From Web

, Jul 7, 2020

My son loves dinosaurs and this book is perfect for them. I was specifically looking for a book that made it easy to pronounce the names of the different species of dinosaurs. The book is sturdy and the book is beautiful.
Great book!

Derived From Web

, May 20, 2020

I bought this for my 5yo child. I received it. We've been using this for the "bedtime story " every night. It has over 200 pages of information. This book includes how to pronounce words, which is really great! It includes a dinosaur file in alphabetical order and also a glossary for dinosaur term definitions. In general, a great book about dinosaurs.