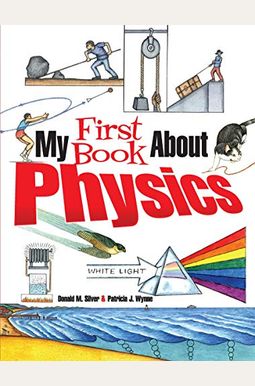 
 
My First Book About Physics
Frequently Asked Questions About My First Book About Physics
Book Reviews
(5)
Did you read My First Book About Physics? Please provide your feedback and rating to help other readers.
Very good starter for young children

Derived From Web

, Mar 10, 2022

This is an excellent book for pre-K through 2nd grade, possibly 3rd at most. Mistakenly bought this for my 6th grader and as this is all old news '' to him, we're going to pass it on to friends with a 1st and 2nd grader. Kids can color this book, it is not a workbook though, still highly recommended for younger children.
A list of physics terms. No teaching or application.

Derived From Web

, Jul 16, 2021

Does not teach physics anything. Has small bad jokes that would understand only someone who knows what physics is. The book is essentially a dictionary of physics terms.
Great book for beginners

Derived From Web

, Jun 27, 2021

This book is great for beginners. My high reader showed to the bright side that this was just a ticket for him. All the inquisitive children need to have this book.
Good idea book but poor presentation for the purpose

Derived From Web

, Feb 11, 2021

The information was presented in a disorganized way for children to understand the book properly and to associate the illustrations with their reality. The intentions are really powerful, but the message is diluted with the presentation.
Not educational, but makes a good coloring book

Derived From Web

, Jun 15, 2020

Unfortunately, many written explanations are incorrect or too vague to be educational. For example, a classical drawing of the electromagnetic spectrum is paired with a childish caption describing it simply as energy from the sun. The waves that drive our radio stations are not actually emitted by the sun. Another example is the caption for a single pulley system that claims that the pulley lifts it is easier to pull the weight than to lift it. The two men are now set up by Wrong. When there is a mechanical advantage, Pulleys and other simple machines reduce the required force ; this does not occur with a single pulley. Like so many others, this concept goes completely untouched. Think of this as a painting book with some physics discussion starters, and you won 't be disappointed.