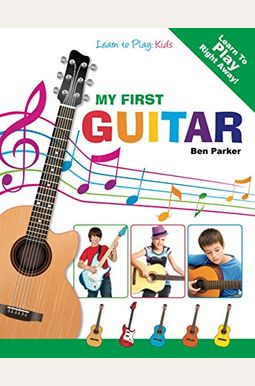 
 
My First Guitar: Learn To Play: Kids
Frequently bought together
Frequently Asked Questions About My First Guitar: Learn To Play: Kids
Books like My First Guitar: Learn To Play: Kids
Book Reviews
(12)
Did you read My First Guitar: Learn To Play: Kids? Please provide your feedback and rating to help other readers.
Best learning book i have found,

Derived From Web

, Apr 20, 2022

Though for kids I learned a lot and with arthritis this was easy on my fingers until I could get used to it and everything was fun, he said. This course is very user-friendly, and I recommend it to anyone who wants to learn. I'm trying to learn over six years, this is the first time I felt I had learned something and ready to go to a new book to learn more, he said.
Don't waste your money!

Derived From Web

, Apr 27, 2021

I purchased this book for my son who is beginning to learn to play guitar. This book is garbage. It doesn't teach guitar chords, but it does cover the basic structure of the guitar. Only in the case of the Fifth Note does it show single string notes. Half the book is missing from the bindings, and the remainder is blank.
Jumps right to chords without any single-string songs or tunes at all

Derived From Web

, Apr 19, 2021

It seems like a child just starting out with a guitar should be introduced to using individual strings, rather than jumping to chords, he said. The book goes directly to chords, and there is no instruction on individual strings. The last 13 pages of the book are blank, except for the introduction. Once my child becomes ready to start using chords, this book has 8 simple chord songs that can be played by a beginner.
Not recommended for older than 8...

Derived From Web

, Nov 16, 2020

It was a total waste of money and I got this for my 10 year old to help him learn guitar, and it was super cheesy and not helpful, Melissa. There was no theory, just that it teaches chords by ear. The kid was quickly bored.
Good book for kids

Derived From Web

, Jan 6, 2020

It was a great present for my daughter who is learning to play guitar, and she is so excited to use it.
I Think This Book is Wrong

Derived From Web

, Mar 19, 2019

I dont know anything about guitars. This book is so wrong, Sosa said. An image from the Oct. 9, 1974 issue shows the guitar player, dressed in black, tuning his guitar to a piano. Before I could play the guitar, I broke a lot of strings, and eventually the bridge, before checking other sources and realizing the diagram is an octave too high. It was a bad book to start with, Raymond said. Maybe I misunderstood something, Mr. Dhaliwal said.
Great, easy book!

Derived From Web

, Jul 6, 2018

This book is great for anyone who has a basic knowledge of English. However, if you have no basic music knowledge, do not attempt to teach yourself or others how to play the guitar. This isn't learn on your own book. I already play guitar and piano, and I was looking for a book to teach my son, but I didn't know where to start. I'm very happy with the book, Rosa said.
Great Book!

Derived From Web

, Mar 22, 2018

I am a private music instructor, and I bought three of the top recommended books for teaching very young children guitar, as my two 6 year olds signed up in a week. The book was judged to be the easiest and most user-friendly. Simply put, it teaches chords using four strings. It starts with very silly limericks that you can make up a melody for, then goes on to classic kids songs everyone knows, a strong point that many beginner books lack, according to one reviewer. I taught her how to read them and the next week I asked her if she could figure out how to play the next chord. What's more, people who expect their 7 year old to learn to play with no guidance from a book may have unrealistic expectations.
4 chords, 12 songs, strumming patterns, bottom 4 strings (D-E)

Derived From Web

, Feb 6, 2018

Bought it for my son's 7th birthday. The book teaches kids to play on the bottom four strings of the guitar - normal four strings for beginners. It also teaches basic strumming patterns. As you learn the chords, you can play them all over again. After the book, eight more nursery rhyme songs will help students learn chord transitions, strum patterns, and entry-level reading. The common nursery rhymes make them great for kids as they already know the songs. It has been a great tool, as a father, to help introduce him to the guitar.
Easy for her to understand with pictures and step by ...

Derived From Web

, Jan 16, 2018

Bought this guitar for my 12 year old daughter who is now a budding flamenco guitarist. Easy to understand with pictures and step by step instructions.