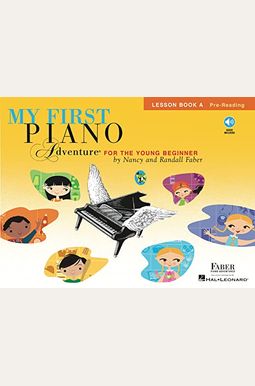 
 
My First Piano Adventure: Lesson Book A With Online Audio [With Cd (Audio)]
Book Overview
(Faber Piano Adventures ). Written for ages 5 and 6, My First Piano Adventure captures the child's playful spirit. Fun-filled songs, rhythm games and technique activities develop beginning keyboard skills. Three distinguishing features of the Lesson Book A make it unique and effective for the young 5-6 year old beginner. 1. A strong focus on technique embedded in the book through playful technique games, chants, and carefully-composed pieces that gently lead the child into pianistic motions. 2. Outstanding audio tracks on CD and via online access for the young student to listen, sing, tap, and play along with at the piano. The orchestrated songs feature children singing the lyrics, which has great appeal to the 5-6 year old beginner. The audio becomes a ready-made practice partner that guides the student and parent for all the pieces and activities in the books. 3. The fanciful art features five multi-cultural children who are also learning to play. These friends at the piano introduce basic rhythms, white key names, and a variety of white and black-key songs that span classical, folk, and blues. Young students will listen, sing, create, and play more musically with Nancy and Randall Faber s My First Piano Adventure, Lesson Book A. The Lesson Book introduces directional pre-reading, elementary music theory and technique with engaging songs, games, and creative discovery at Read More chevron_right
Frequently Asked Questions About My First Piano Adventure: Lesson Book A With Online Audio [With Cd (Audio)]
Books like My First Piano Adventure: Lesson Book A With Online Audio [With Cd (Audio)]
Book Reviews
(16)
Did you read My First Piano Adventure: Lesson Book A With Online Audio [With Cd (Audio)]? Please provide your feedback and rating to help other readers.
Super piano lesson book for my beginning, young students!

Derived From Web

, Apr 20, 2022

I use other methods, but I enjoy teaching with the books. The series focuses on getting my students to read their music more quickly. There's a strong base in music theory and I find my students playing from the grand staff a bit more quickly. I've seen very good results using these books, as the pieces tend to have a bit more challenge, depending on the level. My First Piano Adventure, Lesson Book A with CD is a great example of a lesson book that I recommend as a piano teacher.
Great for the young beginner!

Derived From Web

, Apr 20, 2022

I would recommend this book to kindergarten and first grade students. I find the combination of the Writing Book and the beginning piano instruction to be excellent. The books are written for a young child with characters to follow throughout the book and a CD to listen to as they learn their piano pieces. Children want to listen to the sounds on the CD many times. They look forward to the weekly lesson and the new games in the book. I have been teaching piano and music for almost forty years. This book is a wonderful find. !
Good book for beginner.

Derived From Web

, Apr 20, 2022

My son is learning to play the piano and his teacher told him to read this book. It teaches in a way that kids relate to and has fun exercises. There are lots of colorful and fun activities.
Perfect for beginner

Derived From Web

, Apr 20, 2022

I bought this for my daughter to learn. The book with the CD is very recommended by me. It's easy for my daughter to understand, it's easy to teach, and it's proven to be a great starter book.
Love this book!

Derived From Web

, Apr 20, 2022

My child has several piano lesson books, but this is the only one he's interested in. We love the CD. Kids love the music and songs and would want to learn piano more.
Great teaching book

Derived From Web

, Apr 20, 2022

My 6 year old just started piano lessons and this is what her teacher is using. The stodgy and outdated books of my youth were far better. She is happy with them and I am as well.
very good book for my children

Derived From Web

, Apr 20, 2022

I like this book a lot. My children love it. There is a book to learn the piano. thanks!
good basic

Derived From Web

, Apr 20, 2022

Most of the irvine pianists teach children how to play the piano. We received it. I thought I'd be able to teach it to my daughter.
Uhhhhhh....

Derived From Web

, Sep 18, 2021

I bought this in hopes that it would help me navigate my 5 year old through the basics, but I'm not a piano teacher. If you don't have any experience with a piano, you'll have to do it on your own. This is not a good book to start reading. I was disappointed that there wasn't more about basics like that. It's a bit of a waste of money. Going on You Tube and watching videos gave us a better foundation.
Great lesson book for pre-reading & beginners pianist

Derived From Web

, Dec 20, 2020

This book is great for learning the piano. It's easy to explain the concept and how to practice it yourself.