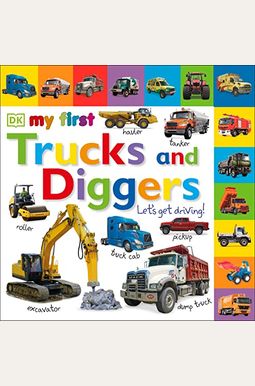 
 
My First Trucks And Diggers: Let's Get Driving!
Book Overview
Truckloads of rigs and diggers, big, small, red or yellow A remarkable picture book, full of all types of vehicles that push, pull and carry.
For little ones who enjoy big noisy vehicles like tankers and fire engines or construction vehicles like excavators and dump trucks. Help expand your toddler's vocabulary with this attractive tabbed board book. Packed with bright, colorful photos of real-life vehicles, your toddlers will learn to identify different types of trucks and diggers, and the things that come with them Learning different names and terms is an exciting stimulation for early childhood language development. This fun book includes everything from building sites and emergency vehicles to a school bus The book has strong board pages made especially for young children. The chunky tabs, on the top or the side, are easy to grab to help with early motor control. Preschoolers will quickly recognize the picture on the tab, which will take them straight to the page with their favorite type of truck or digger. Each page is dedicated to a different type vehicle, such as tractors and rollers. Easy-to-read labels help kids to sound out the words with you. Each page also shows objects associated with the truck, like the fire hose and the ladder engine. The interactive book encourages kids to count the firefighters in the picture, name the colors and
Read More chevron_right
Frequently Asked Questions About My First Trucks And Diggers: Let's Get Driving!
Books like My First Trucks And Diggers: Let's Get Driving!
Book Reviews
(16)
Did you read My First Trucks And Diggers: Let's Get Driving!? Please provide your feedback and rating to help other readers.
Very educational book, might cause book addiction in truck-obsessed children.

Derived From Web

, Apr 20, 2022

My 22 month old calls this digger book my digger book. He has been through it countless times a day, and it has taught him some of the names of construction equipment, first aid vehicles and more. It is very great and educational, with a fun and educational layout that keeps kids focused on the pages. It is really a great book for the price, and my kid just loves it, which is what is really important with this kind of thing, isn't it?
Great truck book for toddlers

Derived From Web

, Apr 20, 2022

Our kids both love this book by Tabbed Truck. It is consistent with the great quality of the DK books. Large, colorful pictures incorporating concepts like color, size, opposites, matching the vehicle operator to the vehicle, and gives kids something to think about on each page.
Too many repeated images

Derived From Web

, Jan 11, 2022

I love these books, but wish it didn 't repeat the same truck images on the other pages. The farm version has a variety of different tools and objects on the majority of the book. This book seems lazy and simply repeats images,Wish it broke the tools and added more diverse images of say a truck like it does the fire truck.
All the kids love this book!

Derived From Web

, Jan 9, 2022

I love to read this book to my son, who is 10 months old and he loves to turn all the pages lol. This is my nephew's favorite book to read when he comes over. The thick board pages makes it easier for children to turn the pages.
WOW!

Derived From Web

, Sep 24, 2021

I bought this book for my great nephew, because I met him for the first time since COVID and found out he loves trucks and gravitated to any book that had pictures of trucks. My family back home said it is now his FAVORITE book and he tries to tell them all about every truck in his own Baby Talk language! Thank you for such an awesome product!
A fantastic book for any child interested in trucks and diggers

Derived From Web

, Jun 7, 2021

The book is very solid and will last for a long time. The variety of how the trucks and diggers are done is very well presented. Book is great!
Perfect for any vehicle loving kid!

Derived From Web

, Dec 8, 2020

My little guy bought the best and worst purchase for my little guy. Best of all, he LOVES it and always wants to look at it. Worst because he loves it and ALWAYS wants to look at it... with me. Lol. Lol. For the last three months, we looked at it sooooo often, every day, for the past three months. Some of the names given to vehicles are a little goofy and some are inconsistent throughout the book, but we don 't care. He loves it and has held up to daily use. Very happy with this purchase.
My son's favorite book

Derived From Web

, Sep 21, 2020

This is my favorite book of the son. I read it about 50,000 times this month. It is basically like a truck dictionary. It is one of the most boring books we own, and he LOVES it. We learned so much truck terminology such as the articulated hauler, the tracked digger and the backhoe loader. If you want to be able to identify every truck under the sun and make a really happy child, this is the book for you.
Without a doubt the BEST book I've purchased

Derived From Web

, Sep 1, 2020

My 2 year old son is OBSESSED with this book! The quality of the pages is phenomenal, it holds so well! He carries this thing everywhere, sleeps with it, has us read it countless times a day to him. The pictures are also amazing and I LOVE the layout of the book. Absolutely 10000% of this book gets this book!
Great book

Derived From Web

, Dec 3, 2019

Birthday of Grandsons Birthday. He loves excavators. He loves the excavators. This book fits the bill. It was smaller than expected, but was actually easier to handle for him.