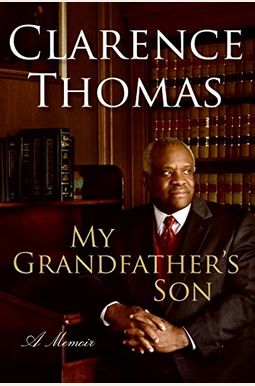  
My Grandfather's Son: A Memoir
Book Overview
This Description may be from another edition of this product.
Provocative, inspiring, and unflinchingly honest, My Grandfather's Son is the story of one of America's most remarkable and controversial leaders, Supreme Court Justice Clarence Thomas, told in his own words. Thomas speaks out, revealing the pieces of his life he holds dear, detailing the suffering and injustices he has overcome, including the acrimonious and polarizing Senate hearing involving a former aide, Anita Hill, and the depression and despair it created in his own life and the lives of those closest to him. In this candid and deeply moving memoir, a quintessential American tale of hardship and grit, Clarence Thomas recounts his astonishing journey for the first time.
--Jack & Suzy Welch, Business Week
Frequently Asked Questions About My Grandfather's Son: A Memoir
Books like My Grandfather's Son: A Memoir
Book Reviews
(9)
Did you read My Grandfather's Son: A Memoir? Please provide your feedback and rating to help other readers.
Most Enjoyable Read

Derived From Web

, May 31, 2022

When this book came out in 2007 for the first time, I had to read it, but not for some reason. One thing kept me from purchasing this book after another. Finally, I got around to reading it and finished just. Wow, this was the most enjoyable book I have ever read in ages. The writing is inspiring, the story is riveting. Where else, but in America, a true story of humble beginnings could be told to the highest court. I highly recommend '' this book.
He Came Up From (Almost) Nowhere

Derived From Web

, May 31, 2022

This is another example of the American success story : a member of a minority race without a father in the home, shifted from place to place, was able to rise to become one of the most important and influential figures in the nation. Fortunately, his grandfather showed him the personal skills he would need, while his grandmother gave him the love he needed. His desire to succeed and learn on the way, in spite of the potholes, proved to his success all the way. A life report of the Justice Thomas'life. W. Adamson, welcome.
Must Read!

Derived From Web

, Nov 13, 2021

One of the best books I have ever read in awhile! The book is required to read!
several pages missing

Derived From Web

, Feb 22, 2021

It is a great story told in a very eloquent conversational tone. I found myself laughing out loud at Justice Thomas's poignant humor. The book condition was not advertised unfortunately. The edges of the pages had yellowed and all but one page of photographs had been torn.
Good book

Derived From Web

, Nov 14, 2020

Great read! This book taught me a lot about the honorable Thomas. If you really want to know the real person, this is the book to read.
What a sad but captivating life story: MUST READ

Derived From Web

, Jun 28, 2020

From 9 years old, when his grandfather became his true father, he was abandoned to become a justice of our highest court. If you want to know what it is like to be black and be nominated by a Republican president, read the book. He literally went through Hell, being hated by both sides. It is educational on the tragedy of the confirmation process to the courts. I will recommend this book to you. As I know the man who now serves on our Supreme Court, I will know the man. I now know that he is a judicial judge who will not be a great activist. I won 't always agree, but I think better one of our nations.
A must read book for everyone!

Derived From Web

, Jun 2, 2020

I love this book really ''. The book taught me a lot about my mother, my father and their parents, who were illiterate, but never accepted welfare. Their solution to any problem was found in hard work and the Bible, although they could not read and write. I know that Justice Thomas grandfather is proud of him, though he is not with us. I believe that every person in the eighth grade should read his book just as To Kill A Mockingbird is required reading. Despite the many trials and tribulations, Justice Thomas has laid out a framework for life with which one may be confronted. Justice Thomas thanked you. In the name of the Holy Spirit, well done thy faithful and good servant!
An intimate look into the driving force that made Justice Thomas who he is. Great book.

Derived From Web

, Jan 7, 2020

Justice Thomas is a brilliant man who has the unusual ability to write and speak without tangling himself in legal jargon. There is such clarity and honesty, with deep intelligence shining throughout this book, as he debunks the liberal rhetoric about the welfare state. About how destructive it is to the integrity of those caught in the web of social welfare handouts and the victimization of the poor, by the very people who claim to be helping them. This man should be president, except he is asked so much more for our nation by returning the judiciary to its proper role in our government, requiring the executive and legislative branches to assume their own, constitutionally appointed roles.
I read this in a weekend and ordered several more ...

Derived From Web

, Dec 17, 2018

I read it in a weekend and ordered several more copies for young classmates of mine.