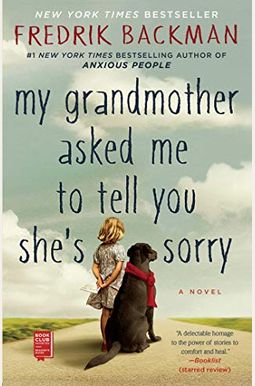 
 
My Grandmother Asked Me To Tell You She's Sorry
Book Overview
This Description may be from another edition of this product.
A charming, warmhearted novel from the author of the New York Times bestseller A Man Called Ove

Elsa is seven years old and different. Her grandmother is seventy-seven years old and crazy--as in standing-on-the-balcony-firing-paintball-guns-at-strangers crazy. She is also Elsa's best, and only, friend. At night Elsa takes refuge in her grandmother's stories, in the Land-of-Almost-Awake and the Kingdom of Miamas, where everybody is different and nobody needs to be normal.
When Elsa's grandmother dies and leaves behind a series of letters apologizing to people she has wronged, Elsa's greatest adventure begins. Her grandmother's instructions lead her to an apartment building full of drunks, monsters, attack dogs, and old crones but also to the truth about fairy tales and kingdoms and a grandmother like no other.
My Grandmother Asked Me to Tell You She's Sorry
is told with the same comic accuracy and beating heart as Fredrik Backman's bestselling debut novel,
A Man Called Ove
. It is a story about life and death and one of the most important human rights: the right to be different. Firmly in league with Roald Dahl and Neil Gaiman . . . A touching, sometimes funny, often wise portrait of grief. --
Kirkus Reviews
Full of heart, hope, forgiveness, and the embracing of differences, Elsa's story is one that sticks with you long after you've turned the last page.--
Library Journal
Frequently bought together
Frequently Asked Questions About My Grandmother Asked Me To Tell You She's Sorry
Books like My Grandmother Asked Me To Tell You She's Sorry
Book Reviews
(15)
Did you read My Grandmother Asked Me To Tell You She's Sorry? Please provide your feedback and rating to help other readers.
Amazing book! Almost didn't get past first 75 pages though...

Christopher S

, Sep 26, 2022

A friend of mine told me this was his fave book of all time, so naturally I had to read it. I usually give a book 50 pages to decide if I want to keep going. After 50 pages into this one, I was confused and most unimpressed. The story is a little hard to follow initially and it's unclear who all of these different characters are and why we should care about them. The next 300 pages beautifully answer those questions weaving fairy tales into the story and unexpected connections between the characters. Would've been 5/5 stars if book started out stronger.
This is the best book I've read in a long time

Derived From Web

, Apr 20, 2022

This is the best book I have ever read in a long time! Many times I found myself laughing out loud at something Elsa had done or at Granny's view of the world. On the next page, I might find myself crying over the very serious real world problems encountered by some of the characters. I marveled at the imagination required to create the magical world where Granny took the children who needed her, including Elsa. It takes a masterful writer to make the many whimsical characters of this book so believable and fascinating. I found A Man Called Ove entertaining, but this book far exceeds it in imagination, emotion, depth and sheer entertainment.
A Real Life Buffered by Fantasy

Derived From Web

, Apr 20, 2022

Until now, this author hasn 't let me down. Britt-Marie was the same in his other book, Britt-Marie in this book. I love the conceit of the author and the twists of the story. I've seen more of Fredrik Backman, and I wonder about his own childhood. The little girl of the story is on a mission to bring apologies from her grandmother. In doing so she learns the depth and dimension of her grandmother's life before Elsa knew her. Elsa's mother Ulrika has some unredden issues with her mother, and Elsa lives with the backlash of those. The sweetness of how Elsa collected an unlikely cast of characters to show in Grandmother's Imaginative-Life shows how the woman applied herself as balm to hurting people and also shows the cost of her choices.
fabulous read

Derived From Web

, Apr 20, 2022

This is an astonishingly human and humane story that is deeply original. In my lifetime, I have read hundreds of literary novels. Never read anything like this ''. The writing is perfect - you don 't even notice it, it carries you just. It is as if you are that fly on the wall, witnessing it all with the clarity of daily life, but there you are, deeply and personally involved. And yet, there is the fairy tale. Isn 't there there? Perhaps ''. No. Definitely. The book is read by. Get swept away into some real and raw place, a place so new you will be astonished too - but you will recognize how it all happens in your own life, too. This book did not just entertain me, it made me want to be a better person.
Great read!

This book was a very entertaining page-turner. I didn't want to put it down until I finished it. It was full of great characters and was quite humorous at times. Loved it!
Awful

Derived From Web

, Jan 4, 2022

I did not like this book ''. If you want to tell people that you are sorry, just do it. Don 't send your granddaughter to do it, send them to Don 't send your granddaughter to do it. Very bizarre.
My Grandmother Asked Me to Tell You She's sorry you bought the book.

Derived From Web

, Aug 8, 2021

A very real grandmother, mystical lands, rude and goofy animals that could be mystical, but may be a mystical imagination. A world that must be a dreamscape, but maybe it's real, filled with imaginative characters and circumstances. The grandmother was too funny and crude to be rude. I did not get it.
A fun read

Derived From Web

, May 18, 2021

A favorite author is Fredrik Bankman. I read it first and loved A Man Called Ove. Following with my grandmother asked me to tell you that she is sorry - I was not disappointed if I liked it even more. Mr. banker has a delightfully peculiar way of looking at life, and his ability as a wordsmith is impeccable. My grandmother is a one in a million special person and I am not sorry to have enjoyed them.
Great, can't know until you try it :)

Derived From Web

, Feb 25, 2021

Let me say I love fantasy ''. The more realistic, the less I loved it. Yes, some parts were a little important and Sam felt sorta... not slow personally. I feel like he shoud have been present more and not only appearing 3 seperate times. I found all the little stories annoying and not as interesting as most people. However, figuring out how the Land of Almost Awake existed was somewhat confusing, because it seemed to be real, but also to treat it as made up. You can essentially know nothing until you try it! Some people love this book to no end, an otters hate it a lot.
Wonderfully entertaining, ruined by the pat ending

Derived From Web

, Sep 27, 2020

Backman is amazingly good at writing from the vantage point of a fantasy 7-year old who shares a precocious world with her grandmother. The book -- the character of the grandmother in particular -- is very funny. But the ending tries to wrap everything up by cutting across the wit and spirit to a somewhat sentimental ending. But the first part is worth every word of the end. A very entertaining read.