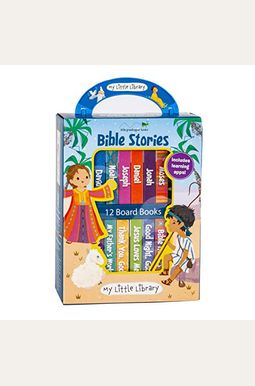 
 
My Little Library: Bible Stories (12 Board Books & 3 Downloadable Apps!)
Book Overview
This Little Grasshopper Books collection includes 12 board books with art based on traditional Bible stories.
The simple stories will delight babies and toddlers.
Whimsical illustrations bring the stories to life.
The small sturdy board books are great for little fingers - 3x3 inches each.
The books included are: David; Noah; Joseph; Daniel; Jonah; Moses; Bible Heroes; Thank You, God; My Father's World; Jesus Loves Me; Praise the Lord; and Good Night, God.
For an extra layer of interactive learning and fun, the set is paired with digital content. Parents can download the Little Grasshopper Library app to smartphone or tablet, iPhone or Android, and then access three stories: David and Goliath, Joseph and His Colorful Coat, and Noah and the Ark.
The keepsake box houses all 12 books until it's time to bring them out again
12 board books - 10 pages each
Frequently Asked Questions About My Little Library: Bible Stories (12 Board Books & 3 Downloadable Apps!)
Book Reviews
(9)
Did you read My Little Library: Bible Stories (12 Board Books & 3 Downloadable Apps!)? Please provide your feedback and rating to help other readers.
So small

Derived From Web

, Feb 11, 2022

The size of the books wouldn't have been so shocking if it wasn't for the carrying case. It's quite comical how small these books are compared to the packaging. You think there are more books behind the box. The books are doing well so far. Will update later if I see that the quality is as bad as some reviewers say.
Good for toddlers

Derived From Web

, May 2, 2021

I was surprised at how small these books were. Once you get over that, you'll see that tiny books make a lot of sense for small hands. It's important for little ones to have personal experience with books so they can love them. These little books have cute art and summarized scripture information that is great for an adult to share with a child. I would expect a star to be deducted for being more fragile.
Adorable! My baby loves it. I completely recommend this set!

Derived From Web

, Jan 22, 2021

These books are priceless. My 15-month-old is holding a book. I knew the books would be small but they were perfect for my baby. A friend of mine has a 3-year-old and I think these would be appropriate for her as well! The stories are very sweet and suitable for a toddler. Sometimes we say something. His favorite books are Goodnight God and Jesus Loves Me. These stories have been made available to this age group. We've bought him several Bibles, but these are definitely more on his level. Thank you for making these! The box set is awesome. I think these are quite a deal. My little one will try to carry it around with him, asking us to read it to him. My mother and mother-in-law think they are cute.
Buyers beware: Fragile

Derived From Web

, Jan 3, 2021

My daughter had a hold of one book for a short time and it was already damaged. Also very small. The packaging is quite deceiving and I am sure if I read the details the size would line up.
Love that it includes female role models

Derived From Web

, Oct 15, 2020

It's so cute! The Bible Heroes book has female remodels. Some reviewers have complained about the size of the books, but these are for babies. The small size makes grasping the book easy.
Bible books

Derived From Web

, Oct 2, 2020

The carrying case is great to keep the books organized when your toddler is not playing with them.
Books for babies and not so much toddlers

Derived From Web

, Sep 20, 2020

The books were a lot smaller than I thought they would be. They're more for babies hands than for my preschool class. I was disappointed in the size of the books, they are good quality and have nice pictures.
Great set, but there's a problem with the product

Derived From Web

, Aug 26, 2020

Bible stories written for young children are wonderful. One of the books in our set has a cover to one story, and the other one has a different story inside. I contacted the company to see if they could send me a replacement book, but never heard back.
Love

Derived From Web

, Jul 22, 2020

This tiny Christian book library is perfect for my daughter and I. The app is neat. If there was a book about who Jesus is, I would have given 5 stars.