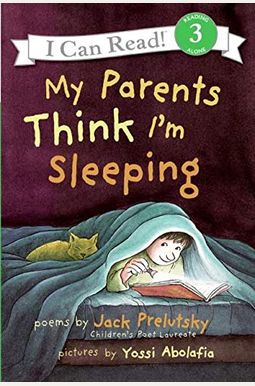 
 
My Parents Think I'm Sleeping
Book Overview
From acclaimed poet Jack Prelutsky and illustrator Yossi Abolafia, My Parents Think I'm Sleeping is the perfect book to get young readers excited about bedtime.
This Level 3 I Can Read book is a funny collection of poems about a boy who should be sleeping, but manages to find more than just storybooks and his model rocket kit to keep him awake.
From reading under the covers to watching shadows dance on the wall, these fourteen charming verses show that a child's life begins at bedtime
Frequently bought together
Frequently Asked Questions About My Parents Think I'm Sleeping
Books like My Parents Think I'm Sleeping
Book Reviews
(11)
Did you read My Parents Think I'm Sleeping? Please provide your feedback and rating to help other readers.
Wonderful Poetry book for children

Derived From Web

, Apr 20, 2022

I loved this book as something to help my boys in poetry to interest me. My 5 year old asks specifically for this book. Great book and easy to read on their own for an early reader.
Demonic

Derived From Web

, Sep 28, 2021

I usually read reviews before I buy something. This time I made a big mistake on my part. The second chapter was a story with demonic imagery. How can this be a bedtime story in the world? My child would end up with nightmares and sleeping for a whole week in my bed if this was read to her. I can not recommend this book AT ALL in good conscience.
Definitely attention grabbing

Derived From Web

, Aug 12, 2021

This was the first book that my granddaughter brought when she opened the box to her room. She tried and chose others, but she commandeered My parents think I'm sleeping. We wanted her to have a variety of books in the box and have one that immediately grabbed her attention, it was a pleasure.
Not for kids - Giving this to my almost 40 coworker

Derived From Web

, Aug 31, 2020

Not for children. Not for children. I saw the 4.5 rating and the happy child on the cover and thought this must be a great book - I did not read the reviews and regret it. It introduces several dark and creepy images to the child for no reason at all. The child is up and refuses to sleep because he is deathly afraid of the monsters under his bed and the shadows on the wall and he refuses to go to sleep, not because he's happily reading a book. Do NOT buy a car.
Fantastic poems and illustrations

Derived From Web

, Apr 11, 2020

My son is 7 34 years old. He salute Lee, he read this book multiple times and not only and loved it, but took an AR test and got 100%, I highly recommend buying this book for your child. There are a few pages it seems scary, but when you see things it is not real, it's the shadows or your cat yelling outside that actually helps children overcome their fears.
Scary, dark, bedtime nightmare themes not appropriate for a young child

Derived From Web

, Feb 14, 2020

We enjoyed thoroughly dark poetry books, so we were surprised and dismayed at the other overtones of this. I don 't see value in introducing nocturnal concepts related to dark nightmares to an innocent child. We believe that some children find this silly or funny, but if you are not one of them, beware. The art work is a touch on the dark side and emphasises and highlights the common children's bedtime insecurities. We've worked hard to teach our children to master their emotions and use their reasonings to feel safe and at peace in bed. This book would be counter-productive.
Easy Reader

Derived From Web

, Dec 30, 2019

I like to have a selection of these on hand for my children that I teach. They come in steps and these are usually early chapter books. When children are first grade and second grade, they tend to move away from picture books and read chapter books like the big kids. If it is a non-fiction book, it is a good way to discuss text elements with the child if it is a fiction book. It is a good time to discuss characters, problems, plot and resolution of the problem. The pictures are appealing and the fact that they do have pictures enhances the learning experience.
Don't buy this book if you love your child

Derived From Web

, Apr 9, 2018

If you love your child, don 't buy this book if you love it. As an Orthodox Christian family, I am very cautious about what kind of books my child reads and generally I skip reviews before I buy something on Amazon. And this was that rare case... And this was that rare case... I have no words to express how horrible this book was. It is full of scary looking demonic monsters. Never bothered to burn it, just returned it.
Like a bad acid trip

Derived From Web

, Feb 14, 2018

This was the most creative child's book I ever read, and I read a lot. The book started pretty well and then took a nose dive into the most random thoughts. It was literally like a herion experience with the author. Seriously, what came to mind while smoking really bad weed is what this book consists of. There were several "WTF " moments so that if you like those, this book is for you! I am not saying that I'm a perfect writer and I do give a star for effort in this case. I also gave Star bc it put my kid to sleep by 10 pages in.
1 Star is too generous.

Derived From Web

, Dec 1, 2017

The most surprising part is the number of 4+star reviews for this book. Leaving aside the fact that the book was definitely not age appropriate, the quality of the writing was poor. The poems '' had an eerie quality of being written by a robot without any imagination, feeling or a good grasp of English language. The front page claims that the author is a Child Laureate's Poet Laureate ''! I thought this would be a good thing, but it is apparently not. $2.95 is way expensive for this piece of crap. Amazon luckily obliged with a full refund.