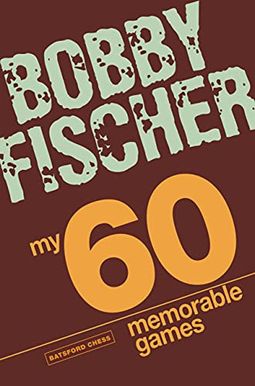 
 
Book Overview
One of the most important chess books ever written, reissued in celebration of a chess genius, Bobby Fischer. The American takes the reader through 60 of his games, describing his thoughts, the intricacies behind his and his opponent's strategies, the tactical justification of moves and the psychological battle in each one. You''ll find beautifully simple positional play next to out-of-this-world combinations that are just breathtaking. Fischer played nearly all of these games as a grandmaster so they are at the very highest level, but his lucid commentary makes every move and idea both accessible and understandable. Every player will learn huge amounts from this book. It is essential for each chess enthusiast, competitor and professional. The controversial alterations that were made to Bobby Fischer's words in the last edition have been omitted in this book, so only the author's own words are expressed, giving a true insight into one of the most gifted, troubled and controversial minds of the 20th century.
Frequently bought together
Frequently Asked Questions About My Sixty Memorable Games
Book Reviews
(14)
Did you read My Sixty Memorable Games? Please provide your feedback and rating to help other readers.
My favorite chess book

Derived From Web

, May 22, 2022

Book must have for all serious chess players - buffs to masters!!! Doar the insights of Fischers are worth the price of this great book.
I a real treat for Fischer to take the time to give the world this great gift!!!!!!!!

Derived From Web

, May 22, 2022

The weird thing about this book is that sometimes you feel like you are not learning a thing and then years later one of his thoughts jumps out at you in the middle of a match and you think that is what he meant, wow!! His love of chess also comes through and he even quotes Lasker and restores Ruy Lopez's treatment of Lasker. This is from the guy who once said that Lasker's style was no better than a club player! Go figure... Anyhow, the best written chess book ever written, even if it does not seem so at first glance. When you expect it the most, Fischer's words will come back and knock you upside the head, when you least expect it. If I have only one complaint, it would be that he does not explore the beauty of his positions and his elegant solutions to the problems he faces, although he does hint at this when he calls one of his openings ugly. So, why not read the best of the best?
Bobby's classic is back

Derived From Web

, May 22, 2022

Until this 2009 Batsford issue, MY 60 MEMORABLE GAMES was the most important chess book of all time, which was not faithfully reproduced in algebraic notation. Get it for your chess library, even though you already played over every game!
Great condition. Inspiring

Derived From Web

, May 22, 2022

Great condition. Inspires, motivates me to study chess. According to Wikepedia, Peter Biyasas, a chess player, said he reached an international master level by reading only 2 books, this book and Rook Ending by Levenfish and Smylov. On the back, it says perhaps the most inspiring and influential chess book of ALL TIME, I would not be surprised if it is. One should read a book perhaps Lev alburts comprehensive chess course,chess fundamental by jose capablanca and maybe a 1 or 2 more product that gives foundation without holes, not strictly neccessary as long as it inspires you, like Peter biyasas.
Great Chess Book

Derived From Web

, Feb 16, 2022

I really enjoy the commentary and alternative lines that Bobby outlines. I have two boards, one for the game lines and one for the alternate lines. I also enjoy using a board to work the alternate lines in my mind and follow my memory. I love chess, and for any aficionado of the game, this book helps you learn from one of the very greatest chess players of all time.
Enigmatic

Derived From Web

, Feb 22, 2021

I finished the book by playing the games over the phone with a cousin. We found that a good number of moves were impossible to execute. At various junctures, Fisher digresses, referring to other games that are featured in the book. These entries often become more complex and laborious. They are intended to emphasize various points that Fisher feels important, therefor they may be of value to the reader, but the cost of taking these excursions is often dear due to the need to spend a great deal of time to discern what he wants to know. The reference is often linked to the entire other game, making it difficult or impossible to see the point or points he wants to comprehend. Despite these problems, I and my cousin found the book valuable.
Entertaining

Derived From Web

, Jun 26, 2020

Very instructional, even amusing at times. His analyses of possible lines are impossible to play on the board without first removing them for mortals like me. Can he see that far ahead really? A world champion can, I think. The position is fairly often shown so that it is easy enough to keep up while playing the games, and it is fun to think what would I do? We even agree once in a while. I prefer the notation for the moves in Pete's book, where they used capital letters for the pieces instead of the little pictures, which don 't show very well on my old Kindle, but are fine on my Samsung phone. A very good book for the student or fan of chess.
Bobby Fischer's great book

Derived From Web

, Sep 13, 2019

The only slight problem for me is the figurine - algebraic notation. Even the regular algebraic notation would have been better for me. This is still a book that belongs in every library of the chess player.
like Dvoretsky's Endgame Manual

Derived From Web

, May 21, 2018

This should be placed on the bookshelf of any competitive player. It is one of the classics, like Dvoretsky's Endgame manual or My System.
Beautiful!

Derived From Web

, Jan 28, 2018

This book is my favorite! I went from start to finish on my chess board while enjoying Fischer's incisive, often pithy commentaries. Wonderful to see the beauty of chess piece arrangements on your favorite board as they dance to the final death of the king.