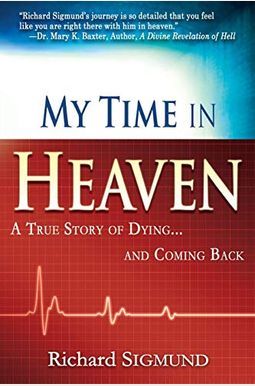 
 
My Time In Heaven: A True Story Of Dying And Coming Back
Frequently Asked Questions About My Time In Heaven: A True Story Of Dying And Coming Back
Books like My Time In Heaven: A True Story Of Dying And Coming Back
Book Reviews
(11)
Did you read My Time In Heaven: A True Story Of Dying And Coming Back? Please provide your feedback and rating to help other readers.
I highly recommend it.

Derived From Web

, Jun 2, 2022

This book had a deep effect on me, my wife and others who heard it. Bro was the most staggering. Richard's account of meeting people in heaven that I knew on Earth and seeing preparations in progress for the arrival of others that I now know, including the account of Dr. Paul Hegstrom's home for his arrival. I completed the Life Skills class that Dr. Paul Hegstrom and Judy Hegstrom founded and was unique and life changing. I have had many supernatural experiences with God in my 60+ years on Earth, and everything in this book rings completely true to me. I recommend it highly.
A totally different view of what heaven could be like

Derived From Web

, Jun 2, 2022

If I ever believed that someone went to Heaven, I believe that this experience is authentic. Second, what he described about heaven is what I have probably believed it is, as far as our human mind can understand. If you or anyone else is interested in our future home, this is a must read!
My Time in Heaven

Derived From Web

, Jun 2, 2022

Today I finished reading this book and is so great! It was a wonderful, descriptive, articulate book that will make you feel good, check within to see if you are ready and give you goose-bumps!
Very good Book

Derived From Web

, Jun 2, 2022

He is very detailed about what he saw and I like the fact that you don 't have to wait half of the book to find out what happened in Heaven. You are there from the beginning! There are so parts that are a little hard to swallow, but I guess that is up to each person if you believe all or some of it. In all, it was a good read!
Great news.

Derived From Web

, Sep 25, 2021

To read about Heaven, excite to read. Looking forward to the Heaven to be with the Lord Jesus, our father and the Holy Spirit.
I would look elsewhere for a good NDE book, I believe this book to be fiction.

Derived From Web

, Feb 22, 2021

Though I am Christian, I find this book to be very non-sensical. Why are Preachers in Heaven? The tours through Hell aren 't care and Jesus does not care and the demons run in fear of Jesus? A mansion made of pearl for pearl, which was a missionary. In Heaven, missionaries and preachers are placed on a pedestal. No proof that he was died for these 8 hours, no copies of paper or even a thorough description of what happened to him. He got into a car accident and woke up 8 hours later on the way to the morgue with a blanket over him and said : I ain 't dead yet! '' He is a evangelist who made this book of fiction to convert people believing that the ends justifies the means. My opinion is just :
Amazing glimpse of heaven!

Derived From Web

, Oct 8, 2019

Amazing reading! Heaven gives you a great glimpse of sure. I've bought this book for a few of my friends and read it several times myself.
Sensationalism at best!

Derived From Web

, Feb 17, 2019

I could only read about half of this book, as it is written as a kind of make-believe story by a preacher that promotes his privilege in the hereafter. Humility is not a descriptor for this author, and his experience was reflective of consumption, like a lot of pastorers and tv evangelicals you see today.
Couldn't finish it

Derived From Web

, Oct 22, 2018

I read a number of books on NDE and their descriptions of Heaven seemed believable. This guy sounds like he is describing what would be found in a picture book, showing heaven. I also did not like how revivals took place in heaven and that preachers were still praising in heaven. Why have preachers in heaven? Just talk to God or Jesus!
There IS a truly a place we refer to as Heaven and the love that fills it from top to bottom spills over on to this Earth

Derived From Web

, May 4, 2018

I received 20 copies of Richard Sigmund's astound book My Time In Heaven in two shipments. This is a book that anyone who might doubt that there is God who cares immeasurably for all his creations should read and ponder seriously. I still enjoy Reverend Sigmund's awe-inspiring description of what he saw and experienced while he was legally dead for 9 hours. All my copies of this fabulous book were in mint condition when I received them in the mail, and almost immediately I began sending the copies to my beloved family members and friends around the world. It is a sure thing that I'll order and mail many more copies of this great book to people I know might appreciate the story told in its pages.