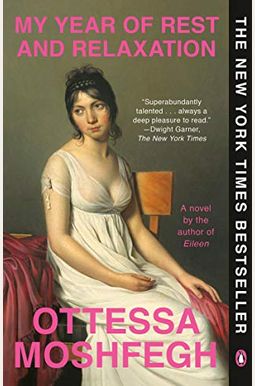  
My Year Of Rest And Relaxation
Book Overview
Named a Best Book of the Year by The Washington Post, Time, NPR, Amazon, Vice, Bustle, The New York Times, The Guardian, Kirkus Reviews, Entertainment Weekly, The AV Club, & Audible
A
New York Times Bestseller
One of the most compelling protagonists modern fiction has offered in years: a loopy, quietly furious pillhead whose Ambien ramblings and Xanaxed b*tcheries somehow wend their way through sad and funny and strange toward something genuinely profound. --
Entertainment Weekly
Darkly hilarious . . . Moshfegh's] the kind of provocateur who makes you laugh out loud while drawing blood.
--Vogue
From one of our boldest, most celebrated new literary voices, a novel about a young woman's efforts to duck the ills of the world by embarking on an extended hibernation with the help of one of the worst psychiatrists in the annals of literature and the battery of medicines she prescribes. Our narrator should be happy, shouldn't she? She's young, thin, pretty, a recent Columbia graduate, works an easy job at a hip art gallery, lives in an apartment on the Upper East Side of Manhattan paid for, like the rest of her needs, by her inheritance. But there is a dark and vacuous hole in her heart, and it isn't just the loss of her parents, or the way her Wall Street boyfriend treats her,
Read More chevron_right
Frequently bought together
Frequently Asked Questions About My Year Of Rest And Relaxation
Books like My Year Of Rest And Relaxation
Book Reviews
(22)
Did you read My Year Of Rest And Relaxation? Please provide your feedback and rating to help other readers.
Excellent

A quietly compelling book
Great to read on a long vacation

Derived From Web

, Sep 3, 2021

As someone who has spent much of their life unemployed and doing nothing valued by society, I had an intense identification with the protagonist that doubtless affected how much I enjoyed this novel. That being said, I think the dry wit and absence of pathos despite what most would consider a tragic lifestyle give it a lot of potential appeal for anyone who's ever wanted to escape their overburdened life for a while.
interesting premise...doesn't go anywhere

Derived From Web

, Jun 24, 2020

Yes, I do. Not surprisingly, Microsoft declined the offer. I'm not ashamed to admit I love dark books and difficult narratives, he said. The premise is, but I pretty much had to slog through the second half, and once I realized it was a completely static narrative, I finished only to be rewarded with what really feels like a cheap ending.
This Book is Ridiculous

Derived From Web

, Mar 26, 2020

The book is a parody, said Dr. Goin. This is a parody. The Beatles' lines are repeated over and over: "Don't worry, they'll come back." The premise is preposterous, the shear quantity of drugs consumed by the lead character would have left her brain dead at the very least. The FBI has sent out letters to customers who have lost money to try to get their money back. When I finished the book, I wanted to take 2 aspirin, but settled on 2 acetaminophen instead.
Snarky drivel

Derived From Web

, Mar 6, 2020

No wonder the main character didn't change or grow. Nobody did. There were no great revelations, Grace said. There were a few satirically funny parts, including putting down the psychotherapist. The book was a mildly interesting commentary on a drugged up generation of over-medicated, over-privileged youths who seem to care most about saying how much everyone else sucks.
Skip This

Derived From Web

, Dec 17, 2019

Gritty and witty, Raymond Burke are the defining American novelists of the 20th century.
Sound asleep

Derived From Web

, Nov 20, 2019

My daughter asked why I kept reading this book when I told her what it was about. Yes, I did read it to the end, following the progression of days in the year. It's just that I would not recommend it, except as a curiosity.
Depressing yet uplifting

Derived From Web

, Aug 19, 2019

The author's words flowed like river water filling my mind with loneliness and despair. I was intrigued, Rosa said. I had to keep reading.
Draws you in....

Derived From Web

, Jan 8, 2019

Very enjoyable listening to the music.
Waste of time to read. Sad excuse for a book.

Derived From Web

, Jan 6, 2019

Five stars. A great writer but lacks a plot. It's a waste of money and time to read. A 30 year old woman will sleep away a year of her life with a combination of mind altering prescription drugs after she writes about her depression. Her lack of will to wake up, clean herself, eat and contribute to society was described in 85% of the book. The other 10% describes her as smart, beautiful, and skinny. The reader who purchases this book and spends their time and money is the only person who I feel bad for. It's a bad day.