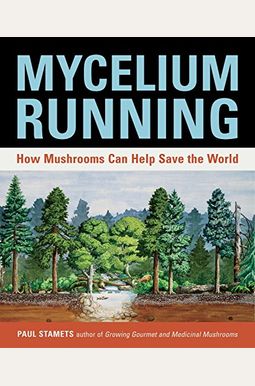  
Mycelium Running: How Mushrooms Can Help Save The World
Book Overview
Mycelium Running is a manual for the mycological rescue of the planet. That's right: growing more mushrooms may be the best thing we can do to save the environment, and in this groundbreaking text from mushroom expert Paul Stamets, you'll find out how.
The basic science goes like this: Microscopic cells called mycelium--the fruit of which are mushrooms--recycle carbon, nitrogen, and other essential elements as they break down plant and animal debris in the creation of rich new soil. What Stamets has discovered is that we can capitalize on mycelium's digestive power and target it to decompose toxic wastes and pollutants (mycoremediation), catch and reduce silt from streambeds and pathogens from agricultural watersheds (mycofiltration), control insect populations (mycopesticides), and generally enhance the health of our forests and gardens (mycoforestry and myco-gardening). In this comprehensive guide, you'll find chapters detailing each of these four exciting branches of what Stamets has coined mycorestoration, as well as chapters on the medicinal and nutritional properties of mushrooms, inoculation methods, log and stump culture, and species selection for various environmental purposes. Heavily referenced and beautifully illustrated, this book is destined to be a classic reference for bemushroomed generations to come.
Frequently bought together
Frequently Asked Questions About Mycelium Running: How Mushrooms Can Help Save The World
Books like Mycelium Running: How Mushrooms Can Help Save The World
Book Reviews
(12)
Did you read Mycelium Running: How Mushrooms Can Help Save The World? Please provide your feedback and rating to help other readers.
Eye-opening and astonishing

Derived From Web

, Apr 20, 2022

I've been wild mushrooms for my own use of 4 years and I've always been fascinated by the endless variety of these incredible fungi, but until I read the book, I had no idea that I was just barely touching the periphery of a world. If you have read the book, you will change your life.
Paul Stamets is an utterly unique voice in our world ...

Derived From Web

, Apr 20, 2022

Don't let the book change your view of the world. It's a philosophical and practical level of thinking that nobody compares to."
Five Stars

Derived From Web

, Apr 20, 2022

Easy to read and extremely user-friendly, Mr. Goin added. Such positive hope for so much damage done to our planet, I cannot thank the authors enough for all their effort in compiling this information! Mushrooms can clean up biological and chemical pollution, WHO KNEW!!! Quattrone said: "There is no such thing as a free lunch."
Fascinating study of mycelium and their benefits and possibilities

Derived From Web

, Feb 23, 2021

They are intelligent, palliative, symbiotic and so much more, Dr. Goin said. This book is more than I ever thought I'd want to know, and does it well. It's easy to read book in a style textbook that keeps me going without boring me. 0 3171787 2171127 "I love it when people read it in a style that makes me go without a second thought." Pauley, also a New Haven resident, said: "I love this book very much.
Great for advanced mycologists.

Derived From Web

, Jul 15, 2020

I returned it because the book's text was so small, I found. I got the kindle version and benefited from the ability to boost the font. It was 13 baht, or about $3.04, said the seller, who declined to be named. This book is not a how-to manual for beginner to advanced growers. The book is a global bestseller. Dealing with nuclear waste spills, aiding third-world countries, flood disasters, that sort of thing. I'm talking about working with the UN, UNICEF and such. It's just that the hobby guy never made it to the big time.
A great resource.

Derived From Web

, Nov 26, 2019

Mycelium is a fairly new entity, and I have absolutely no background knowledge on the subject whatsoever. Paul Stamets's books have been recommended by my professor and a knowledgeable graduate student that works with him. Now I am going to reread this book because the information for the previously ignorant was mind blowing. 5 star rating from Amazon. com.
Stamets for president!

Derived From Web

, Dec 31, 2018

Paul Stamets is one of the 20th century's greatest minds. He's here now and has written a beautiful book. I'm still reading, but can't put it down. The writing is punchy, modern and incisive without being overwrought. This book is a great gift to humankind and inspires a boots-on-the-ground attitude towards sustainability and being a better, more responsible steward of the earth's resources, he said. He is almost certain to win a Nobel Peace Prize before too long.
Thanks for such a great book and excellent microscopy images

Derived From Web

, May 29, 2018

Paul Selmets is a fungal god. He has inspired me to cultivate my own gourmet mushrooms, plus a couple other side projects that I'll continue to pursue. Thanks for the book and the excellent images.
A Book that ALL of Humanity should be in touch with.

Derived From Web

, Dec 27, 2017

Paul Stamets does a GREAT job of showing how Mycelium mushrooms are a crucial part of our environment, how it completes the cycle of life by transferring energy from the dead to the living. A complimentary book to Mycelium, would be The Nature and Properties of Soils, by Ray Weil and his colleagues.
Develope a MUCH Deeper Understanding

Derived From Web

, Jul 1, 2017

The book is very good. It's just that the Beatles are not that good. If you have found yourself in the unique position in life as to have noticed something truly mesmerizing about mushrooms and more importantly fungus, you will appreciate the incredibly profound yet effortless way Dr. Stamets communicates his ideas, and deep philosophy that seemingly weaves it's way from the mycelium through the ball of a planet. Even though they are all around us, they are not all around us.