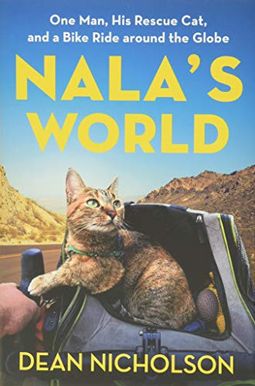 
 
Nala's World: One Man, His Rescue Cat, and a Bike Ride Around the Globe
Book Overview
Instagram phenomenon @1bike1world Dean Nicholson reveals the full story of his life-changing friendship with rescue cat Nala and their inspiring adventures together on a bike journey around the world.
When 30-year-old Dean Nicholson set off from Scotland to cycle around the world, his aim was to learn as much as he could about our troubled planet. But he hadn't bargained on the lessons he'd learn from his unlikely companion. Three months after leaving home, on a remote road in the mountains between Montenegro and Bosnia, he came across an abandoned kitten. Something about the piercing eyes and plaintive meowing of the bedraggled little cat proved irresistible. He couldn't leave her to her fate, so he put her on his bike and then, with the help of local vets, nursed her back to health. Soon on his travels with the cat he named Nala, they forged an unbreakable bond - both curious, independent, resilient and adventurous. The video of how they met has had 20 million views and their Instagram has grown to almost 750k followers - and still counting Experiencing the kindness of strangers, visiting refugee camps, rescuing animals through Europe and Asia, Dean and Nala have already learned that the unexpected can be pretty amazing. Together with Garry Jenkins, writer with James Bowen of the bestselling
A Street Cat Named Bob
, Dean shares the extraordinary tale of his and Nala's inspiring and heart-warming adventure together.
Frequently Asked Questions About Nala's World: One Man, His Rescue Cat, and a Bike Ride Around the Globe
Book Reviews
(17)
Did you read Nala's World: One Man, His Rescue Cat, and a Bike Ride Around the Globe? Please provide your feedback and rating to help other readers.
boring, PC book

Derived From Web

, Nov 25, 2021

I thought it would be interesting to read, but it wasn't. It was a political incorrect book, but mostly boring, McBride said. After reading several pages, I was tired, bored and wanted to sleep. What's more, I think it was just that Zero Fun was terrible.
Heartwarming but not at all sappy

Derived From Web

, Jul 9, 2021

The fifth nominee for fiction is Pauley Perrette, for his story of adventure, uncertainty, and love.
Joyride of a book!

Derived From Web

, Mar 28, 2021

I felt like I was invited to come along and experience a wild and exciting adventure, he said. This book allowed me to see even more of the world I had hoped for, Gillian said. While reading this book, I felt every emotion, every detail, and sometimes, I was tired, excited, scared, often emotionally spent, like it had been me experiencing each situation. The book made me want more, even though I couldn't read it. New experiences, new photos, videos, and more! It's just that I fell in love with Dean and Nala. I am delighted that the Government has chosen these two technologies to continue the fight against terrorism, Graham said in a statement.
Enjoyed this immensely

Derived From Web

, Dec 16, 2020

You never know how things translate from video to writing. It was an interesting and witty book, full of witty one-line quips about life and times, as well as all the anecdotes about Nala! The writer did an excellent job and I enjoyed reading it over a couple of days, Morgenthau said. I hope they can get back on the road soon!
BEST EVER

Derived From Web

, Oct 9, 2020

Super touched. I've seen trailers, but never the finished product. I'm going to buy more of these books for friends. His love for the world and all that's in it, are amazing. It was a bullet, but I could not put it down.
Great story!!!!

Derived From Web

, Oct 9, 2020

This story is about a real person, who is just like us, only wayyy more brave, and the kitty just adds more, the two said. It's just that they put it this way: "If you want to be a millionaire, you have to work with the wrong people."
Heartwarming story

Derived From Web

, Oct 7, 2020

I have followed Dean and Nala for several months and they are very good friends. It's great to be both a cat lover and a travel lover, Raymond said. Hearing the accounts of what happened behind the videos is very interesting. Hope Dean and Nala are both expected to be back soon.
Wonderful heart warming book

Derived From Web

, Oct 3, 2020

This book is a great read, warms your heart during these difficult times. A great story teller and nobody has a bad Scottish accent, Mr. Dean said.
What happens when a stray cat rescued a man and changed his life

Derived From Web

, Oct 3, 2020

I've followed Dean and Nala's story for over a year.
Dean doesn't write in Scottish Brogue!

Derived From Web

, Oct 3, 2020

It has been such fun to watch their adventures and watch the big man and the tiny cat develop this wonderful relationship, says Blair. I have been looking forward to the book for months and am thrilled with the prose and the photos, he said. You might think that you know the whole story if you follow them in Instagram, but there is actually more to the story then he posted, so it is a wonderful read. The only thing I couldn't find was the credit to the artist who made the drawings. Kelly Ulrich, who writes and draws a daily comic about these travelers and their "friend" Vinny the cockroach, said she hopes the book will be "a hit with both kids and their parents." One other thing I loved about the book is that it fits easily in a knapsack, briefcase or laptap bag, and just the right dimensions to read while traveling. Kudos to those two schools for the choice of teachers. Enjoy the show, Michael.