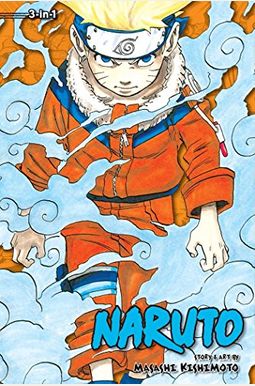 
 
Naruto (3-In-1 Edition), Vol. 1: Includes Vols. 1, 2 & 3
Book Overview
The world's most popular ninja comic just got bigger with this collection of Naruto volumes
Reads R to L (Japanese Style), for audiences T
Containing volumes 1, 2 and 3 of Naruto Twelve years ago the Village Hidden in the Leaves was attacked by a fearsome threat. A nine-tailed fox spirit claimed the life of the village leader, the Hokage, and many others. Today, the village is at peace and a troublemaking kid named Naruto is struggling to graduate from Ninja Academy. His goal may be to become the next Hokage, but his true destiny will be much more complicated. The adventure begins now
Frequently bought together
Frequently Asked Questions About Naruto (3-In-1 Edition), Vol. 1: Includes Vols. 1, 2 & 3
Book Reviews
(9)
Did you read Naruto (3-In-1 Edition), Vol. 1: Includes Vols. 1, 2 & 3? Please provide your feedback and rating to help other readers.
excellent

Derived From Web

, Dec 19, 2020

I was somewhat skeptical of the quality because it is a 3-in-1 edition, but this item was impeccable. It came with no damage and everything matches the description. It matches the description exactly. Absolutely a must-read for any beginner animemanga fan or someone interested in a future classic.
Ninja ninja ninja!

Derived From Web

, Jun 25, 2020

Ninja, Ninja, Ninja! Ninja, Ninja, Ninja! What can I say... What can I say... I can not thank Naruto enough... I cannot thank Naruto . I am a religious person and the whole way I view my life and goals was based off Naruto's. The pursuit to push yourself even when the odds are against you. Nothing speaks like this and now I am able to share these telos with my son.
I love it very much.

Derived From Web

, Apr 7, 2020

Well... let me start by saying that I love Naruto's anime. It is really cool, so when I saw it I had to get it. Some people are complaining about the thin pages, but it does not bother me that much because I am not holding the pages to any light. I am so glad that I got this because, wow, what a deal! I love Zabuza and Haku. They have always been my favorite Villains, so I can 't wait to read the rest. The story is so interesting! I do believe that I like the manga better than the anime because of a few things. The action scenes-they are really cool and well, awesome. I know that this isn 't that descriptive, but it is true! The characters - it is nice to see the characters in their true form. My favorite is the one about Ukki-kun, the house plant. The anime isn 't too different from the manga, which is awesome! I love this so much and am TOTALLY going to buy the next 3in1 - edition of Uwuwu.
Great Size, Amazing Quality!

Derived From Web

, Apr 1, 2020

Awesome quality! I recently started reading the anime and watching the manga. These editions are great! The covers are new, are brand new and have amazing illustrations. For anyone who is looking for a longer read, these editions are great because they are 3-in-1! On top of that, I expected them to be bulky, but they were exactly sized! Any animemangaNaruto lover should have one of these copies! They are shockingly great for the price, they are shockingly high quality!
Perfect for the Naruto fan!

Derived From Web

, Dec 27, 2019

The book is being published in black and white. The material is similar to a cartoon book. It is a paperback. It's pretty chic : you are meant to read the book in reverse. I've always thought this was a perfect gift for my fan of Naruto.
Worth it

Derived From Web

, Dec 24, 2018

Honestly, this was my best purchase from Amazon and it was perfect, I highly recommend it. I got this in two days because it is prime and the only "problem " was a tiny little rip in the bottom corner which is like nothing lol. And the pages are thin, where you hold it up to the light, you can see the other side of the page, but I mean who reads like that?
Awesome

Derived From Web

, Dec 15, 2018

Great quality, high volume 3-in-1 volume. The first copy I received had been torn during shipping, but they were great and I got a replacement without fuss and within a week. No complaints received.
Cheaper than individual volumes but terrible quality.

Derived From Web

, Jan 30, 2018

The page quality is really terrible for the 3 in 1's. You can see panels from the other side through the thin sheets clearly, to the point that it is sometimes hard to tell what is happening in a panel because of the bleeds. Maybe some people will think this edition is worthwhile for the price, but I'm going to start collecting the individual Tankoubon instead, because they are of better quality.
Great quality manga

Derived From Web

, Sep 29, 2017

Not miscolored or dusty. It's even smelled new. I just love the way new books smell. I was so excited when it came in the mail! No where to start reading like the beginning! I can 't wait to start this book, really excited to read it! Love reading that left to right and I love that its 3 in 1. The only happy I bought is really good.