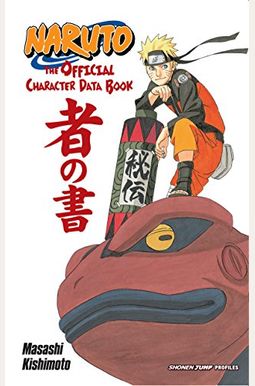  
Naruto: The Official Character Data Book
Book Overview
It's Shippuden homework time Study up with this book and you'll pass the test for most knowledgeable shinobi of all time (at least till the next update ). This handy, huge guide covers all the way to Volume 43 of the best-selling manga
It's Shippuden homework time Study up with this book and you'll pass the test for most knowledgeable shinobi of all time (at least till the next update ). This handy, huge guide covers all the way to Volume 43 of the best-selling manga
Frequently Asked Questions About Naruto: The Official Character Data Book
Book Reviews
(12)
Did you read Naruto: The Official Character Data Book? Please provide your feedback and rating to help other readers.
I loves it

Derived From Web

, May 31, 2022

As a great fan of anime and as someone who has been watching the story of Naruto since 2007, I think this book is great for all fans out there who like and need to know more about the characters and Jutsu and the world of Naruto! I loved the information in it really. It covers up to Volume 43 in the manga.
worth it.

Derived From Web

, May 31, 2022

Some new stuff : A little info I did not know about the characters, but mostly that section was stuff I knew. It does have a really cool graph showing the proficiency of the main characters in various Ninja stuff, though. It was weird to see how small Sakura was even after all her training. There is a small section, although it's rather cool, on Jutsu specifics. Including like all new Jutsu of Sasuke. I bought it happy. It was nice to read through the character summaries, which reads like the story is told again.
Video Review:NARUTO Review | The Official Character Data Book: https://youtu.be/Q3DJsWRiMbQ

Derived From Web

, May 31, 2022

This book contains information about almost every character. There are only a few pages in the front that are colorized, but the rest are in black and white! Here is a short review of the NARUTO Review product | The Official Character Data Book httpsyoutu. beQ3DJsWRiMbQ.
Definitely worth buying.

Derived From Web

, May 31, 2022

As it says, it is a character data book with most of the details on each character up to Chapter 43. Thoughts are blowing nothing to mind. I am collecting all Naruto manga and this is essential to the collection as it summarizes a lot of scattered information throughout the series. Also included is a short exclusive chapter that is only available in this book. At this price, it would be silly not to buy if you love Naruto.
he loves it

Derived From Web

, May 31, 2022

Here don 't know what to write next, but my son says he loves this book! He's a Naruto Fend and he owns a good amount of movies and games.
What every fan wants to know.

Derived From Web

, May 31, 2022

This book contains a lot of information about individual characters and Jutsu as well as some fun facts. I enjoyed reading about the character's food likes and dislikes, their height, weight, interests, skills and others. It also contains polling rankings, Q and A with the author and a short comic book. If you're an obsessive Naruto fan who wants to know everything about Naruto's world, this is the book for you. There are a few mistakes that I have noticed. It is overall great!
Son loves it!

Derived From Web

, Jan 12, 2022

My 11 year old opened this for Christmas and had the book completed by the end of the night. He was fascinated and even reading some information to his friends, who are also big fans of Naruto. I took a star because the book was actually assembled backward, meaning the beginning of the book was in the back cover and upside down in orientation with the cover images. He doesn't mind it, but imagine yourself reading a book backwards and upside down LOL!
Great for Naruto deep dive!

Derived From Web

, Nov 15, 2021

Bought this as a gift for my daughter, who turned 13 last week and is now really into anime. This is a beautiful book that goes into characters and storyline in detail.
Kid approved.

Derived From Web

, Dec 29, 2020

He says that the book is also helpful in playing the game.
Satanry & witchcraft, Bad influence on young minds!

Derived From Web

, Dec 16, 2020

This is not good news for young minds. It is a part of Satanry and Witchcraft. It talks about the change in question and such.