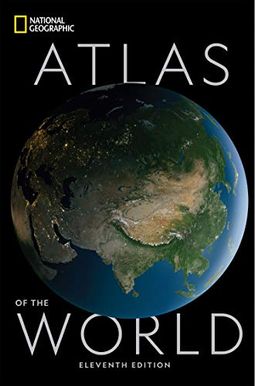  
National Geographic Atlas Of The World, 11th Edition
Book Overview
Created for all global citizens, this universally respected volume of world maps has been completely revised and updated with fascinating visualizations of international trends and global conditions.
National Geographic's flagship
Atlas of the World,
now in its 11th edition, provides authoritative maps of every country, ocean, and region of the world, as well as thematic maps and accompanying graphics showing important population, environmental, and economic patterns. Organized by continent and reflecting today's political boundaries and identities, this authoritative atlas is an indispensable reference for schools and libraries, as well as the latest resource for home browsing and study. A thematically organized opening section uses current data to visualize urgent concerns, such as Earth's last wild places, changing freshwater availability, human migration and refugee movement, and human rights conditions globally. The back of the book contains basic facts and flags of every country, as well as a comprehensive index cross-referencing more than 150,000 place names.
Frequently Asked Questions About National Geographic Atlas Of The World, 11th Edition
Book Reviews
(6)
Did you read National Geographic Atlas Of The World, 11th Edition? Please provide your feedback and rating to help other readers.
This is a beautiful atlas...

Derived From Web

, Jul 21, 2021

The book arrived in mint condition with its original publisher. It is a beautiful book and has lots of information and maps to study, Mary. The only issue I have with this atlas is that it is so huge. I wanted an atlas that I could sit and read about different places, because I enjoy doing research. It's a great book to read at a table. It's big to sit in your easy chair and look at the world. I will try to find one smaller but will keep this one as it will be perfect to look at the grandkids on the table.
Big, beautiful, heavy, and wonderfully detailed.

Derived From Web

, Mar 30, 2021

When I ordered the National Geographic World Atlas, I didn't stop to think about size. The space agency calls it: "The largest leap in space technology in 40 years." At least 11 inches long. It's heavy. What I like most about it is that it's very easy to understand, said Blair. The detail of many small towns that are often not named in other atlases is shown. Turner said he wanted to thank God that the Beatles were still alive. The papers are high quality and are sturdy. Turner said he wanted to thank God that the Beatles were still alive. Each country, and state in the USA, are shown on two sheets that face each other and are numbered one through nine. Turner said he wanted to thank God that the Beatles were still alive. The vast amount of it contains about the land masses and the open seas, and the space around us is truly exceptional. Turner said he was "100 percent behind George Bush" in the war. The fact is, the book itself shows the thoroughness of the work of the scribes. I think the cost is low, considering its high value, he said.
Perfect Gift

Derived From Web

, Mar 30, 2021

The National Geographic Atlas was given to me by a friend a couple of years ago. It is used daily by Microsoft Business customers. Cirque du Soleil's "The Illusionists" was rated one of the best shows of the season. I am an 85 year old grandma and have it where I call my learning center. It is well used by her family. I have a request. Because I use it the plastic or whatever the cover is, it's coming off. Several places I have inquired about getting a new cover and being able to display the beautiful cover. I'm not sure what to do with it, but anyone has some suggestions? I would love to hear more about that.
Sealed so that you can't see inside

Derived From Web

, Oct 21, 2020

It comes sealed so you don't know what it's like inside, but you can't return it after breaking the seal. A previous edition had only a single dedicated page, and the rest was mostly blank. It didn't have much of that, Mr. Rule told the judge. Just use google earth.
Better than the tenth edition

Derived From Web

, Dec 30, 2019

The National Geographic Society has published the 11th edition of the atlas. The maps are better done and a lot more regional coverage, especially in Africa, said Paul Cheung, IBM vice president. Very well done.
Disappointment

Derived From Web

, Nov 27, 2019

It is unclear why this atlas is called the atlas of the world. The atlas has 50 pages dedicated to Prussia. In a country of 50 million people, only 2 pages have been allocated to Ukraine, one for its 50 millionth citizen. They are usually denoted by colors: green, red, blue and black. The Himalayas and other mountains virtually do not stand out on the maps. My old atlas of 1956 may not be so beautiful, but it's much more detailed and informative.