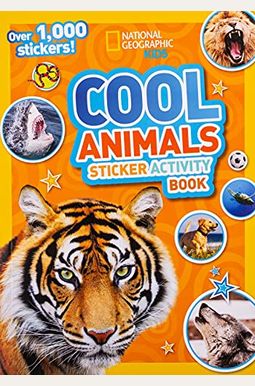 
 
Cool Animals Sticker Activity Book [With Sticker(s)]
Book Overview
Kids will love these fun-packed pages loaded with 1,000 stickers of cool animals such as lizards, sharks, tigers, and creepy crawlers. Perfect for road trips, plane rides, rainy afternoons, or just to keep in the backpack for sticker sharing with friends, kids won't be able to get enough of these high-value, high-fun-factor sticker books Packed with interactive games, spelling and pattern activities, drawing games, and more, parents will love these fun books that keep kids entertained, engaged, and learning. Forty pages of activities pair with 16 pages of 1,000 incredible animal stickers to bring kids an exciting, interactive experience with the coolest animals on the planet. Kids can use their stickers to add little fish prey for the great white shark's lunch, to show orangutans swinging from trees, and to camouflage cheetahs in the savanna. Each spread merges vibrant artwork with real wild animal photographs and an array of fun and informative activities.
Frequently bought together
Frequently Asked Questions About Cool Animals Sticker Activity Book [With Sticker(s)]
Book Reviews
(10)
Did you read Cool Animals Sticker Activity Book [With Sticker(s)]? Please provide your feedback and rating to help other readers.
Really awesome little book

Derived From Web

, Apr 20, 2022

A really cool little book! My only complaint is that the 1000 stickers are crazy! The claim is a little bit robust, considering there are a LOT of small repeating things like fish, pearls, bananas etc. BUT that said the quality is great and the pictures are beautiful, I would definitely buy again.
Better for age 5 maybe....

Derived From Web

, Apr 20, 2022

Kids wanted to like these books. Bought them for a long drive. The stickers are small. NG will go back the DK books, sorry NG.
All the kids loved the book

Derived From Web

, Apr 20, 2022

I received this as a gift to give to the children at my granddaughter's birthday party. The kids loved the book.
Great sticker book for an older child

Derived From Web

, Oct 20, 2021

This is a wonderful sticker book for a child who is in kindergarten and up. It is very detailed and some of the stickers are very small or scary for a young child.
Highly recommend

Derived From Web

, Sep 28, 2020

Awesome activity book, I use it with my 2y.o. And even though some activities are a bit advanced for him, he loves to play with stickers and find where to put them in the book, great fine motor skills exercise.
My kindergartener really liked this book!

Derived From Web

, Aug 30, 2020

My 4 year old is really enjoying this activity book!!! It does come with a lot of stickers, it says it comes with over 1000, but the majority are really small stars, dots, leaves, etc... I would still recommend it for parents looking for activities for small children off the screen. I would still recommend it for parents looking for off-screen activities for small children.
Fail Nat Geo, FAIL!

Derived From Web

, Apr 24, 2020

Not sure why there are young spiral-pedophile occult boy love symbols as stickers in this book. A lot of cool stickers in this book have nothing to do with tiny animals, but WOW, the spiral stickers really stood out for me. Parents, do your homework on the spiral symbol as well as other symbols and be vigilant in protecting your children and are what they are exposed to. That aside, these stickers are junk, they don 't stick well at all. Based on the quality alone, I still say, don 't waste your money on this book.
Very fun book! Great price and hours and hours of entertainment for my 2.5-3.5 year olds!

Derived From Web

, Feb 25, 2020

These sticker books are so much fun for my 2.5-3 year old! He spends an hour at a time putting stickers in their right place and learning about animals on the way. You can t beat the price either!
Great fun for toddler and great teaching tool

Derived From Web

, Jan 8, 2020

Toddler activities to work on a great note. All fun for them while learning, all Nat Geo activity books are wonderful teaching tool with stickers, coloring options, make pictures to connect to reason pictures, sequence of photos for toddlers to join and associate, plus additional stickers to play with.
Pretty lame sticker book

Derived From Web

, Jan 12, 2019

Claims to have 1000 stickers, which means that they are all used in activities in the book. There are really only 2-5 stickers used per page, however, and the rest of the activities are kind of random and unrelated to the stickers. If you're looking for this as a companion to sticker activity books by other manufacturers, you will be very disappointed.