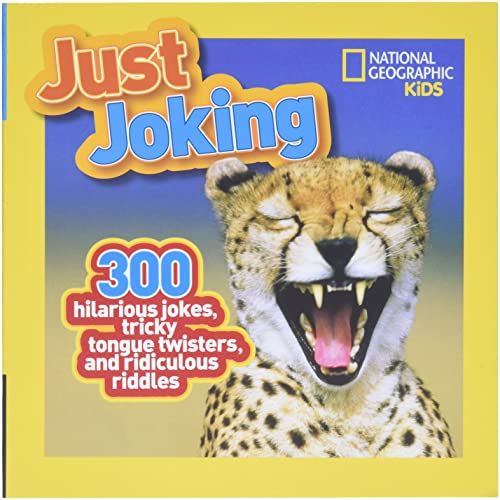 
 
Just Joking: 300 Hilarious Jokes, Tricky Tongue Twisters, and Ridiculous Riddles
Book Overview
Q: What do planets use to download music? A: Neptunes. Q: What goes zzub zzub? A: A bee flying backwards. Q: Why did the baby cookie cry? A: Because it was a wafer so long. Packed with the silly jokes that kids love, including knock-knocks, tongue twisters, riddles, traditional question and answer jokes, and more, Just Joking will be presented in National Geographic Kids' colorful, photo-driven style. Laughing animals, funny people, and other colorful photos are paired with each joke, adding an extra laugh on each page. National Geographic Kids' signature square trim size and candy-colored palette make this fun-filled book perfect for tossing into a backpack to share with friends at school or camp.
Frequently bought together
Frequently Asked Questions About Just Joking: 300 Hilarious Jokes, Tricky Tongue Twisters, and Ridiculous Riddles
Book Reviews
(16)
Did you read Just Joking: 300 Hilarious Jokes, Tricky Tongue Twisters, and Ridiculous Riddles? Please provide your feedback and rating to help other readers.
Great for 7-year old - funny and interesting.

Derived From Web

, Apr 20, 2022

The book was purchased for my 7-year-old grandson. McCartney has said he's "100 percent behind" the project. Even though he's a teenager, Carson still enjoys all the animal facts. Quinn is an avid reader, and he is really enjoying flipping through the book. Lately, we've noticed his jokes are getting better because he has the book to draw on. I plan to buy more for his birthday next year. I know he will enjoy them both.
Heed the age recommendation.

Derived From Web

, Apr 20, 2022

The listing says it's for ages 7 and up, and I'd add a year to that. My 7 year old doesn't know all the references and so, doesn't get the joke. The pictures are great, but the tongue twisters are a touch too. We'll get a lot of use out of this, Mr. Dhaliwal said.
Cute!

Derived From Web

, Apr 20, 2022

I purchased this book along with several other National Geographic joke books for my nieces and nephews for Christmas. The cast members ranged in age from 4 to 17 and were all very happy. The jokes were very cute and appropriate for an 8 or 9-year-old.
Funny - but geared toward a slightly older child

Derived From Web

, Apr 20, 2022

My son LOVES riddles, jokes and tongue twisters so we got this for him for Christmas, Barb said. Many of the jokes and riddles are "over his head" as they are based on life experiences of an older child _ probably closer to 8 or 9 years old. Yes, we'll revisit it again in the future.
some of the jokes aren't even that funny, but strangely enough makes it even funnier when ...

Derived From Web

, Apr 20, 2022

Simply put, if you're lucky, you'll be peppered with a million silly jokes at all times of the day. In her mom's bedroom, she would perch on her bed and open her eyes to tell me a joke. It's a good kid, said the mother. Some of the jokes are unfunny, but strangely enough makes it even funnier when coming from a child who is waiting for you with baited breath. It's wonderful to see children happy, Mrs Hughes said.
Always good for a laugh with kids!

Derived From Web

, Dec 3, 2021

It was a short version of the National Geographic joke books my daughter was reading when she was 4 years old. We looked at the pictures and did the tongue twisters and had lots of laughs, Mr. Dhaliwal said. Then we read her the riddles and jokes, and it helped her understand how word play works. It's still fun. At the age of 8, she reads the same jokes to us. Funny thing is I thought she understood all of the riddles by now, but recently she dragged that little book out, read a riddle to me, then I asked her what she got it for, and she said, "Oh, I get it now!"
Not what I expected.

Derived From Web

, Oct 9, 2020

The pictures are nice but i didn't find a lot of jokes in the book that are comprehensible for 6 year olds.
My daughter loves it!

Derived From Web

, Sep 14, 2020

My daughter has lived in the United States for 3 years. In fact, she has learned English so well that she can speak it herself. The play of words in this book takes that to a new level as she thinks through the punch lines to these jokes. In "The Belly Sitters," Elizabeth Warren writes, "the writer has had some huge belly laughs." One of the best $5 I've ever spent on Amazon. An excellent book to help your kid to read. 100% recommend this product.
Perfect for kids

Derived From Web

, May 22, 2020

My daughter has recently been very into riddles and I got her this book, Melissa said. In fact, she LOVES it, so much so that she almost threw away the entire thing. For the past three nights she has been setting up chairs in her playroom to put on little "comedy shows" for us using the book. Its so much fun, and the jokes are appropriate, Raymond said.
Reading is now so much FUN!

Derived From Web

, Jun 26, 2019

Bought this for my 8 year old. She has devoured every book, and is eager to read it again and again. She enjoys bookmarking her favorite jokes and riddles and sharing them with the family at dinner.