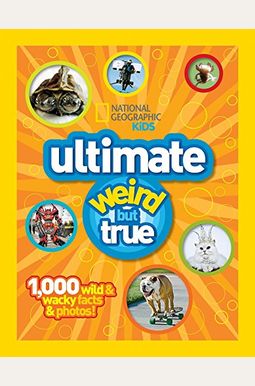 
 
Ultimate Weird But True: 1,000 Wild & Wacky Facts and Photos
Book Overview
Did you know that a great white shark can weigh as much as 15 gorillas, that you drink the same water as the dinosaurs did, or that there's a car that drives underwater? This supersized, hardcover addition to the blockbuster Weird But True series, Ultimate Weird But True is packed 1,000 amazing facts and eye-popping photos that prove truth really is stranger than fiction. With a colorful, metallic cover, a kid-friendly design, and a wacky sense of humor, this stunning book will give kids a winning combination of smarts and fun. Flip through these boldly-designed pages and you'll find hundreds of snack-size stories about weird animals, space vacations, wacky inventions, freaky weather, amazing feats, wild extreme sports, and more. You'll discover: - A real-life Spider-Man man who scales skyscrapers with his bare hands - A fish that plays soccer - A $150,000 diamond-studded cupcake - A man who makes himself invisible - An upside-down house - A hotel shaped like a giant beagle - Tornadoes of fire - A mouse that hitched a ride on a frog's back - A dog that can read - A motorcycle shaped like hamburger - A 13-foot-tall pink poodle - Millions of red crabs - A white alligator - A robot that can do your grocery shopping, and much more? - Plus, cool illustrations, and Ultimate Secret Revealed features that explain the strange truth behind the most mind-bending facts, such as how it's possible to convert peanut butter into a diamond and how frogs can fall from the sky
Frequently bought together
Frequently Asked Questions About Ultimate Weird But True: 1,000 Wild & Wacky Facts and Photos
Book Reviews
(13)
Did you read Ultimate Weird But True: 1,000 Wild & Wacky Facts and Photos? Please provide your feedback and rating to help other readers.
Awesome for kids who are starving for info!

Derived From Web

, May 4, 2022

My son has a very good collection of books, including The Beatles' "Abbey Street" and "The History of Weird But True." In "Stuff That Happens," Michael Savage promises to give you tons of random, weird, and interesting facts. He also noted that the book is "large, very sturdy, and very good quality." My son loves to just pick it up for a couple minutes here and there, during some down time, because it's just so relaxing. Made for a great present!
Great book, BETTER THAN EXPECTED!!

Derived From Web

, May 4, 2022

The new York Stock Exchange opened for trading yesterday, 1 day after its initial announcement. I was shocked even by Amazon's response, Mr. Hughes said. The book is a beautiful hard cover, colorful and attractive, Simon said. Tons of exciting pictures and info for kids of ALL AGES! It's great to be back home, Coach, lol. It's great to keep kids attention," said Gammerman. It's easy enough to read, but it's not a baby book, so older kids will enjoy the facts and weird tidbits as well as younger ones. It was well worth the price. All ages are welcome to enjoy this book. Jennette Tamayo, a New Haven resident, said she was "100 percent behind Jennette."
Great Trivia

Derived From Web

, May 4, 2022

The book is a great read, too. I learn a lot from these books and it's great to be back home. If you love trivia, this is a good buy. It's just that I'm buying more just like it.
Kids love this book!

Derived From Web

, May 4, 2022

My daughter and a few of her friends have all received copies of the book. It helps them keep their interest for a longer period of time, whether it be 5 minutes or an hour. The book is full of great photos, said Dr. Goin. It's a nice alternative to a fiction book, Raymond said. It's just that they keep going back to this book over and over.
Great buy!

Derived From Web

, May 4, 2022

Easy to navigate with mom or dad or by themselves. Definitely worth a read. Leads to a lot of discussion, which is a plus.
Fun reading for Kids

Derived From Web

, May 4, 2022

Great images, pictures, and quality materials, Mr. D'Antonio said. She also thanked me for buying her a bike for her birthday and "to give her a present she can keep." It was a blast," said Blair, director of music for AOL Europe. It's educational, Mr. Rule told the judge.
Great Book

Derived From Web

, Dec 6, 2021

My 11 year old grandson does not like to read as much as I would like, but after seeing this advertised on TV, I decided to give it a try. We exchanged gifts early this year and he was very excited to get this, McCartney said. It turned out that I had bought a second one for another present.
Too intense

Derived From Web

, Sep 1, 2021

Its too complicated and wordy for my 5 yr. old granddaughter. Lots of great illustrations, lots of great information, too.
BEST BOOKS EVER

Derived From Web

, Feb 28, 2021

My son absolutely loves them, said Blair. We have the 1,111 answers to the question. What's more, technology works. He begged me to give him this book for his birthday and he was so excited when he opened it.
Highly Recommend!!

Derived From Web

, Jan 11, 2021

It's great for my son who loves learning about animals and this book has it all. It's a great quality, large hardcover book with so many pages of interesting facts, Witt said. The product is very user-friendly, and I highly recommend it to anyone.