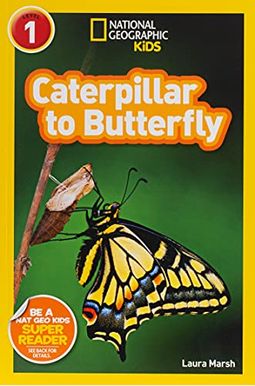 
 
Book Overview
Butterflies are all around us. It's hard to believe these majestic insects with impressive wingspans and beautifully colored and patterned wings were once creepy crawly caterpillars. How in the world does this transformation happen? This Level 1 Reader gives kids an up-close look at exactly how a caterpillar becomes a butterfly. With bonus information including different types of butterflies and poisonous caterpillars, this reader is one of a kind. This high-interest, educationally vetted series of beginning readers features the magnificent images of National Geographic, accompanied by texts written by experienced, skilled children's book authors. The inside back cover of the paperback edition is an interactive feature based upon the book. Level 1 books reinforce the content of the book with a kinesthetic learning activity. In Level 2 books readers complete a Cloze letter, or fun fill-in, with vocabulary words. National Geographic supports K-12 educators with ELA Common Core Resources. Visit www.natgeoed.org/commoncore for more information.
Frequently Asked Questions About Caterpillar to Butterfly
Book Reviews
(13)
Did you read Caterpillar to Butterfly? Please provide your feedback and rating to help other readers.
Perfect for a 6-7 yr old budding lepidopterist

Derived From Web

, Apr 20, 2022

A butterfly garden for my granddaughter was a birthday present. She loved this book and was fascinated by the pictures. She waited for the butterfly to emerge from the chrysalis after explaining to everyone why and how it happened. Next year's science project will be based on the stages of butterfly development. This book is all due to it. She has learned to spell the new words in development and wants to photograph her own stages. Thank you for the boost in science.
Great series, even for toddlers!

Derived From Web

, Apr 20, 2022

My 2 year old loves this show. Readers... I have purchased many different books, pre-readers and Level 1 and 2 readers. She loves them all and will ask for some. She can read the pre-readers level books because she memorizes the words. There is more information to talk about in the advanced ones. I have learned a lot of things myself. The series was great. The price is reasonable and the pictures are great. She's really interested in nature, animals and science. I will buy them as they are released.
Nice book!

Derived From Web

, Apr 20, 2022

I like all of the National Geographic readers. When I did a live butterfly habitat with my 6 year old as a science project, it made a nice lesson. Beautiful pictures, good vocabulary, great explanations of the life cycle and shows a lot of different types of butterflies with their names are some of the books that make good beginning readers. Great purchase!
good learning tool for kids on the life cycle of butterflies.

Derived From Web

, Apr 20, 2022

The life cycle of butterflies is covered in this book. It's just a basic knowledge of butterflies, no information on the colors of the different butterflies, my grandson wanted to know when the first butterflies of the season were seen in the back yard. We saw a yellow swallowtailmale, a black swallowtailfemale, and a small black butterfly baby. I was able to find that information on the internet.
My Kids Love These

Derived From Web

, Apr 20, 2022

Since Christmas, I have read this to my kids many times. The pictures are bright and go over with my 2 year old and my 4 year old. This series is great.
Easy to understand

Derived From Web

, Mar 15, 2022

I bought the National Geographic Readers Caterpillar to Butterfly Booklet as an accessory for my granddaughter and decided to write a review of it. I thought it would be beneficial to explain the different stages. I was pleased with my decision to include it. It is worth the money, I think. This review was written by a person.
Excellent!

Derived From Web

, Feb 13, 2022

You have a winner when you find books that are interesting to a child, captivating for any age, and contain quality photos. Anything from National Geographic is always a winner.
Kindle Edition Has Extremely Poor Resolution

Derived From Web

, Jul 20, 2021

The book is a good starting point for second and third graders. The resolution of the images in the book have a very low bit rate, even for nine years ago. Digital artifacts can be seen in a way around titles, boxes, and photos. It is time for Amazon to hold these publishers accountable for the quality of their product. I think Disney Book Group can afford to get an intern to spend part of a morning uploading a better version of this title.
Great for toddlers to grow with

Derived From Web

, Mar 20, 2021

I thought it would be cool to teach my kids about the life cycle when I got baby chickens. I will have to read this book to them, but it is simple for them to understand now. It will be a great book for them to read. Simple words and sentences. There is a great glossary in the back. Pictures show abstract concepts. The chicken and frog life cycles were purchased by me.
Great buy

Derived From Web

, Dec 20, 2020

I planted a garden with my granddaughter. I bought the caterpillar with the tent. We were waiting for each phase of the butterfly cycle while we were reading the book. We released the ten hatched caterpillars to the garden. It was a great learning experience. I highly recommend this experience.