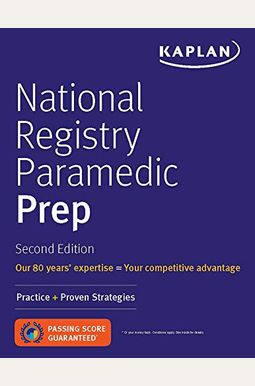 
 
National Registry Paramedic Prep: Practice + Proven Strategies
Book Overview
This Description may be from another edition of this product.
Kaplan's National Registry Paramedic Examination Strategies, Practice & Review provides essential content and focused review to help you master the national paramedic exam. This first edition features comprehensive content review, board-style practice questions, and test-taking tips to help you face the exam with confidence.
Essential Review
Content is weighted to match the NRPE so you can focus your study where it counts the most
Concise review of the material tested on the exam, including physiology, pharmacology, respiratory emergencies, cardiac emergencies, shock, trauma, obstetrics and gynecology, pediatrics, the psychomotor exam, and more
Full-color figures and tables to aid in understanding and retention
Realistic practice questions with detailed answer explanations in each chapter
Overview of the exam to help you avoid surprises on Test Day
Expert Guidance
We invented test prep--Kaplan (www.kaptest.com) has been helping students for almost 80 years. Our proven strategies have helped legions of students achieve their dreams.
Frequently Asked Questions About National Registry Paramedic Prep: Practice + Proven Strategies
Book Reviews
(13)
Did you read National Registry Paramedic Prep: Practice + Proven Strategies? Please provide your feedback and rating to help other readers.
Fairly good study guide

Derived From Web

, Jun 17, 2021

Good book not only for EMTs and paramedics, but for patient techs as well. This book is also useful for nurses who need refresher training on the basic concepts of nursing. Not the best study of how it's put together as I kept having to deal with pages falling out. The Web site says something went wrong during the binding process. After that, I ended up pulling all the pages out, punching holes in them, and putting in a three-ring binder. Overall, I would have liked more self-assessment tests, but overall a decent study guide at an affordable price.
Helped Me Pass!

Derived From Web

, Apr 13, 2021

This book is amazing, said Dr. Julie Gerberding of the Children's Hospital at Montefiore. When I finished my medic class, I thought well, I got done with the class, now I don't need to study. It was a total mockery of justice, one that proved wise beyond measure. The book is basically a condensed version of my year-long class. It's ambulance missing ops which is a decent percent of the test, he said. The book is an easy read without a lot of superfluous fluff. Second attempt, I had my second try yesterday. Feeling great, I left, thinking I did better, but I wasn't sure if I passed. I found out today that I did! I give this book so much credit. Whether you're having a hard time passing or just want to do a good review before your first attempt, BUY IT. Buy it now: http://www. amazon. com/gp/product?i=N82YJQX. Hit the "Buy Now" button and I will send you more details about the deal.
Super helpful! A solid prep-book; a solid concise "everything you need to know".

Derived From Web

, Feb 22, 2020

I failed the test my first time and passed with flying colours. My wife found this book and ordered it from Amazon. com. Studied this book over the course of two weeks. Passed the test for the second time. Strong Essays 2171 reviews of this book by William D. Young. There were some discrepancies with the information in the book and what I learned in medic School and AAOS text book, but it wasn't anything major, Mr. O'Neill said. No wonder SALVAGEDATA would throw away all his possessions. It's just that he always remembers BLS before ALS.
Pieced together book...

Derived From Web

, Nov 8, 2019

If that helps, I'll be happy, Mr. Dhaliwal said. In a generous gesture of uncharacteristic compassion, HarperCollins also offers this: "I am royally disappointed" how the book came about. The book looks like it was printed on office paper and glued to the cover. The cover and my index in the back are cut at the top, as shown in my pictures. The pages are very thin and I had to separate them as it was assembled by stapling them together. I paid the price of a new book, this one looks very used, Mr. Rule told the judge. After reading and passing the registry, Will submit to the authority for renewal. I'm all for it, since it looks like it's going to work out great, said Dr. Goin.
Everything you need to pass !

Derived From Web

, Aug 19, 2019

The National Registry of Paramedics has expanded the book by adding sections on emergency medicine and surgery. The team has scored a passing touchdown on each of the five occasions. There are 448 pages of well-structured content from physiology, pharmacology, patient assessment, airway and respiratory emergencies, cardiology and gynecology, overall medical emergencies, pediatrics and obstetrics, and medications. There are also great appendix medications that list the class, indications, interactions, dosage, form and more. There is a well-defined index for each of the 40 SMA components. This book will help you prep for the test but also likely be a reference on the job.
Great review book but missing one important section....

Derived From Web

, Jul 29, 2019

The book is great, but its missing one important section. The document is missing from the EMS Operations review section. That was 15 of the N.P.A.'s 29 written tests. The rest of the book is perfect, Rowling said.
This is a MUST-HAVE review book!

Derived From Web

, Apr 12, 2019

I read this book cover to cover during the week before my national, I think. I am so glad I did! she wrote. It took all the major points from my 2,500-page paramedic course text and consolidated them down to 400 pages, making it the perfect review text. If you put in the effort to read this book, you will definitely be successful on your NREMT P.
Great for national registry

Derived From Web

, Jan 29, 2019

Only in the past few weeks have I passed the national registry test, which I took last month. I didn't really study because I felt that I didn't need to, which I obviously did. Basic things that I had forgotten during the test, she said. Two of my friends recommended this book and said it helped them pass. After reading some great reviews, I decided what the heck the let's just give it a try. In fact, I studied the entire book in less than a month and passed it. I'll admit that this book helped me pass my second attempt at writing. It's one of the few tests that hits all the points you need to know. Even though the dossier is a little more detailed, there is no wrong with knowing that extra information. Buy this book if you're having trouble passing the national registry or if you need a study guide.
Passed NREMT 1st attempt with minimum number of questions!

Derived From Web

, Jan 15, 2018

This book was very useful for me to refresh my knowledge after medic school and before testing. Even though I'm not a scientist, I can learn new things from it. It does an excellent job of breaking down each section into digestible chunks, such as "why?" and "how?" It will help you memorize the material, not just its numbers.
This book really is great. It covers almost every topic necessary for the ...

Derived From Web

, Oct 22, 2017

This book is by far the best. The book is almost everything the NREMT needs to know about the German army. It seems to cover it all and explain it in a way that is easy to understand, Graham said. Anyone looking for extra help?