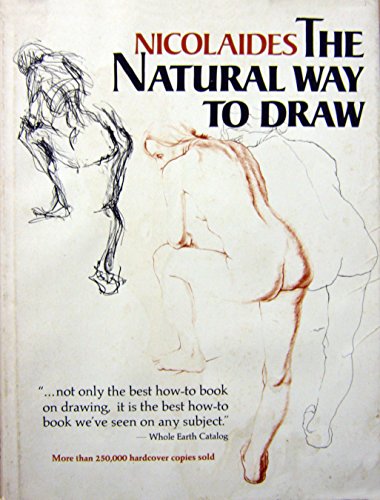  
The Natural Way to Draw (A Working Plan for Art Study)
Book Overview
This Description may be from another edition of this product.
This book contains a classic guide to drawing people, offering instructions and tips for drawing different poses and body types. It is split into sixty-four easy exercises covering such subjects as 'Gesture Drawing', 'Group Poses', 'Study of the Bones', etc. With simple, step-by-step instructions and many helpful diagrams, this is a book that will be of considerable utility to anyone wishing to learn how to draw. Many vintage books such as this are increasingly scarce and expensive. It is with this in mind that we are republishing this volume now in an affordable, modern, high-quality edition complete with a specially-commissioned new introduction on illustration.
Frequently bought together
Frequently Asked Questions About The Natural Way to Draw (A Working Plan for Art Study)
Books like The Natural Way to Draw (A Working Plan for Art Study)
What should you read after The Natural Way to Draw (A Working Plan for Art Study) Book? Here is a list of books to read if you read and loved The Natural Way to Draw (A Working Plan for Art Study)
Book Reviews
(11)
Did you read The Natural Way to Draw (A Working Plan for Art Study)? Please provide your feedback and rating to help other readers.
NYC Student Art League textbook on drawing!

Derived From Web

, May 14, 2022

My old drawing professor told me that everyone used it after that book was published! It is a year-long drawing course that relies heavily on models. I find that the text is so rich that I can also pull a general drawing course from the actual course. One of my students uses it to guide her sketchbook exercises. This is the man who was one of the more famous teachers for the New York City Art League in the early half of the 1900s. Wow, what a difference!
I love it!!!

Derived From Web

, May 14, 2022

I have used this book since my Sat for many years. Morning meetings at the Chouinard Art School. It has been with me through the mill, my new copy fell apart I wanted a brand new copy. And to send to my cousins who want to learn to draw.
Classic instruction that directs you to an amazing amount of work.

Derived From Web

, May 14, 2022

This book deserves its reputation as a classic certainly. It is for people who like the process and not just the end result. I don 't know if I ever have the time, but I started from the beginning and use this in the same way as regularly going to the gym for body health. These directions will be for artistic health.
Beware of Small Print

Derived From Web

, May 14, 2022

I bought this book as a reference and study guide for my art studies. It is not that the subject is irrelevant, which it is not. What I received was a paper bound volume that had obviously been reduced to a photo, where I have to use a magnifying glass to read the proposed study times. Additionally, while the author has been a leader in the art - study, some of the text is extremely dated. If one wishes to revisit the Art Study League of forty years ago, well and good, but this book was not what I had in mind.
A must have.

Derived From Web

, May 14, 2022

It helps you build a foundation of skills that you can use to produce art work for the rest of your life.
Good basic book, a classic

Derived From Web

, May 14, 2022

Though not the Art Students League edition I used as a boy, which was a larger format and easier to read.
Great

Derived From Web

, May 14, 2022

A little intimidating at first, as I am early in my process of learning to draw. Well-taught for a self-crafted approach.
Are you ready to commit?

Derived From Web

, May 13, 2021

This serious book is designed for students who are famous about becoming artists. For example, the first chapter, which is about contour drawing, ends in draw for 3 hours as directed in schedule 1 A, which reminds me of old martial arts teachers who make you practice the same basic moves for months before allowing you to progress. I have no doubt that the approach is truly the best way to learn a skill and the book is both deeply insightful and enjoyable to read. I suppose it should have been obvious to me, but in reality, this book served as a slightly dispiriting reminder that to progress quickly in a skill as difficult as drawing. I recommend it without reservation, but you won 't get much out of it unless you're prepared to do the work yourself.
Best book on drawing ever published.

Derived From Web

, Aug 9, 2020

Nicholaide's The Natural Way To Draw is a recommended reading in the best art schools for students of drawing classes. His emphasis is on the natural gestures of living things - the way the figure carries its weight and form in motion and in opposition to the relentless pull of gravity. For example, in your mind conjure images of the different manner in which an older person moves and carries his own bulk, etc. Compared to those same gestures in the body of a healthy young adult, Or, the constant movement of a flower in the breeze in response to the forces of nature acting upon its form. Full Disclosure : I have Bachelors and Masters in Painting and Drawing and have taught Drawing at several top US art schools and universities. Early in my art education, Nicholaides'book was prescribed and I have been its ardent advocate since then.
The real deal

Derived From Web

, Jan 15, 2020

Okay, I can 't tell you that I draw much better now, but a) the program is meant to last a year, practicing 15 hours a week and b) it has been three months and I probably averaged an hour a week. But it is clear that this guy is passionate, has methods I have not encountered before and seems to have been a renowned teacher of serious art students in his day. If you are great and follow the program, I am sure you will get serious results. I put it down for now to work on just painting, but I'm going back and forth. It will be a while before I draw this book, and I am sure I won't do all the practice he suggests, but I still expect to learn much better than I did before.