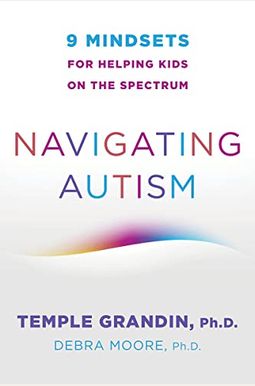  
Navigating Autism: 9 Mindsets For Helping Kids On The Spectrum
Book Overview
International best-selling writer and autist Temple Grandin joins psychologist Debra Moore in presenting nine strengths-based mindsets necessary to successfully work with young people on the autism spectrum. Examples and stories bring the approaches to life, and detailed suggestions and checklists help readers put them to practical use.
Temple Grandin shares personal experiences and anecdotes from the thousands of parents and professionals who have sought her advice, while Debra Moore draws on more than three decades of work as a psychologist with kids on the spectrum and those who love and care for them. So many people support the lives of these kids, and this book is for all of them: teachers; special education staff; mental health clinicians; physical, occupational, and speech therapists; parents; and anyone interacting with autistic children or teens.
Readers will come away with new, empowering mindsets they can apply to develop the full potential of every child.
Frequently Asked Questions About Navigating Autism: 9 Mindsets For Helping Kids On The Spectrum
Book Reviews
(5)
Did you read Navigating Autism: 9 Mindsets For Helping Kids On The Spectrum? Please provide your feedback and rating to help other readers.
Sadly, Grandin's new book doesn't present anything new.

Derived From Web

, Dec 20, 2021

The new book, "The Fifth Estate," by Pauley, doesn't present anything new.
Sections are good for parents; chapters are good for clinicians.

Derived From Web

, Nov 6, 2021

I'm an RBT first and now in my company's admin office. The book has wonderful insight and provided me with a vocabulary that I did not yet have to articulate my son's strengths, my worries about his deficits, and provided me with a framework of thinking to better understand my son now and in the future, as he is still a toddler. I think that this book is probably more for clinicians, in that it describes in great detail how doctors who diagnose should assess their clients, he said. So I would not suggest this book in its entirety to my mother, for instance, who did not benefit from that call to action for clinicians, Dr. Goin said. However, I would and will out-copy some sections for my parents to read.
Not what I'd hoped for

Derived From Web

, Oct 26, 2021

I really wanted to read this book. Grandin, who has been researching the subject for years, is one of the most respected and knowledgeable people on the subject. Overall, I found this book to be very basic, even for a medical textbook. It's great to hear from someone who is just beginning the autistic journey with their child. Good book, but not very new.
A must have

Derived From Web

, Oct 19, 2021

My grandson has autism and ADHD and my daughter is looking her mind trying to deal with it. this will be a gift to her.
IT very good

Derived From Web

, Oct 4, 2021

I've read all the books, and I love this one. What I have read is very important information for anyone who is very close to an individual who has autism, Raymond said.