Buy 3 Get 1 Free
Our Best Sale Yet! Add 4 Books Priced Under $5 To Your Cart Learn more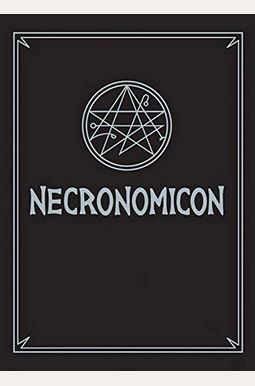 
 
Necronomicon: 31st Anniversary Edition
Product is currently Out of Stock.
You can add it to your wishlist and you will be notified once we receive a copy.
Book Overview
In the past 31 years, there has been a lot of ink -- actual and virtual -- spilled on the subject of the Necronomicon. Some have derided it as a clumsy hoax/ others have praised it as a powerful grimoire. As the decades have passed, more information has come to light both on the book's origins and discovery, and on the information contained within its pages. The Necronomicon has been found to contain formulae for spiritual trans-formation, consistent with some of the most ancient mystical processes in the world, processes that were not public knowledge when the book was first published, processes that involve communion with the stars. In spite of all the controversy, the first edition sold out before it was published. And it has never been out of print since then. This year, the original designer of the 1977 edition and the original editor have joined forces to present a new, deluxe hardcover edition of the most feared, most reviled, and most desired occult book on the planet.
Frequently Asked Questions About Necronomicon: 31st Anniversary Edition
Books like Necronomicon: 31st Anniversary Edition
Book Reviews
(13)
Did you read Necronomicon: 31st Anniversary Edition? Please provide your feedback and rating to help other readers.
Not what I expected.

Derived From Web

, May 20, 2022

When I purchased this book, I was fully aware of the negative reviews of it. At least 98% of people found it a hoax '' or a waste of time ''. Everyone of course is entitled to their own opinion. I found the book '' to be straightforward and insightful. I had not expected such a thing. The fact that it deals with ancient Deities / SumerianBabylonian deities was a welcome change for me. Ist it a waste of time? *shrugs* : I am not getting into this debate with anyone. However, I would suggest grabbing Dead Names. It explains the background of the necronomicon better.
Looks different than photo

Derived From Web

, Feb 1, 2022

I was expecting what is in the product's photo, but the book is a nasty yellow color.
Color is different than actual

Derived From Web

, Sep 29, 2021

The color of the cover is black instead of yellow. This was a surprise to me, because I expected a black cover.
Nice coffee table book

Derived From Web

, Oct 10, 2020

On my coffee table it looks great. Very modern minimalist appearance fits nicely in my clean and classy living room. The reputation of this book seems to me like nothing but the ramblings of some crazy guy. After all the talk about it, I expected it to be more sinister, but I found it to be a bit funny. Made me think about old timey conspiracy theorists and I wonder if this is what the flatearther and doomsday apocalypse websites of our era will look like in the future to people. I still won 't read it out loud, just in case. My life is pretty well lately, so I don 't want to tempt any ancient demons after I have just mocked the book here in Mr. Bezo's marketplace. The hilarious irony of this would not be lost on me, but I don 't know anything about banishing demons and I have very little desire to learn.
"Ashy Slashy You Can't Catch Me"!

Derived From Web

, Aug 29, 2020

If you're like me and you want to stop Ash William's, then this book is for you. After receiving a touch of this book, Ashy Slashy will have a hard time fighting off Cthulu's demons. Just said the incantations and watch when the darkness begins to unfold the abyss. But beware, Ash could show with his chainsaw arm and ruin all your fun. If this happens, you find the necronomicon in your Grandpa's cabin, Ash will never hide it. P.S. has always been an important player in determining the value of the P.S. Ashley Slashy, catch me! Also included our dark moment with Dajall servants bringing forth the Antichrist, WARNING not a bedtime story for children.
Beautiful Version

Derived From Web

, Feb 7, 2020

If you are a fan of Lovecraft or Occult books, I think it is worth buying the hardcover edition, it includes all the prefaces to nice felt editions and earlier quality paper.
Take care with this book

Derived From Web

, Dec 15, 2019

Firstly, I know that this is considered a work of fiction, but let me assure you that the contents of this book are not a joke. Secondly, the mystical current that this Grimoire deals with will make you lose yourself in its particular influence. Be aware of yourself and watch for the signs of obsession and when necessary, back away. Third : You gotta be careful when calling demons because the way you perform the rituals is basically like calling a phone number for an entity. If you call these incantations carelessly, you will find a wrong number and end up with something on your hands that you weren 't prepared for. I personally don 't recommend novices messing with the rituals. Beginners are advised to use this as study material and cross reference with other grimoires before diving into actually performing anything detailed in the Necronomincon.
It is what it is...

Derived From Web

, Aug 27, 2019

This book is very polarizing, as you can tell by reviews that are all over the place. My advice is to take the book with a salt grain. If you're looking for some ancient text that will unlock the keys to the universe, this book will be very disappointing. If you want to read something, however, that has caused a lot of unnecessary debate, this is a good choice. Most people either come to this book because of H.P. Lovecraft or the Evil Dead films are usually unhappy with this text. If you want to read a book about Enki, Enlil and some of their counterparts, order away. However, if you are looking for the Necronomicon of Pop culture, you might want to pass.
Cool book

Derived From Web

, Aug 19, 2019

My friends boyfriend got a nose bleed and smeared nose blood all over the inside so... nice touch on his part, I guess.
Great piece and lovely presentation.

Derived From Web

, Jun 20, 2018

As a historical piece, it is great, but it is essentially Babylonian and Sumerian mythology wrapped in the shell of the Chutlhu Mythos.