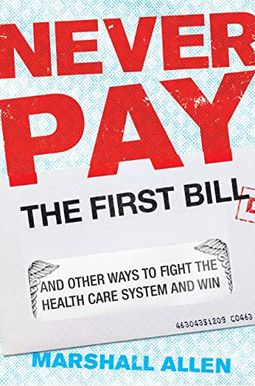  
Never Pay the First Bill: And Other Ways to Fight the Health Care System and Win
Book Overview
From award-winning ProPublica reporter Marshall Allen, a primer for anyone who wants to fight the predatory health care system--and win.
Every year, millions of Americans are overcharged and underserved while the health care industry makes record profits. We know something is wrong, but the layers of bureaucracy designed to discourage complaints make pushing back seem impossible. At least, this is what the health care power players want you to think.
Never Pay the First Bill
is the guerilla guide to health care the American people and employers need. Drawing on 15 years of investigating the health care industry, reporter Marshall Allen shows how companies and individuals have managed to force medical providers to play fair, and shows how you can, too. He reveals the industry's pressure points and how companies and individuals have fought overbilling, price gouging, insurance denials, and more to get the care they deserve. Laying out a practical plan for protecting yourself against the system's predatory practices, Allen offers the inspiration you need and tried-and-true strategies such as: Analyze and contest your medical bills, so you don't pay more than you should
Obtain the billing codes for a procedure in advance
Write in an appropriate treatment clause before signing financial documents
Get your way by suing in small claims court Few politicians and CEOs have been willing to stand up to the medical industry. It is up to the American people to equip ourselves to fight back for the sake of our families--and everyone else.
Frequently Asked Questions About Never Pay the First Bill: And Other Ways to Fight the Health Care System and Win
Book Reviews
(7)
Did you read Never Pay the First Bill: And Other Ways to Fight the Health Care System and Win? Please provide your feedback and rating to help other readers.
not well written

Derived From Web

, Aug 30, 2021

I got the impression that the author did not have enough examples to offer and stopped reading after afew chapters.
Is a good book to fight insurances but tips on fighting any big business.

Derived From Web

, Aug 5, 2021

I like his writing style reader friend and is Hell of a book on how to armed one against, as Allen calls them the big bully. Tips read through every bill : the author says 80% of the bills contained errors. If you don 't agree with it, get codes. This is the language of medical billings and so much more. He gives great examples of people fighting on insurance who are experts on handling insurance. If the dispute is $ 4,000, consider hiring an expert patient advocate. The weak part being for me was focused on what an employer should do, I am not an employer, so that I skip this part. He has great example letters at the end to get you started. A really good book on the topic of being educated and being your own advocate. Highly recommended '', I have written this book. Keep it handy in case you get a bill and you have hundreds or thousands of dollars in shock, and you put it into a shock for the surprise.
Clear Step by Step Guide to Fighting Unfair Medical Bills

Derived From Web

, Jul 15, 2021

A valuable, easy to understand guide for any patient who is tired of being run over invalid or unreasonable medical bills by hospital billing departments and patient relations representatives. The author explains why hospitals don 't treat their patients like customers, why your insurer probably doesn 't care about fraud, and how you can advocate for yourself and win against this byzantine bureaucracy. Recommend highly.
Good investment for young adults

Derived From Web

, Jun 24, 2021

This book disclosed constructive truths about American healthcare and gave me outrageous advice on how to fight back. As a millennial thinking about starting a family and leading a household, I have long had a creeping feeling that I am being ripped off on medical bills. This book helped me to understand why I am seeing such high prices and how I can avoid scams. It is well worth the purchase, you'll save money with this investment.
This book has Need To Know information

Derived From Web

, Jun 23, 2021

I am a professor of health insurance and teach a course in college health insurance. This book contains everything that everyone should know in dealing with health insurance companies and health care providers. Marshall Allen does an excellent job of explaining step by step what you should do when faced with an invoice for out-of-pocket expenses. It is not only about purposeful fraud, it is also about purposeful incompetence on the part of those in healthcare facilities for creating and submitting claims. But you are the one who is penalized. This book is great for reading!
Understanding the Profit Motive to Save Consumers Money

Derived From Web

, Jun 23, 2021

The author works for ProPublica, probably the most reputable news and research organization in the country. This book allows consumers to easily understand two things : 1) profiting versus profits and how the medical industry prefers to leverage this realization, because your bill is generally a device to leave you holding the bag after every insurance company, billing adjuster, medical office professional, etc. has taken their piece of the pie. Consumers maintain leverage by not paying the first bill. That is what this book is... consumer leverage.
This book is a MUST READ!

Derived From Web

, Jun 23, 2021

Before reading this book, I always assumed that the healthcare system was on our side. Within a week of fighting my medical bills, I saved $815! Stop being ripped and start fighting back.